I wanted to real quick give you a quick rundown & review of my "night stand" setup …
This is actually something that I just setup recently and I forgot to tell you about it.
You see, before I had my guns closeby, but hidden away. AKA they weren't that close to my bed … and they weren't locked up.
And that worked well before the kids — heck when I was single I kept a handgun between my mattresses (it was never once a safety problem, but insert comments here about being young & dumb).
Anyways, I've always debated the practicality of locking up the guns you NEED in a life-or-death defense situation — slowing down your ability to get to them to defend yourself and your family.
However, I'm happy to report that thanks to the innovations of the free market and corresponding technology I can now trust some of the new gun security products.
So let's get to it …
What I Have On My Nightstand …
Right now, sitting on my nightstand is a Gunvault MV500-STD Microvault Gun Safe from Amazon:
I was worried because this thing either has 5 star reviews or 1 star reviews. Some people must have got a lemon I guess, but out of 509 reviews … my thoughts are the factory probably just made a few lemons (it happens I guess, right?)
However, I took the plunge and got one because my good friend Jason Hanson trusts this same brand and make and model.
When I got it, I had to get the battery for it, then it's a simple process to setup your own finger pad code.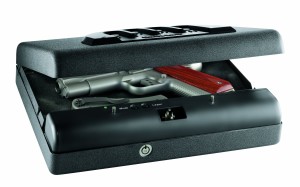 NOTE: I recommend this model over the newer "finger print scanning" models or whatever (that are more expensive anyways) because I just don't trust that the technology is there yet to accurately read your finger print if you're sweaty, adrenaline pumping (so you're moving your finger around because you're shaking), and need your gun fast.
With this, you set a 4-touch code and in less than a second your safe is open and the gun is in your hands.
Now, inside this are my Sig P225 carry gun and my new (to me, lol) Ruger LCP carry gun. These aren't even really setup for home defense, they're my Concealed Carry guns.
Why?
Well, basically because I go to the safe, open it to get one of the guns when I leave the house. Then when I get home, I open it and stick that gun back in there when I'm taking stuff out of my pockets after I get home.
So convenient.
The great thing is this gunvault is, literally, an arms length away on my bedstand. So all I have to do is roll over and hit the code and grab the gun.
It's ALMOST as fast as having the gun sitting right there on the nightstand.
But, if the kids ever sneak into my room when I'm not around, the guns are locked up. Which is the whole point right?
I highly recommend one of these and the next purchase I believe will be one of their bigger models so that I can fit more "stuff" in there.
I need to get a light in there and I'd like an extra mag (kind of crowded already with the two guns in there because this is the small model).
Also on the night stand are a couple of daily carry pocket knives, again for the same reason they come out of my pockets when I get home, etc
And the cell phone is typically there charging.
So the home defense plan starts with turning over grabbing the phone and getting the first gun (hand gun). Calling 911, and making my way to the home defense shotgun with the light on it (my home defense shotgun is a completely different topic and I'll share that with you soon).
For now, if you've been nervous (like me) about trusting these new gunvault type gun safes — give the Gunvault Microvault a try — Amazon has a great price and you can read all the reviews there so you can see what to expect.
Ideally, I'd like to get a number of these, and place them all throughout the house — so I have access to a gun anywhere in the home — I'll keep you updated if (and when) I do this.