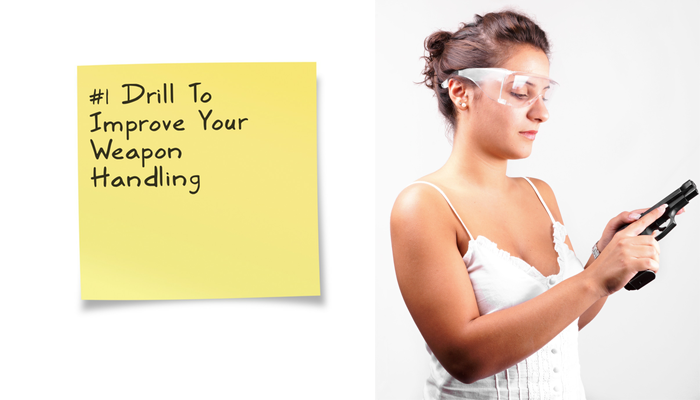 If you are a beginner and want to get better at handling your handgun …
Or even if you have some experience under your belt and just want to continue to sharpen your skills, then here's what I think is the #1 drill to improve your weapon handling.
One of the biggest problems with most shooters is that they pickup their handgun and it looks like they're VERY unsure about how it works.
How to work the slide, how to chamber a round, what happens when the slide locks back, how to eject the magazine — these are ALL very, very basic functions of a firearm and are weapon handling basics that you should be able to do with your eyes closed.
Why I Think This Is The Drill You Should Start With
I often think about the person who has no formal firearms training or is not very comfortable around guns.
What's the best first step? What should you practice first?
Perhaps more important, WHAT can you practice, on your own — that will only help your skills in the future if you decide to get more training?
In other words, what can you do to gain some gun handling skills without ingraining lots of bad repetitions of poor form?
Going back to a crawl-walk-run model — it makes no sense to be practicing "Speed reloads" from your concealed carry holster if you don't even feel confident or have to think about the basic fundamentals of manipulating your gun.
I think fundamental gun manipulation skills are the best starting point because you have to know how your gun works.
Plus, you need to be able to work it at a level of unconscious competence.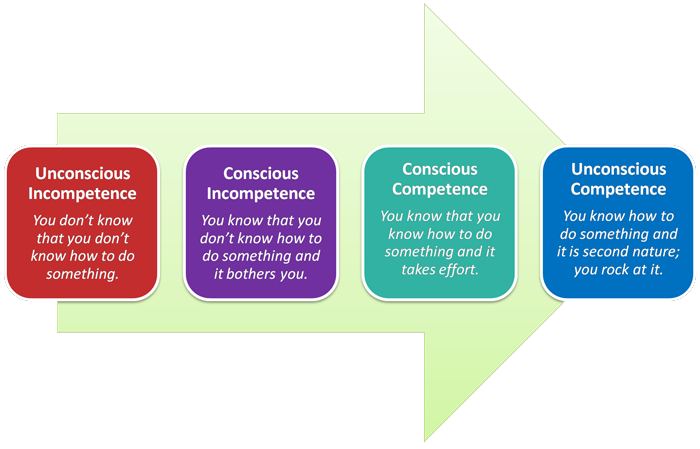 You need to move all the way from unconscious incompetence to unconscious competence with your firearm handling skills.
This will only serve to enhance any future training or practicing you're going to do because you won't be worried about running your gun, you'll be focused on the particular facets of your training you're going to be practicing.
#1 Drill To Improve Your Weapon Handling
This is to be done with a "dry" gun. Meaning you unload it, triple-check that it's unloaded and make sure you take all live ammo out of the room. Go to a different room. Check one more time to make sure both your pistol and magazines are unloaded and clear.
This is the drill:
1. Insert magazine
2. Lock slide back on an empty magazine
3. Eject the magazine
4. Drop the slide
5. Switch Hands
6. Repeat 1-5
And do that a lot.
Doing this basic drill will get you used to operating your handgun. You'll build rep after rep of confidently keeping your gun running and manipulating it.
I first saw this exercise taught by Super Dave Harrington.
In the great 2 minute video below, Paul Sharp of MultiDisciplinary Optimization (MDOC) demonstrates this drill starting at about 1:20 into the video:

One more thing you could do is buy "snap caps" — A which are basically "fake bullets" made for dry fire that are almost identitical to standard firearm cartridges but contains no primer, propellant, or projectile — so you can actually see how the cartridges load through your magazines, extraction, ejection, slide lock on empty, etc
Start Practicing This Drill And Watch Your Weapon Handling Skills Soar!
It sounds simple, but it's a really great drill.
Just practicing these fundamental weapon handling skills will make you much more confident at handling your firearm.
You'll know exactly how to load it, unload it and you'll get a ton of quality reps in.
Then if you ever decide to work on more specific skills — like trigger control, sight alignment, your grip, or even things like reloads — you won't slow yourself down trying to simply manipulate your weapon.
Try it and let me know how it goes!