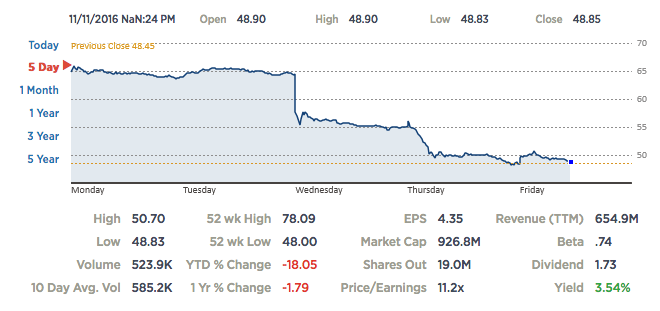 Barack Obama's legacy as gun salesmen of the century is safe for at least another four years.
By politicizing virtually every tragedy he possibly could, Barack Obama, kept profits for America's gun makers high. Hillary Clinton was a serious threat to outshine Obama's gun sales accomplishments, but Donald Trump just dashed Hillary's hopes and secured Obama's legacy for at least the next 4-8 years.
While local officials in states like New York and California will continue to ban guns, the days of the public panic-buying guns in response to threats of national gun control are likely over.
From Guns.com:
Vista Outdoors made out the best out of the three companies, with only a 3 percent drop. Sturm, Ruger & Company plunged 14 percent — the largest decrease the company's seen since February 2014. In the most stunning decline, however, newly renamed Smith & Wesson closed out with a 15 percent plummet in shares.

Gun companies had been doing well up until Wednesday morning, riding high off fears of a Hillary Clinton presidency which was thought to yield tighter restrictions on guns. With a Trump win Second Amendment advocates breathed a sigh of relief as their gun rights remained intact; thus, the demand for firearms subsided.

"Typically the fear of such legislation prompts a near term surge in consumer demand for those types of firearms, as consumers flock to stores to stock up on such firearms before the ban is potentially enacted," Wunderlich Securities Analyst Rommel Dionisio told TheStreet.

"Naturally with the Trump victory, such consumer fears would subside, so there will likely be no near-term demand surge any time soon for firearms," he added.

Though Vista, Ruger and Smith & Wesson shares fell ammo and defense corporations' prices rose. Olin Corporation, which owns Winchester Ammunition, saw a 3 percent gain while General Dynamics rose 8 percent and Lockheed Martin closed out with a 14 percent increase.
Wowza! A fourteen percent drop in Ruger is pretty significant considering that the rest of the market was going up on Wednesday. Ruger has recovered a little since Wednesday, but they are nowhere near pre-election levels. Obviously, a Hillary victory was built into the share price.
The NRA could also experience a similar drop in memberships and donations. Nearly one million new members joined the NRA in the wake of the Obama administration's relentless politicization of the Sandy Hook massacre. With the imminent threat of national gun control gone, membership could decline.
One thing I didn't like about panic-buying, was the fact that lot's of people who really shouldn't be buying guns were inspired to buy them. You had situations where say, a local drug addict in upstate New York, runs out and buys an AR-15 because it's his last chance to get one with a pistol grip before the new regulations set in. Some of the people panic-buying guns really shouldn't have a gun in the house, and they probably would not have purchased one if it wasn't for Obama's sales efforts.
Panic-buying days are over! (for now anyway)