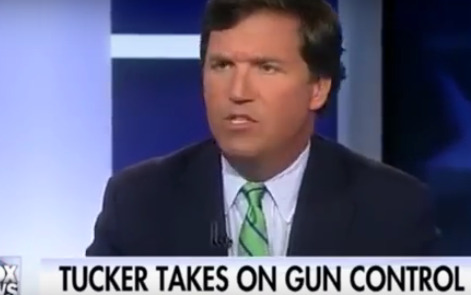 Tucker Carlson asked a gun grabber a simple question about so-called "assault weapons." A simple question that gun control advocates can never answer. The result is a lot of deflection, but no straight-forward answer. After all, answering this question honestly pretty much destroys this guys narrative.
Watch he squirm below:
The reality is that the vast majority of homicides are not committed with so-called "assault weapons." Even blunt objects like bats and hammers kill more people each year. Chicago banned ALL HANDGUNS, not just so-called "assault weapons", and they still have record high crime. The federal government banned so-called "assault weapons" from 1994-2004 and crime is lower today (in most places) than it was during the ban.
A ban on so-called "assault weapons" can't lower the crime rate by any measurable degree, the reason is simple: very few crimes are being committed with such weapons in the first place. That's "common sense" liberal gun control in a nutshell. The key to lower crime is to ban guns that law abiding citizens aren't using to commit crimes, while completely ignoring the enforcement of existing laws designed to take guns that actually are used in crimes from the criminals who possess them.
Should we stop and frisk suspected gang members acting suspiciously on the street corner and confiscate their illegal guns? NO THAT'S RACIST! How about following up on an insane person, like the Sandy Hook shooter, who is on record trying to buy a gun illegally, should we do anything about crazy people failing NICS checks? NO, WE DON'T HAVE THE RESOURCES FOR THAT, INSTEAD LETS GO AFTER 80 MILLION LAW ABIDING CITIZENS. The struggle continues…