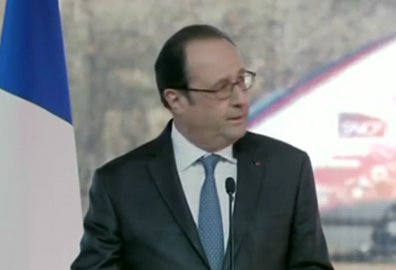 The shot was incredible! Two hits with one bullet! The problem is that both the people he shot were good guys and he wasn't trying to shoot anyone.
A French police sniper made a nearly fatal mistake when he failed to put his safety on. As a result, He accidentally shot two people with one bullet. It gets worse; the president of France, Francois Hollande, was nearby when it happened
Here are the details of the shot, from the BBC:
T[quote_box_center]
he shot was fired as the officer moved position on a roof about 100m (328ft) from a tent where Mr Hollande was speaking in the town of Villognon.
The bullet went through the canvas of the tent, where drinks were being made. It passed through a waiter's thigh and lodged in another person's calf.
The injuries were not life-threatening.
Mr Hollande was inaugurating a new stretch of railway when a gunshot was heard. He interrupted his speech for a few moments but reports say there was no panic.
[/quote_box_center]
Bob Owens from Bearing Arms, makes some valid points:
[quote_box_center]
Precision rifles used by military and police snipers tend to have short, light trigger pulls that makes using a safety and keeping your finger well away from the trigger mandatory until you're ready to fire.
I think it's likely that the police sniper in question will likely never work a dignitary protection detail again.
[/quote_box_center]
Yep, that pretty much sums it up. That sniper better seek employment as a mime or something, he'll be a "former" sniper soon.