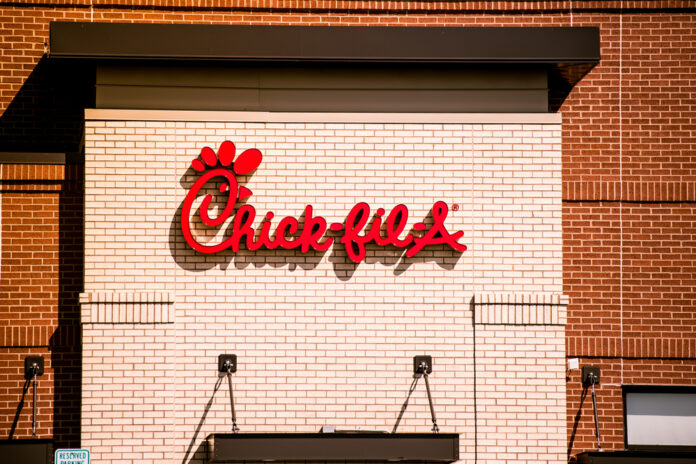 There is an inside joke among a lot of Christians that you may not have heard. See, it's well-known that Chick-Fil-A restaurants were founded keeping Christian principles in mind because the founder of the chain, Truett Cathy, was a devout Christian. You can see these principles through the way that Chick-Fil-A operates with such guidelines such as being closed on Sundays.
Thus, many Christians jokingly refer to Chick-Fil-A chicken as "God's chicken."
But, hey, even God's chicken needs a gun owner occasionally to get themselves out of a jam. Zachary Stieber writes,
An armed person stopped an attempted burglary in Atlanta this week, police said.

On March 8 around 3:03 p.m., officers responded to a Chik-fil-A on Peachtree Street.

"Upon arrival, officers spoke with witnesses who stated a black male walked inside, produced a firearm and demanded money from several employees. The employees fled and the suspect exited the business a short time later. Several nearby citizens confronted the suspect as he was leaving. One of the citizens was armed and at some point, during the confrontation, the citizen fired several shots. The suspect ran on foot and was apprehended nearby, by the citizens and held until police arrived," the Atlanta Police Department said in a preliminary update sent to The Epoch Times.
Even with joking about "God's chicken" aside, this story makes a few serious points. One point, obviously, is that a good guy (or lady) with a gun can make all the difference in stopping a crime. Another point, though, is that we are to be "the hands of God," so-to-speak, in that responsible gun owners have a responsibility to do the right thing. And, yes, that point applies to you even if you aren't religiously inclined. If you can make a difference to save a life, then you have a responsibility to do so.
Hopefully, you'll remember that every time that you eat a Chick-Fil-A sandwich in the future.