The Best Tactical Accessories for your AR-15
If you have an AR-15, or you are in the process of "acquiring" one — then you know there are countless options when it comes to accessories for your rifle.
Most people just buy what looks "cool" without any thought to form, function or actual tactical usefulness.
If you want to know the accessories that are actually worth your time, then read on…
A running joke among shooters is that some gun owners will mount everything and the kitchen sink to their rifles, resulting in weapons so overloaded with gear that they're heavy and awkward.
There aren't that many accessories you truly have to have for your rifle. Out of the box, a stock AR is a very effective rifle.
The following are two accessories you might consider, however, some of which are more important than others.
Accessory Rail:
You can't mount accessories at all if you don't have accessory rails. Consider changing out the forearm on your AR to a model that has accessory rails if you don't already have them.
There are some clamp-on accessories for the AK that mount a few rails forward of the forearm, for mounting flashlights or even a foregrip.
Foregrips:
Picture a 1920s-era Thompson gun. It has the round drum magazine deemed too bulky and noisy for warfare (which is why US troops used stick magazines during World War 2). It also has a grooved vertical foregrip. The weapon is iconic of the era. But have you stopped to think about that foregrip?
The fact is that it's easier to shoot a weapon if both of your hands are positioned in roughly the same way. You should, therefore, install a foregrip on your AR-15 if it is possible to do so.
Where to Get These Accessories?
Almost every gun shop sells AR-15 accessories now … and … they carry a lot of brand names. Which to choose?
It's up to you of course. I will say that many, many people like the company Magpul.
A very popular Magpul product is the Magpul MOE Furniture Set as shown below: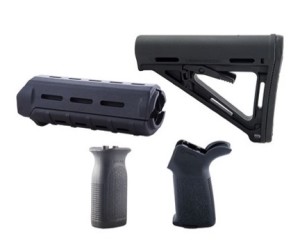 As you can see, you get the complete upgrade with this one purchase. A good butt stock, comfortable hand grip, a solid handguard with the MOE vertical foregrip that I was talking about (that you can detach on and off if you like or don't like it).
You can even pick up the whole set from a trusted online retailer like Brownells for a little less than $85 bucks (at the time of this writing).
Click here to see it.
BONUS: 3 more "must have" AR-15 accessories
Remember, there are (literally) THOUSANDS of accessories for your AR-15 that are available … but … you only want to pay for and put on the ones that help you the most.
That's what we'll cover right now …
Let's jump right into it …
Flashlight:
Mount a flashlight on your weapon. It's very difficult to manipulate a flashlight while also handling a rifle. Mounting the light directly to the weapon solves this problem.
Avoid any light or laser system that includes a cable attached to an activator switch, however. These cables can snag on things and get broken or ripped out, rendering the light useless.
Instead, choose a light whose switch is still part of the body of the light. Whenever possible, mount the light at six-o'clock position, under the rifle, so that it can be activated with either hand.
Magazines:
You need extra magazines. Buy a bunch of 30-round magazines (as long as they're legal where you live). You can either get the metal, GI style 30-rounders or a lot of people like the Magpul 30-round mags. Along with this, a good purchase is a "mag pouch" to carry at least two of these extra mags if you need it.
Rifle Sling:
If you put a sling on your rifle, make sure it is a 3-point or a single point sling. These will make sure that you have optimal carrying ability and you can still bring your rifle to the ready position as quickly as possible.
Summary …
Those are just some of the accessories you can use.
Remember, it's not about how many "cool things" you can stick on your Rifle, it's about finding out what you personally NEED to make it better for self defense.
Think efficiency, not "collect it all!"