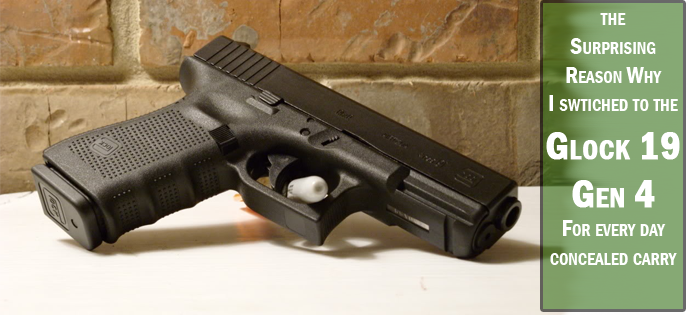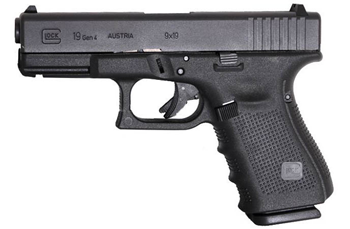 If you've been a reader of mine for a while, you know I've always preferred metal guns. And my daily carry has always been my trusty Sig Sauer P225 (P6 if you want to get technical, it's an old German Police gun).
Anyways, the reason I always preferred metal guns was because I HATE Glocks.
Or … uh … well … I used to hate them.
When the Glock 17 first came out decades ago … If you remember, it was on the cover of EVERY gun magazine. All the stories talked about how it NEVER jammed! Torture tests of 1,000's of rounds and mud baths, and all kinds of abuse and they never jammed.
My dad figured "hey, if I want a gun to protect the family, I should get the most reliable one possible" — so he saved up and bought a Glock 17 when he found a good price at a gun show.
(You should know that I do NOT come from money. My Dad is the quintessential hard American worker — always had at least 2 jobs when I was growing up).
A Glock That Jams?
I was so small, and the Glock 17 1st generation grips were SO big and blocky, that almost every time I fired it — it jammed! That's because the polymer frame makes the gun light, plus a loose "limp wristed grip" will make any gun jam.
At a local gun club though, I could shoot the Beretta 92F with no problems (no jams) and even did some pepper popper (steel plates) and bowling pin "competitions" somewhat well for a pre-teen at that time. 
(The same thing happened when my mother would shoot the Glock by the way, for the same reasons).
So, that combined with the fact my dad couldn't get the sights he bought adjusted right — he eventually sold it. I got a Beretta 92F when I was older. And my dad got the Taurus that looks just like the Beretta.
Beretta was a great gun, and even though the grip was STILL too big for my hands–I could shoot it reliably and accurately. 
Then, I once got the chance to shoot a Sig Sauer P225 as a young man, and that gun fit my hand the BEST at that age, so I promised myself when I got older I would buy one. So I did. And that's my "metal gun" love story …
The Glock enters my life again …
So I'm shooting with my buddy AC at the range a couple months ago and he has his new Glock 19 Generation 4. I shoot it. The grip feels REALLY different.
WTF is going on?
So it turns out — after what two decades lol — that Glock finally offered their Gen 4 guns in a Short Frame (SF) configuration out of the box — reducing the grip by a small amount, and you can ADD included backstraps to the gun to make it a bigger grip if you want.
As it sits in the box, the Gen 4 G19's handle is more slender than the Gen3, decreasing the distance-to trigger by .08" (it actually feels WAY smaller now).
Should the grip feel too small, you can add either a medium or a large back strap that's included in the box. The medium attachment adds .08" to the handle, bringing it back to Gen3 dimensions. The large back strap adds an additional .08" to the handle, making it suitable for you giant pawed people out there.
Anyways, this was the first time a Glock felt GOOD in my hand. Dare I say it … as good as my Sig P225.
And the Glock is actually slightly SMALLER than the P225 (the Sig was state of the art "sub compact" in the 80's or 90's when first designed … nowadays not so much) making it easier to conceal.
Plus it weighs less (important for a carry gun)… and this is the big thing … it comes out of the box with standard 15-round magazines.
So it's smaller, weighs less, has almost exactly DOUBLE the capacity of 9mm (Sig has 8 rounds, G19 has 15) … I had to face the facts … it is the logical choice.
And lastly, the new Glock 19 Gen 4 actually LOOKS good.
I have always HATED the way the blocky Glocks looked … but … this new Gen 4 look is growing on me.
So after shooting it … researching it … and having the Glock 19 Gen 4 on my radar for a couple months I saw a great private sale package that I couldn't pass up. (I got a GREAT deal on the gun (with trijicon HD night sights), plus two sets of holsters, a magazine pouch, a surefire weapon light, 6 magazines, and some more stuff I can't remember via a private sale.)
Anyways, that's my Glock story, and I'll be talking more about them (and the accessories) in the future.