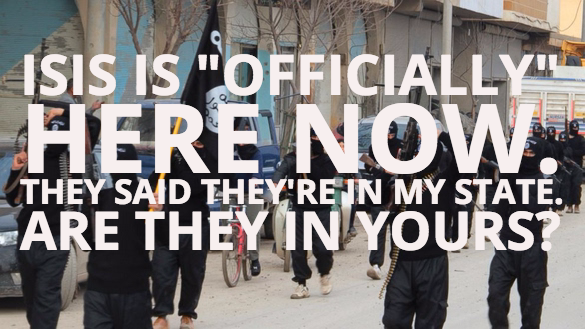 This past Sunday, May 3, 2015 — two gunman tried to attack a public event where a controversial Muhammad Art contest was taking place in Garland, Texas …
Authorities were already on high alert because many extremist Muslims denounce Muhammed cartoons as offensive to their faith. They were worried there might be an attack like the January massacre at the Paris, France offices of Charlie Hebdo magazine and the February incident in Copenhagen, Denmark.
Unfortunately, they were right.
Luckily, this time the terrorists were stopped …
But a message supposedly from ISIS terrorist Abu Ibrahim Al Ameriki was released a few days later on social media claiming ownership of the attack and that more were coming.
The terrorist claims they have 71 trained soldiers in 15 different states ready to attack and they specifically named 5 states.
My state is one of the states they specifically named, is yours?
Is your state next?
The ISIS terrorist posted this to Social Media earlier this week:
"We have 71 trained soldiers in 15 different states ready at our word to attack any target we desire. Out of the 71 trained soldiers 23 have signed up for missions like Sunday, We are increasing in number bithnillah. Of the 15 states, 5 we will name… Virginia, Maryland, Illinois, California, and Michigan. The disbelievers who shot our brothers think that you killed someone untrained, nay, they gave you their bodies in plain view because we were watching.

The next six months will be interesting, To our Amir Al Mu'mineen make dua for us and continue your reign, May Allah enoble your face." (emphasis mine)
Well, looks like ISIS is in my home state — Virginia.
They specifically listed 4 others, are they in yours?
Even if they didn't list your state – that leaves 10 other states unlisted — think yours might be one of them?
In all honesty, if you live in "Buzzards Breath Nebraska" you probably don't have anything to worry about. Terrorists use their attacks to cause terror — so if you live out in the middle of nowhere, then you most likely aren't in danger.
But for the rest of us …
This is a real threat now.
What is the threat?
If we look at the attacks this year by these terrorists there's a common theme that emerges:
1.) 1 or more gunmen
2.) armed with AK-47's or other magazine fed repeating rifles
3.) could be well trained and well equipped (with possible body armor)
4.) seem to be choosing shooting attacks (similar to an active shooter attack, but extremely motivated)
This is a lot to cover, but that's what we know right now.
The point here is that this is not the same as the street thug who wants to rob you with a gun that probably doesn't even work and where 98% of the time simply brandishing your own handgun makes the criminal flee …
This is not a pissed off teenager shooting up a gun-free zone who will either shoot himself, commit suicide by cop, or give up and surrender as soon as he is confronted or meets any type of resistance …
These are people that are determined to kill. In many cases, they're willing to die doing it too. They are much better equipped. And they MAY have good training in individual and small unit tactics (as we saw in Paris).
How can you prepare?
I'm going to be releasing a lot more info on this soon because this is just too much to cover in a couple articles, but here's what immediately comes to mind …
The first step is to be aware. Know that this is a possibility. Don't be in denial.
A Mumbai or Westgate or Charlie Hebdo or Garland TX style shooting CAN happen in your home town. No matter how safe, no matter how nice.
So if you see it happening, you need to accept it, and start taking the action you've chosen.
Which means you need to think about the actions you can take ahead of time. This will reduce your decision making speed and allow you to take action faster.
Some quick hints: if you are with your family, get them out of there as quickly as possible. You need to also decide at which point you will fight. You need to think about your "Go" triggers. Aka, if this happens, then I start fighting.
There's a lot more to be said about mindset, because it's so important, but we'll leave it at that for now …
Second to your mindset, is gear. All the terrorist attacks I've talked about thus far have been carried out by gunmen with rifles (AK-47's if I'm not mistaken. The damn reporters on the Garland shooting can't stop saying "assault rifle" long enough to identify the shooters weapons).
That means, if you have a handgun, you are under-gunned. You are also going to be surprised because they know they're going to a gunfight and you don't — you're being ambushed and they have speed, surprise, and violence of action all on their side.
To put it bluntly, your odds suck.
Two things might help your odds… One, carrying the best gun you can. Instead of a J-frame, 5-shot revolver in your pocket — maybe a Glock 19 with a spare magazine (or two) is a better choice?
Basically, if you can't hit the broad side of a barn with the gun you carry, then change it.
Speaking of marksmanship, let's talk about skill, marksmanship and how you might better your chances here …
Could you make a head shot, on demand, if you needed to?
Read this description of how the Garland TX shooting went down from CNN:
 "about 6:50 p.m., when a dark-colored vehicle pulled into the entrance the Garland officer and school district officer were blocking.
    "When that car pulled up and stopped, those officers began to exit that vehicle, and two men exited the dark-colored sedan," Harn said. "Both of them had assault rifles, came around the back of the car and started shooting at the police car."
    According to a law enforcement source close to the investigation, the two men had six guns — a mix of assault-style semiautomatic rifles and handguns — that are being traced back to various parts of Arizona.
    Gunfire reverberated around the complex, from the two gunmen, and the armed officer.
    A short time later, four members of a nearby SWAT team came in firing their high-powered rifles, according to a source familiar with the officers involved. But by the time they did, the Garland traffic officer was the only one standing.
    The school district officer had been hit in the leg, according to Harn.
    And the two attackers were already down on the ground by their car, having been shot by the traffic officer.
    Within 15 seconds, the chaotic eruption was basically over."
Besides, the obvious liberal reporting (focusing on throwing the word "assault rifle" in there as much as possible, and the focus on "tracing" the guns used by the attackers), there are some important things to note …
This cop had the

skills

to take out two armed gumen wearing body armor — who were shooting at him with rifles …
Let me put that in perspective …
ANY rifle bullet will penetrate the soft body armor worn by a patrol police officer. So their bullets could go through this cop's vest.
The attackers were wearing body armor. I assume it was hard armor, and the cop was carrying a Glock .45, so his bullets would NOT penetrate their vests.
That means this officer was able to not only survive, but save potentially dozens of lives, by being able to shoot two guys accurately while in the heat of a gun fight and getting shot at himself.
None of the reports I've read state where the gunmen were shot, but I've read from what could be a reliable source "Older, off duty, patrol guy engaged, dropped both, head and spinal. SWAT put a few into the one who had the spinal injury because they thought he might have been reaching for the backpack."
So, are your skills up to par? If you had to make a headshot to save your life and the lives of everyone around you, could you?
This is no longer theory. ISIS is here, these attacks will continue. Start Preparing.
I'm not trying to scare you, I'm just alerting you …
We've seen some lone wolf attacks by suspected terrorists here in the states before. And for a while now, there's been talk that ISIS would attempt mass shootings like they've done in other countries.
But this is no longer theory. It happened.
My hope is that ISIS finds the United States is truly a different country. Because of our second amendment and deep "Gun Culture"–I hope they find they can't fight any war on our soil without taking massive, fight-ending, casualties.
My point is this. We have the culture and the ability to NOT be helpless victims in America.
The picture below is footage from a cell phone camera, showing the Charlie Hebdo terrorists calmly and confidently walking around the streets of Paris after murdering a dozen people. The terrorist closest to the camera has his hand up and he's shouting some type of battle cry or praise for his god or something …

In America, we have guns.
My hope is that instead of an American pulling out his cell phone and videotaping two terrorists … instead … he pulls out his handgun and he's looking at these two terrorists, trying to line up his front sight so he can squeeze off accurate shots into his brain stem.
The police officer that was on the scene in Garland Texas was as ready and able to do that … are you?