We spend a lot of time talking about serious issues like self-defense and self-reliance but every once in a while it's good to have some fun.
I recently got to have some fun because I got to see one of the absolute best (if not the best) private collections of guns in the world this past weekend.
You won't believe the pictures of this gun collection!
Do you have a gun safe?
Maybe you have two right?
If you're like a lot of gun nuts, you probably have them stuffed full too.
But you won't believe these pictures …
When you're visiting a guy's house and they say "let's go take a look at the gun collection" you realize it's going to be something pretty special when you go downstairs and there's the equivelant of a bomb-proof vault and a huge bank safe vault door.
Then you open the doors and you see that this collection is going to be something special …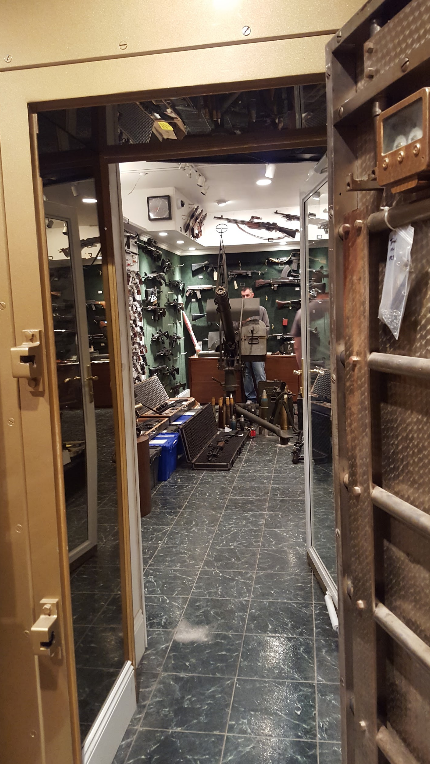 How Would You Like To Have A Home Office Like This?
I think I could get a little (key word "little") work done, if I had a desk with machine guns hanging over it.
One things for sure … you wouldn't worry about home invasions!
And by the way, all the M16's and AR-15's you see on that far wall (after you look past the huge anti-aircraft browning machine gun) are fully automatic.
And even more automatic machine guns — mostly from the WWI and WWII eras …
One of my favorite, most iconic "machine guns" growing up was the Tommy Gun. Before the government decided to regulate them out of the hands of normal, law-abiding citizens with an average income by passing the NFA (making it so only the police and the gangsters could afford them) — you used to be able to buy these through mail order with no background check, no waiting periods, and get them delivered to your door.
Ah the good old days!
Sometimes having just one .50 caliber machine gun is not enough. Neither is having just 4 of them. You also want to add the serial number 1 .50 cal machine gun and have it chrome plated to your collection like the one on the far left of this picture …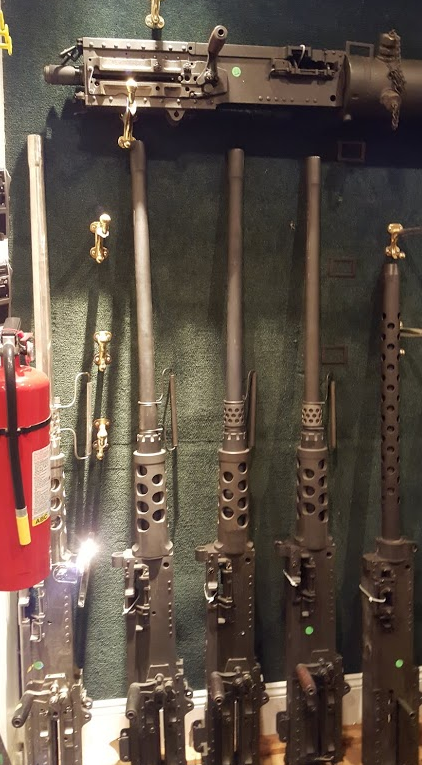 If you're like me, you would forget what's in those boxes underneath the open ones showing the rifles (I would need to make a treasure map to know where I put stuff):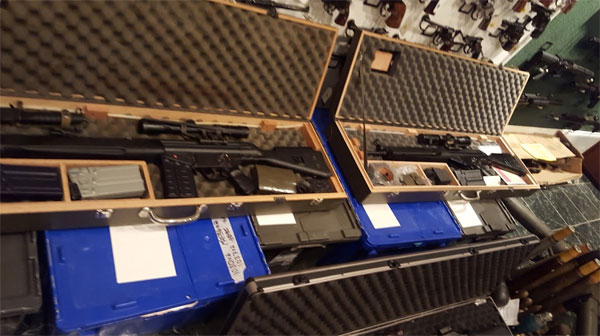 More pictures of the full-auto M16's — a couple of these are very, very rare as you can see with the wood furniture and .308 variants (early Stoner designs I'm sure):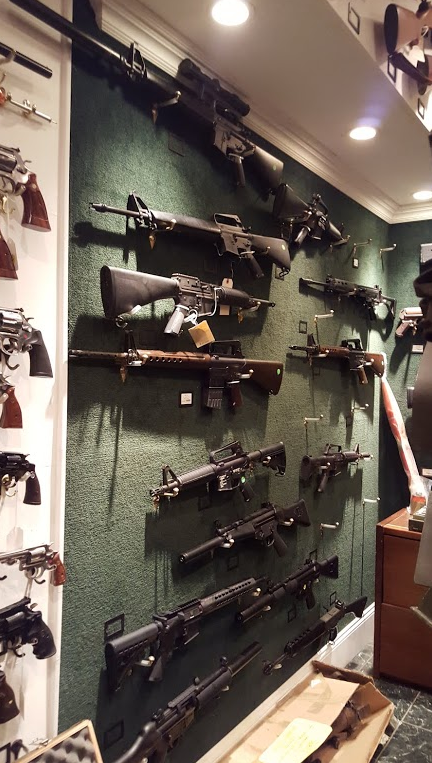 Probably the best part of a collection like this, is when you're arguing with a liberal and they think they're making a good point by saying that you shouldn't have access to military grade weaponry … and then you show them your anti-aircraft armaments …
This was actually picked up off the battlefield (along with the Nazi flag) during WWII …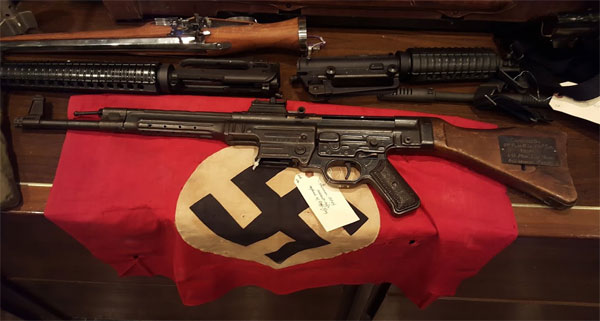 And it's my understanding that this is one of only 3 prototypes of this kind of rifle ever made (STG-45). This was one of Hitler's first attempts at designing an intermediate cartridge weapon (much like the current AK-47 and AR-15 rifles that dominate the war landscape today).
Until this time, you had sub-machine guns (pistol caliber machine guns) and battle rifle's (like the M1, etc firing .30 caliber true rifle cartridges) — the race was on to develop an intermediate cartridge (between those two extremes) rifle for soldiers on both sides.

How Does Your Gun Collection Compare?
I must say that I was inspired by this Gun Vault.
It is truly a one-of-a-kind private collection that you won't see anywhere else.
How does your gun collection compare?
Would you have this many guns? Have you considered or do you already invest in rare firearms like this?