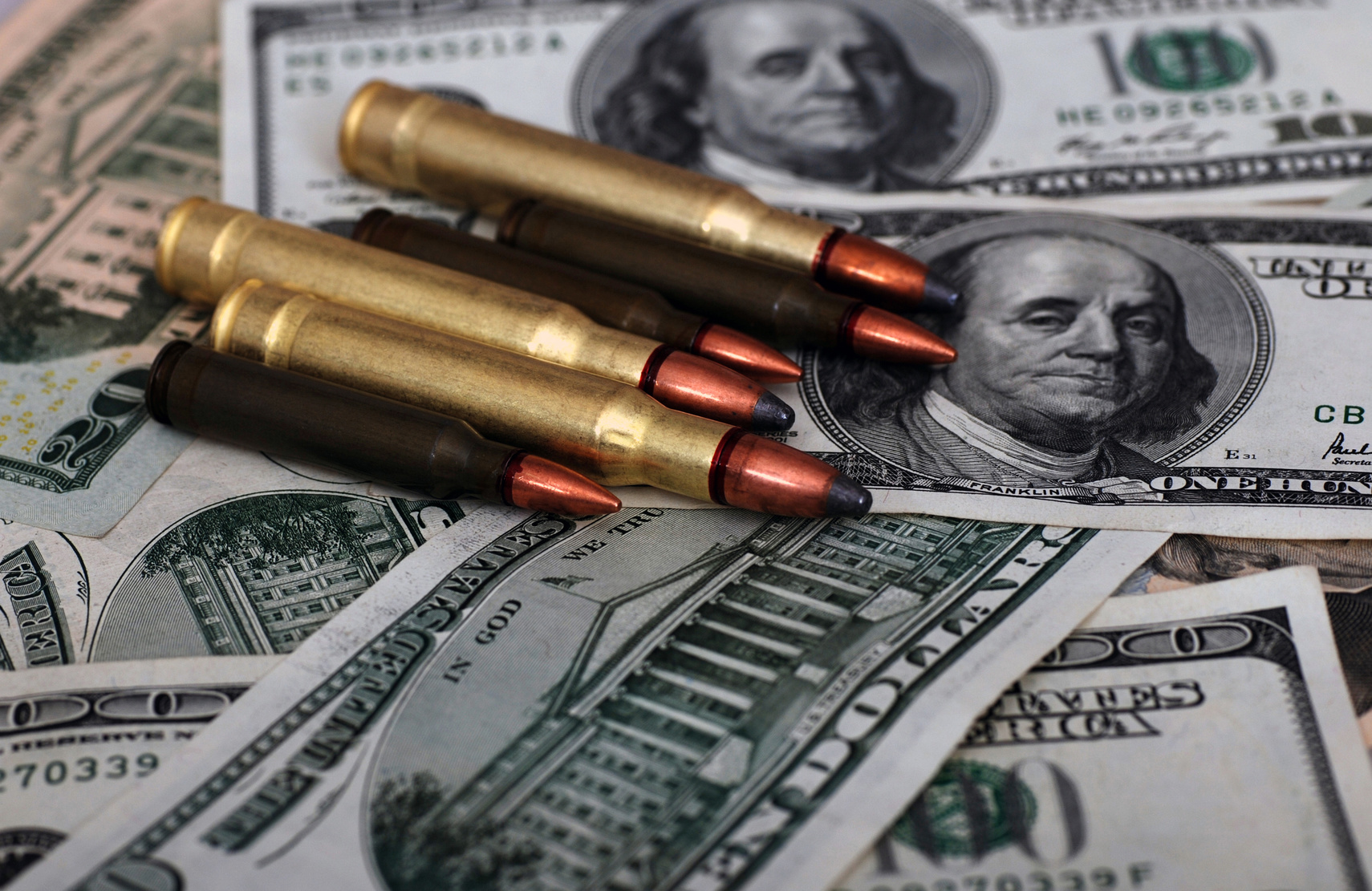 A few weeks ago I was on a business trip and we decided to go shooting.
Because nobody had brought ammo, we were forced to buy ammo from a local outdoors store …
There was a big group of us so 1,000 rounds of 9mm ammo was bought and about 500 rounds of 5.56 ammo was bought.
Someone mentioned how much it costs and I casually guesstimated that it was probably around $450 or so because it was bought in a store where the prices are always higher …
Imagine my surprise when my friend said he spent over $600! I was too horrified to ask how much over $600 he spent …
Another member of our group thought it was "normal" to pay about .50 per round of 5.56 ammo and I thought that was crazy but I didn't push the issue.
The fact is: if you're buying ammo in stores, you're paying too much!
I try to never buy ammo in stores unless I have to because it's simply too much money these days.
Plus, the selection is never that great.
Buying ammo online is much easier, just as convenient and the selection is usually much, much better.
Plus, there's nothing worse than hopping in the car, heading to your local store to pick up something you really need and finding out that they're completely out of stock!
At .50 cents per round for rifle rounds and .25 cents per round for pistol ammo (what another friend said was basically normal for 9mm ammo) it's no wonder many people think they don't have enough money to go shooting more often.
Is It Legal To Buy Ammunition Online?
Yes, but just like guns, if you live in an unfree state or a state that's not in the continental united states then it's probably not legal for you …
Alaska, Hawaii, Massachusetts, New York City (can usually be shipped to other areas in the state of NY, just not NYC), Chicago (can usually ship to other areas in the state of IL, just not Chicago), Washington, DC, Canada, all other international locations, etc all can't have ammo bought online delivered.
The laws — like all laws in our byzantine government — are constantly changing so be sure to check that it's legal in your state.
My #1 Tip Is To Use A Reputable Website.
You obviously want to be careful where you use your credit card online, that much is certain.
But what's also important, especially if you're just buying ammo online for the first time is to use a reputable website with a good reputation that you know takes care of their customers.
Finally, websites that actually show you ONLY what is in stock are the best. Because when there is a lot of panic buying … or … when certain types of ammunition just happen to be really popular for whatever reason, some websites will let you order and you'll be on back-order for months before you ever get your ammo.
Sometimes it's worth it to be back-ordered for a really good deal or something special you bought, but if you need your ammo in a reasonable time then that's obviously something to avoid.
For all these reasons and more, I can't recommend LuckyGunner.com enough.
Their website is well designed, it's easy to use and they're super reputable and take care of their customers. Their prices are competitive and they ship you your ammo REALLY fast in most cases. Plus, they only allow you to buy ammo that's in stock so you never run into the back-order problem.
How You Can Save $250 (or more!) using Lucky Gunner
So for example, my friends and I bought about 1,000 rounds of 9mm and 500 rounds of 5.56 and the cost was over $600 at a local store …
If you go to Lucky Gunner, you can look up either 5.56 or .223 (because your AR-15 may not be mil-spec and may not be rated for 5.56).
The fact is that if you buy in bulk, you will get the best deals. So I normally try to order in cases of 1,000. But for this example, I'll show you the price on a case of 500 rounds of 5.56×45 – 55 Grain FMJBT XM193I – made by Independence ammo.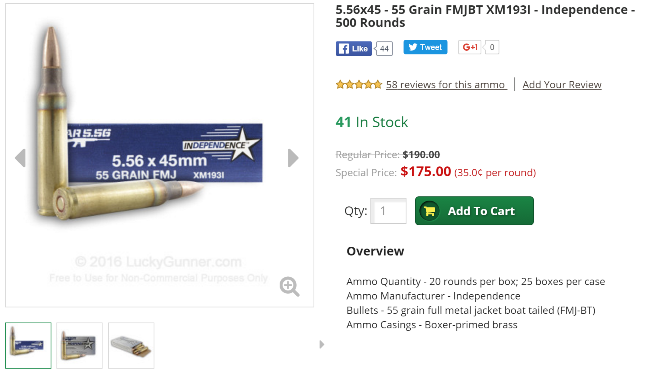 Today's price is 35.0 per round. Not bad!
Now, let's pick up some 9mm ammo too so we hop on over to the "Specials" side of the website (or just go straight to 9mm) and we see 1,000 rounds of 9mm – 115 gr FMJ – made by Tula for just .17 cents per round! Now that's more like it.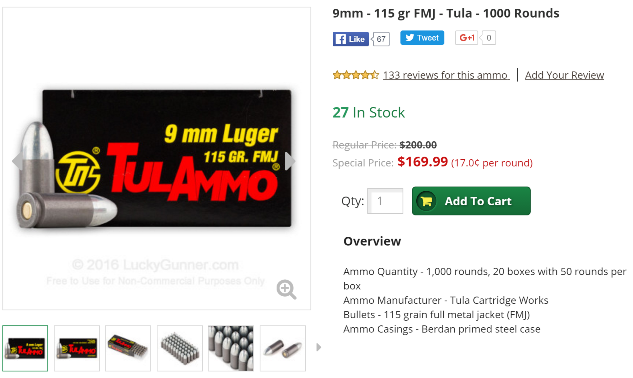 Add that up and what do we get? $175 + $170 = $345 bucks — saving us over $250!
But doesn't shipping hurt your savings?
You would think but no. Lucky Gunner is very competitive with their shipping costs too. This same purchase, 500 rounds of 5.56 and 1,000 rounds of 9mm is going to get delivered by FedEx for a whopping $20.44.
That still puts you WAY ahead on saving money!
In short, I can't recommend buying ammo online highly enough. These are businesses that truly compete to try to deliver the best prices possible and they normally succeed.
LuckyGunner.com is one of the best of the bunch and is perfect for the first time online ammo buyer.
Check em' out and let me know if you got any other tips to save money on ammo?