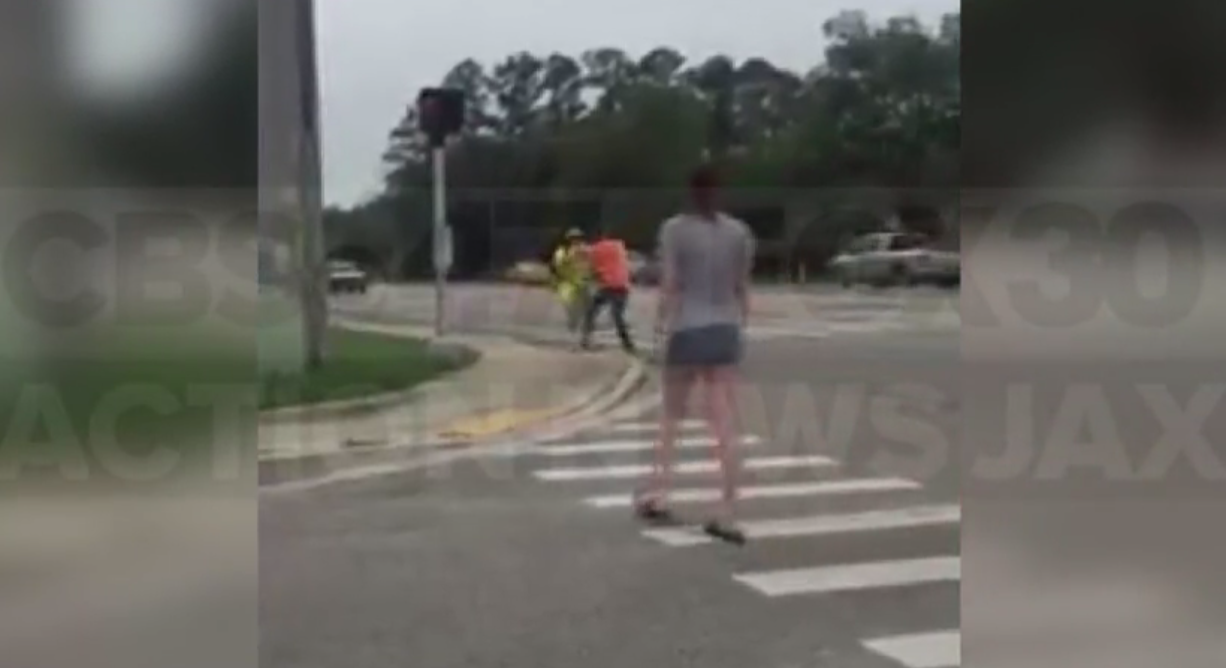 America's haters are becoming more courageous by the day. It used to be unheard of for someone with such an inflammatory and downright insulting message as "Death to America" to even so much as utter the words of their opinion. But now, it's evidently okay for these people to go out on the street and shout it from the rooftops.
That's exactly what this man did in Florida when he walked along a busy roadway holding a boldly colored sign with handwriting that said "Death to America."
He stood there unfettered for some time, and he probably thought that nobody would be brave enough to confront him. But then he got a swift kick of justice… literally.
Two people approached him, said they actually liked the sign in order to get his guard down, then beat the snot out of him.
A video of the whole incident can be seen on The Blaze. Here's a report of what happened:

After a couple spotted a man holding a sign that read "Death to America" on a curb in Middleburg, Florida, they decided to take matters into their own hands by physically beating up the man and snatching the sign away from him in a Tuesday encounter that was caught on camera.
The man and woman were driving past the curb in a gray Nissan when they saw Charles Brownett standing there with his sign, which read "Death to America" on the front and "Because of Obama's policies" on the back, according to WJAX-TV. The woman in the car allegedly shouted at Brownett, "Why don't you leave America?" to which he responded, "Give me some money," the Clay County Sheriff's Office report stated.
Man holding 'Death to America' sign attacked by couple in Florida https://t.co/BhKhxfsd3Z pic.twitter.com/Rdaj8ywss4

— WPXI (@WPXI) March 31, 2016
The duo then parked their vehicle at a nearby McDonald's before walking back toward Brownett. The man, who can be seen wearing an orange shirt in video footage, shouted, "Actually, I like that sign. Give it to me," according to WJAX.
A scuffle then ensued during which the man with the orange shirt can be seen tackling Brownett and wrestling with him, as the woman, wearing a gray shirt in the footage, walks over to join them before kicking Brownett several times. A fourth unknown person attempted to break the two men apart, but the man in the orange shirt used the lull in the fight to punch Brownett several times in the face, witnesses said.
Of course, we shouldn't encourage violence like this, but it's hard to say this guy didn't have it coming to him.
Tell us what you think in the comments.