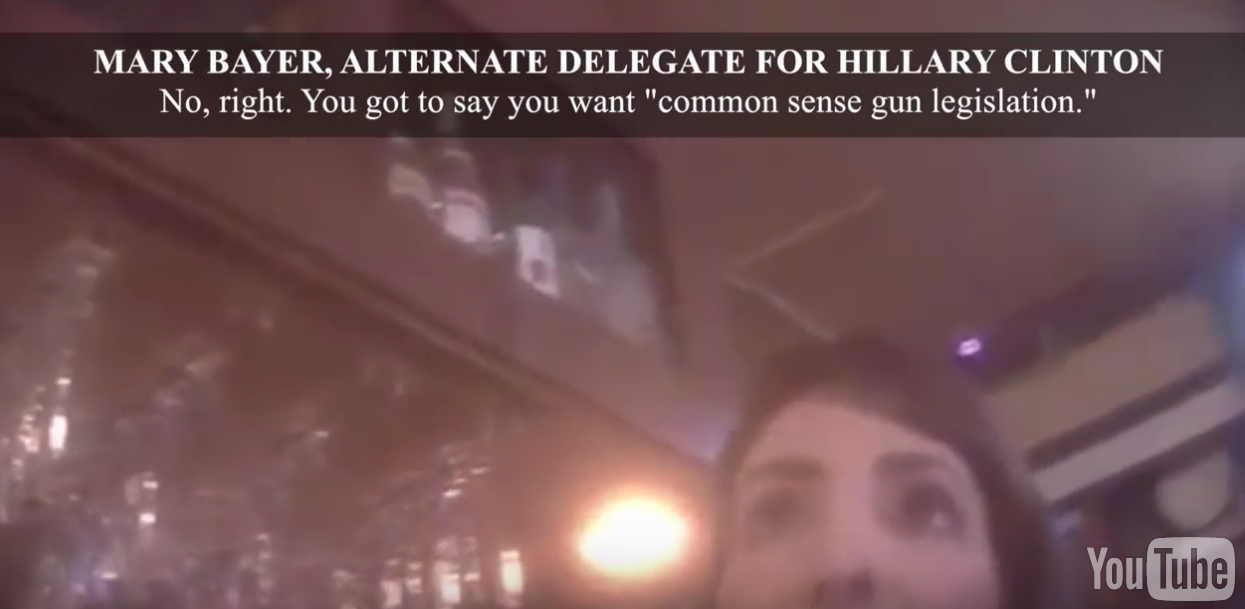 The other day, I got a comment from a reader that is straight out of the leftist playbook:
"No one wants to take your guns, but when a nut case can buy an assault weapon, and kill many people, then something should be done"
But this is simply not true, on every single level.
Undercover Video Exposes Clinton Delegate Mary Bayer As She Actually Tells The Truth …
As InfoWars.com, who broke the story, reports, "If your goal is an outright gun ban, you need to use terms such as "common sense gun legislation" to fool the public, a Hillary Clinton campaign delegate admitted in a recent undercover sting video released exclusively to Infowars.
""Saying you want to ban guns altogether, that's going to piss everybody off," the Clinton alternate delegate, Mary Bayer, told a Project Veritas reporter.
"Instead, Bayer revealed, Democrats use "moderate" language when it comes to guns to obscure their true purpose, a complete elimination of the Second Amendment.
""You have to take that sort of moderate… 'We just wanna have common sense legislation so our children are safe!'" Bayer told the reporter, adding, "You say shit like that, and then people will buy into it."
"Bayer also admitted Hillary "for sure" would support banning guns, and said the only way to actualize that goal would be to "get Democrats in office."
"Common Sense Gun Legislation, Say Sh*t Like That And People Buy Into It!"
I know it doesn't come as a shock to many of my regular readers. We see the lies for what they really are.
But I'm surprised that people still believe politicians when they talk about stuff like "common sense gun legislation". Again, gun control has never been about saving lives or helping people, it's about control.
As far as Hillary Clinton goes, she has outright admitted that she thinks the Supreme Court was wrong on the 2nd Amendment and will attack it every chance she gets. Her position is clear.
The TRUTH About Guns Is That They Are Not a Problem In America, But Big Government Politicians Want To Ban Them Because They Want More Control.
The Government's own Center for Disease Control (CDC) study showed that guns are not a problem, and more of them basically make us safer in America.
Gun control definitely won't stop more terrorists attacks as I've written here because terrorists will always find a way around even the most strict gun control laws as I've shown here.
I've written before that Gun Violence is a made up propaganda buzzword and that it just simply is not a problem in the USA.
So-called "assault weapons" are also not a problem.  The actual number of deaths by rifles — of any type, not just so-called "assault rifles" (another propaganda word) — is so low it's laughable that it's a political issue at all.
In short, about FIVE times more people are murdered with knives than any type of rifle(based on FBI statistics for the year 2011).
And finally, you are TWICE as likely to die from the prescription drugs sitting in your medicine cabinet than you are from the gun in your home, or your neighbor's home, or in the hands of a criminal because the DEA's own study shows that guns are SAFER than prescription drugs.