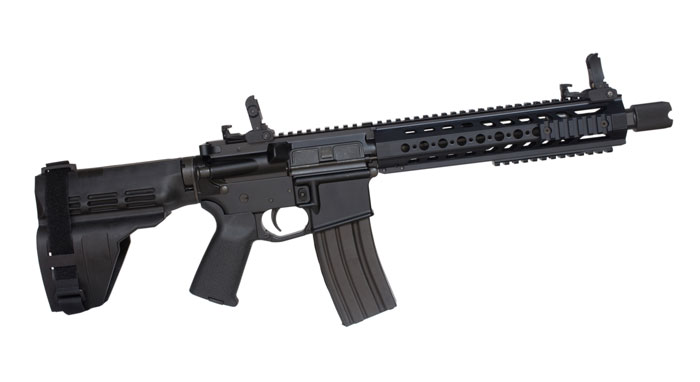 Did you know that you can legally conceal carry an AR-15 in public in most US States?
Did you know that you can do it without anybody noticing too?
After all, it's not concealed carry if everyone can see your gun!
How in the world can you "conceal carry" an AR-15 you might be asking?
To answer, I will simply say that technology has given us some awesome breakthroughs in firearms and concealed carry and the way the laws are written (in most US States) actually help us too.
The "Secret" To Conceal Carry an AR-15 In Public
In every single US State there is now a conceal carry law on the books.
In some un-free, communist-esque states/cities like Chicago, Washington DC, Maryland, etc it can be very very hard to get a permit, but it is possible.
In most other states though, it's relatively easy for a law abiding citizen to get a concealed carry permit. Again, I don't recommend open carrying for a multitude of reasons (which you can click that link to read about), so you can imagine I definitely do NOT think it's a good idea to open carry your AR-15.
If you're in a truly rural/country area where everyone has a truck gun and guns in a gun rack on the back window still — God bless you — and continue carrying on.
For the rest of us, here's how you conceal carry an AR-15 in public.
You need an AR-15 pistol.
What's The Difference Between an AR-15 Pistol and an AR-15 Rifle?
The AR-15 platform can be had in either a "pistol" or "rifle".
You want to buy the "pistol" type (or build it yourself, if you know how to do it legally).
What's the ONLY difference between a pistol AR-15 and the rifle version?
Very simply, the pistol AR-15 can NOT have a buttstock of any kind. And it must NEVER have had a buttstock of any kind attached. The actual lower receiver is bought/transferred into your name as a pistol lower, not a rifle lower.
(In other words, if you bought an AR-15 rifle with a buttstock and then took the buttstock off, while it may look EXACTLY like an AR-15 pistol — the ATF still considers it a rifle.)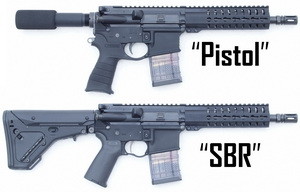 Why You Want an AR-15 Pistol
Here's the reasons you want an AR-15 pistol …
1. It's legally a pistol. That means with your concealed carry permit, you can legally carry it concealed in public just like you would any other pistol (like a Glock, etc). That's important because a lot of states say you can't carry a loaded rifle/shotgun around with you or in your car, etc. They have different rules for pistols.
2. As a pistol, you can have a short barrel (less than 16″) on it without it becoming a "short barrel rifle" which is a NFA weapon. An NFA weapon is illegal to have without paying a Tax Stamp to the ATF and getting their permission to own/build it. Obviously, you'll want a shorter barrel because it makes it easier to conceal.
3. With an AR-15 pistol, you'll have a smaller package that will make it easier to conceal.
How To Actually Conceal Carry an AR-15 In Public
To actually pull this off, you'll need a bag because there's really no AR-15 on earth — even in pistol form — that's small enough to conceal on your person in a holster like you would a regular sized handgun.
For some advice on what bag to do this with, I will point you to a recent post from the Short Barrel Shepherd:
"In general, I want the biggest bag that holds the most stuff that will blend into my environment as effectively as possible.
95%+ of the time I carry my Adidas Rydell sling bag (the Capital is the current model). I can carry my second largest trauma kit inside, as well as my AR15 pistol in 300 Blackout or my Mini Draco vSBR. It blends in well in many environments, including downtown sidewalks, casual restaurants, big box retailers, movie theaters, and corporate headquarters.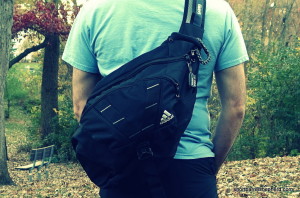 "
Granted, he actually uses a lot of short barreled rifles (SBR's) hence the name of his blog, but the same advice applies and I think the AR-15 pistol is the way to go for most people that don't want the hassle of dealing with ATF paper work and the many laws that you have to follow after that (crossing state lines, etc)
If you're interested in this sort of thing, you should check his site out and especially read his posts about actually carrying, using and living with this type of conceal carry setup in every day life. Like all his posts on "Handling your bag in public" and others.
If you're going to be carrying another firearm into public you need to be extra responsible about it. What do you think? Have you ever considered conceal carrying an AR-15 in public?