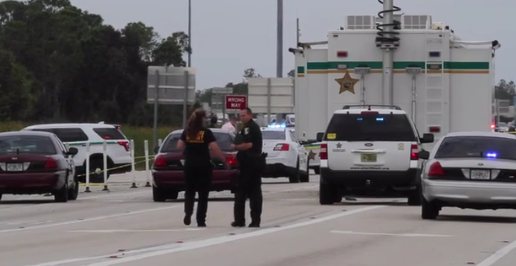 An officer who was being pummeled by a suspect, ordered a concealed carry holder to shoot the man attacking him. The cop literally shouted, "shoot him" to the armed citizen. This story has gotten even more bizarre in recent days as it turns out that the suspect was a former corrections officer.
From NewsPress.com:
[quote_box_center]The Monday incident began near the Daniels Parkway exit on the highway where Bardes was assisting Florida Highway Patrol troopers on a single vehicle, single occupant crash with no injuries, said Lt. Greg Bueno, of the Florida Highway Patrol. Strother was speeding and nearly hit Bardes who believed it was intentional and began chasing Strother. At the Corkscrew exit, Strother exited his car and approached Bardes as he exited his patrol car. Strother slammed Bardes to the ground and began to pummel him, witnesses said.[/quote_box_center]
The armed citizen is a "super nice guy":
[quote_box_center]
A member of the public, who the sheriff's office is calling a "good Samaritan", shot and killed Strother. The bystander's name has not been released because the investigation remains open, said Lee County Sheriff's Office Sgt. Anita Iriarte.
A request for Bardes' dash cam footage was denied because "only our traffic traffic units have cameras," said Sgt. Matt McDaniel. "Patrol deputies do not and he is assigned to patrol."
On Tuesday, sheriff's deputies accompanied the bystander to Shoot Straight, a Fort Myers gun dealer and firing range, which gave him a replacement handgun.
"We reached out to the Lee County Sheriff," said Mark Williams, who has managed the Fort Myers Shoot Straight location since it opened in 2010 off Colonial Boulevard. "He had to impound the gun for evidence. We wanted to donate a gun so this man's not unarmed."
"I know he wants to stay anonymous," said Williams, who declined to identify the recipient of the gun. "He's a super nice guy. He doesn't want any attention."
[/quote_box_center]
The guy who attacked the cop has a history of violence:
[quote_box_center]Edward Strother worked as a a corrections officer from Aug. 1, 1986 to Dec. 1, 2007, according to a spokesman for the Connecticut Department of Correction. He retired in 2007 with pension.
Questions remain on why 53-year-old Strother attacked Deputy Dean Bardes, a 12-year-veteran of the sheriff's office, after a vehicle pursuit on the highway that ended near the Corkscrew Road off-ramp in Estero and ended Strother's life after a member of the public intervened by shooting him.
"I can't explain it," said Strother's brother, Louis Strother. Louis Strother lives in Connecticut.
"He's dead now," Louis Strother said. "Everyone is messed up right now."
He declined to comment further.
Strother, of Ocala, punched a security guard at Winter Haven Hospital in December of 2015, according to a Winter Haven police report. Strother argued with a triage nurse when a security guard intervened. He had an active misdemeanor arrest warrant for failing to appear for that battery charge.
[/quote_box_center]
It looks like the citizen is a hero who saved the day, but we'll have to wait for all the facts to find out for sure. Apparently the race of the people involved in the shooting wasn't the right mix to rile up Black Lives Matter protestors. Still anti-cop groups are using their imagination to gin up conspiracy theories, like this one, in response to the shooting.
Concealed carry may have saved yet another life. Carry on!