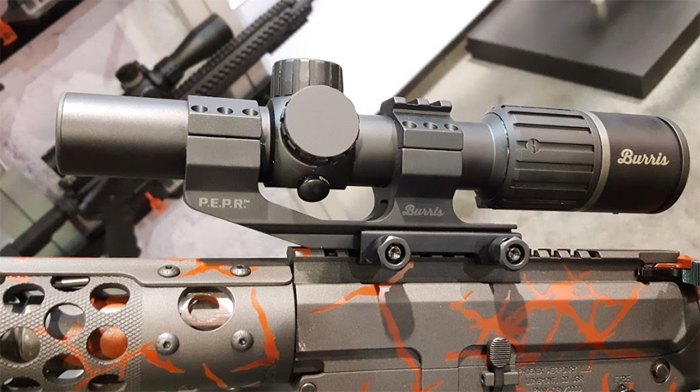 It's no secret I'm a fan of low power variable scopes for the AR-15.
After all, they let you turn your humble AR-15 carbine into a "do it all" rifle you can then use for everything from CQB to long-range "sniping"!
And technology just keeps getting better. Whereas 1-4x power used to be the standard, now it's really 1-6x and many new 1-8x scopes are hitting the scene. Here's two of my favorite new low power variable scopes I just saw revealed at SHOW Show 2017:
1. NEW! Burris RT-6 1-6×24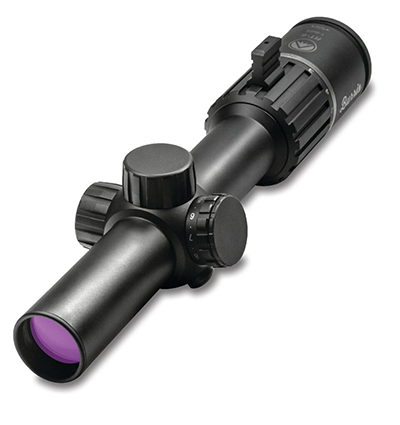 I have been running a Burris MTAC 1.5-6x42mm scope on one of my primary AR-15 rifles for quite a while now. It's definitely one of the 3 Absolute BEST 1-6x Low Power Variable AR-15 Scopes For Under $400 as I've written before.
It appears that much like Vortex did with their 1-6x power scope, Burris is stepping up in a big way and releasing a new 1-6x power scope that looks to be a solid performer (given how well their MTAC products have done) at a low price point.
I got to spend a little hands on time with the Burris RT-6 1-6×24 and it is one sweet tactical AR-15 scope!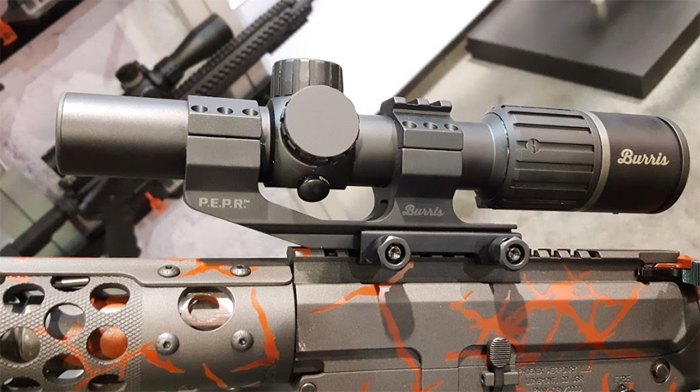 From a Burris press release, the scope features:
"Shorter than most 1-4x scopes, 3-Gun shooters will find the RT-6 is easy to handle and quick to point. The 6x zoom with true 1x setting allows eyes open engagement at close range, and the Ballistic AR™ mil reticle with trajectory compensation puts you on target out to 600 yards.
Features of the RT-6 1-6x24mm include:
* Illuminated reticle with 11 levels of illumination
* Integrated throw lever
* 30mm tube size
* Waterproof, shockproof and fog proof
* Nitrogen filled
* Matte finish"
One other cool thing I don't want to forget to mention is that it comes with a built-in "throw lever" making it much easier to adjust from 1x to 6x power quickly when you need to change ranges fast (this is a nice touch!)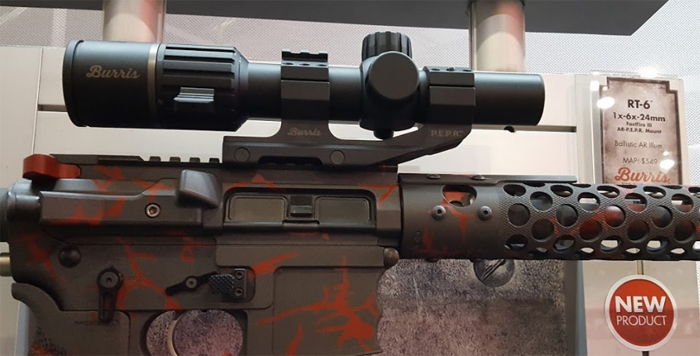 Now, let's talk about the price. As you can see, from the picture I took the MSRP at shot show was listed at $549. In the video below, the only video I can find (taken at the same booth I was at during SHOT Show 2017), the Burris rep says it's $419 MSRP. Add to that the only press release I could find that this new product was coming this year said MSRP was $419 as well. My guess (and hope!) is that this is Burris's new scope to challenge the Vortex Strike Eagle as a sub-$400 scope for the AR-15 market.
Lastly, the reticle is the Ballistic AR™ that I was talking about before which I think is an improvement on their MTAC line of scopes: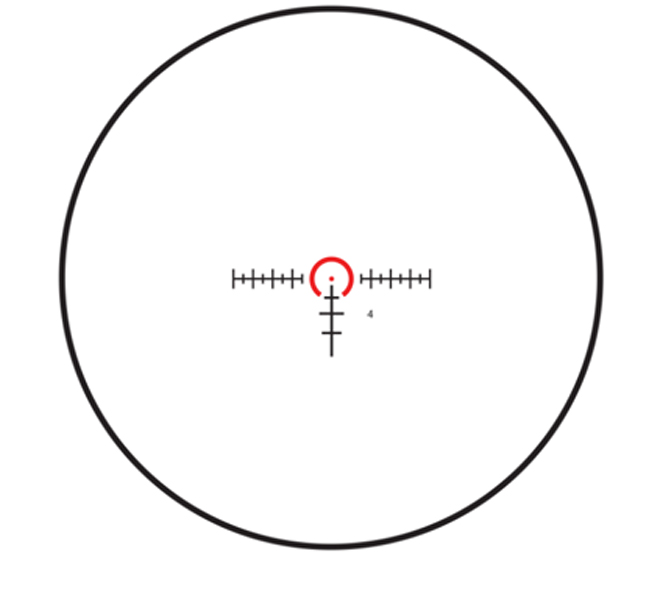 And explained …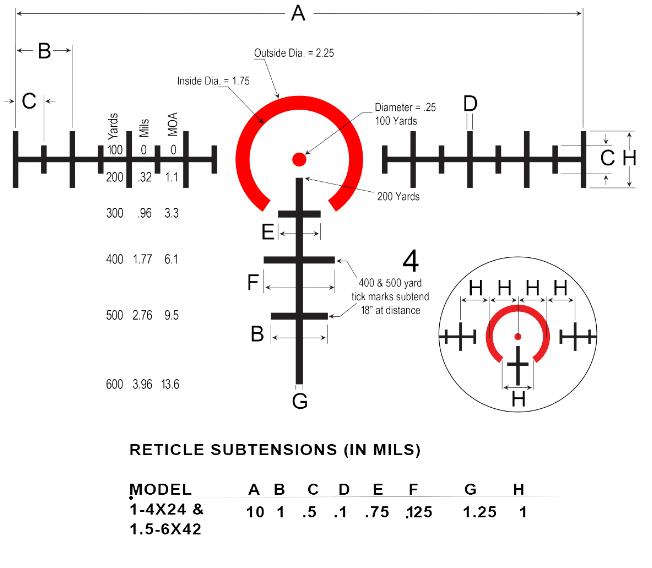 I was able to find the video below where a rep described some of his favorite features of the new scope at the Burris booth:
---
2. Trijicon Accupower 1-8×28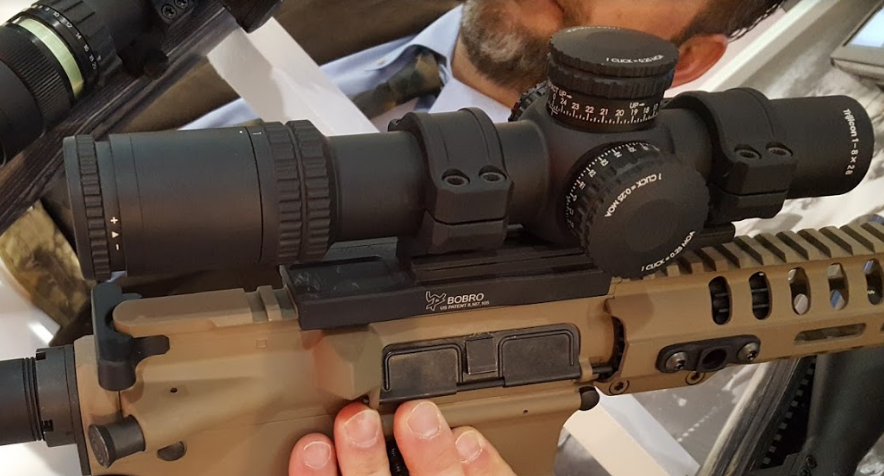 Trijicon is known for their military-proven, bomb-proof line of scopes like the Trijicon ACOG. They also have a reputation for producing really nice low-power variable optics like the Accupower series.
What I didn't realize about this scope — even after handling it a lot and talking to the rep at the Trijicon booth — until I studied the brochure — is that this is a 1-8×28 power scope. It has a larger 38mm tube diameter (as opposed to 30mm) and a larger 28mm objective lens (as opposed to a 24mm).
What I DO know because I picked it up multiple times is that while it looked big and robust and it's a 1-8x power scope, it was lightweight for its size. According to the Trijicon website, it's only 25oz which is heavier than I would have guessed actually.
This is also a 1st focal plane scope. Trijicon is a pricier scope brand, but like they say, you get what you pay for and you're investing in a military proven brand. MSRP looks to be at $1,699 from their website and check out the reticle below: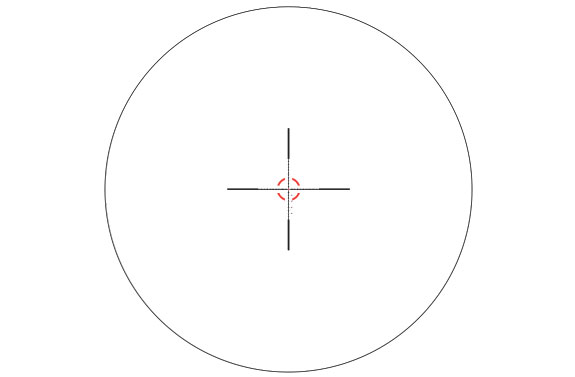 And here's how it looks when you zoom in because it's FFP: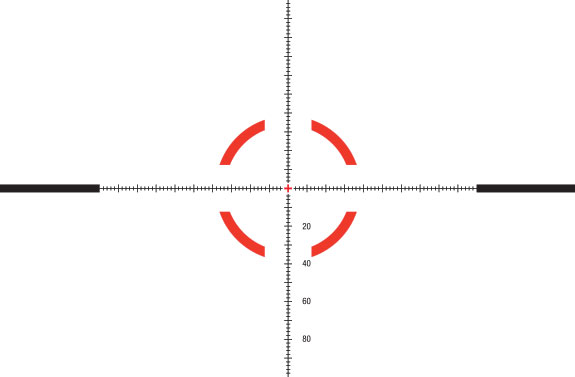 The effect you get with this scope is at 1x the big red circles look easy to acquire like a holographic site, but then when you zoom in they're "out of the way" enough that you can be very precise with the crosshairs. I really like it!
Somehow IraqVeteran8888 got their hands on this thing for a review already 5 days ago, check it out:
---
Those were the two new AR-15 low power variable scopes — NEW for 2017 — that I saw at SHOT Show. Are you excited about either of these?