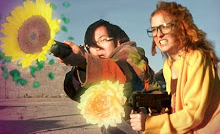 Barack Obama did a real number on the United States Military. We now have the Navy begging for money to fight climate change with absurdly priced pie-in-the-sky moonshot projects. The transformation of our military from warrior to social justice warrior gets even crazier: the Department of Defense is now trying to develop green bullets that grow plants.
It's probably one of the most irrational ideas in the history of bullet design, but it will make progressives feel warm fuzzy, and that's the point.
See the stupidity for yourself, from the Blaze:
The problem they're looking to overcome is how regular bullets can become pollutants. Casings and sabot petals can be come lodged in the ground, or left behind causing the chemicals to damage the soil and nearby water sources.
So this is their absurd solution:
The US Army Corps of Engineers' Cold Regions Research and Engineering Laboratory (CRREL) has demonstrated bioengineered seeds that can be embedded into the biodegradable composites and that will not germinate until they have been in the ground for several months. This SBIR effort will make use of seeds to grow environmentally friendly plants that remove soil contaminants and consume the biodegradable components developed under this project. Animals should be able to consume the plants without any ill effects.
The rounds are not for combat, they are just for training. So soldiers will be shooting bullets made of bio-engineered composites with a plant seed in it. If the army is worried about too much lead in the ground near shooting ranges, they should probably just use bullets that don't contain lead or redesign ranges to prevent lead from seeping into ground water.  They can also just spread the seeds of whatever plants they want to grow around the shooting range. There is no freaking reason whatsoever to be embedding plant seeds into bullets.
In terms of ballistics, the composite bullets will not have the same trajectory as the regular lead-copper jacketed bullets used in combat. That's why it's critical to practice with what you will actually shoot in combat. The whole thing is an insane and epic waste of money. The danger of bullets left in the ground is really not a great danger. Leftist have been hyping lead bullets as "pollution" to place restrictions on hunting. Just like they are doing with climate change, the Military is going right along with leftist retardation because it boost their bottom line.