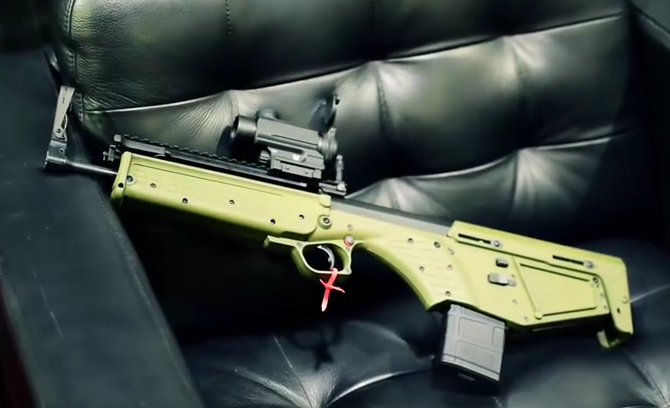 Hot off the shelf at the 2017 SHOT show is the Kel-Tech Survival RDB. The rifle is insanely compact due to it's bull pup configuration, it's ambidextrous, it's lightweight, and it's one heck of a value. It utilizes a totally unique design that expels the shell casing downward! Ohh yeah, it's also horribly inaccurate.
Hey, you can't have it all. Kel-Tech isn't know for making sniper rifles, that's for sure. Actually, according to the data from American Rifleman, their RDB Bull Pup seems to be one of the most inaccurate .223 rifles ever tested in the magazine. At 100 yards it was shooting 2.88 inch groups, that's just horrible.
Don't waste your money on those fancy paper targets, the broadside of the barn will do just fine.
From American Riflemen:
American Riflemen's test results are not scientific and the conditions do vary with every gun tested, but 2.88 is pretty freaking bad for a .223 with a 16 inch barrel. The awkward bull pup design might have thrown the guy testing the rifle off a little, but still, it's among the worst preforming .223's I've ever seen in the American Riflemen shooting results. Any half-way decent AR-15 should be 1.5 inches or less even with all the variables. Why would you buy a rifle that shoots darn near 3 inch groups?
See for yourself:
They make utilitarian guns with unique designs at low prices. Survival, close quarters combat, and plinking are the three main uses for Kel-Tech's most interesting gun designs. Competitive target shooting? Not so much.
These guns are still cool, it just depends on the intended use. Collect 'em all.