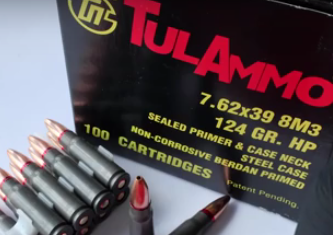 The mythical 8m3 bullet has been a scarce commodity, because, it's a 7.62X39 round that actually expands upon impact. Now Tula is mass producing the bullet for service with it's steel case ammo. Up until this point, the crappy hollow points from Tula and Wolf have been pretty worthless. For all practical purposes, they were no different from the fmj rounds, except that they seemed to be slightly less accurate.
All that changes with the re-introduction of the 8m3. The Firearms Blog explains the significance of this development:
[quote_box_center]There are a great number of "hollow point" loads available in 7.62x39mm from the various Russian brands but, with very few exceptions, these projectiles behave exactly like full metal jacket in tissue. There are a few American loads that have excellent terminal performance, but these are far more expensive.There are Russian 124 gr and 154 gr soft points available, and these do generally tend to expand well, but they are not reliable and some users have reported feeding problems with soft points. What's worse, Russian ammo makers seem to change components more often than Bruce Jenner changes his mind. You never really know what projectile will be loaded in the ammunition you buy, unless it is actually labeled with the specific projectile design, like Western ammo.
That's where the 8M3 "effect" bullet from Ulyanovsk comes in. Loads made using this hollow point bullet with internal scoring on the jacket developed a formidable reputation for brutal terminal performance. Unfortunately, the last lots using this bullet were imported over a decade ago. Russian ammo makers switch components at will and without notice so there are endless rumors that a particular lot of Tula or Silver Bear is being loaded the the 8M3 bullet, but these rumors never seem to pan out.[/quote_box_center]
Now Tula is making what appears to be real deal 8m3 ammo. Testing thus far proves the brutality of this stuff:
Now you can practice with the same ammo you use for self-defense or hunting. Not that there's a ton of people hunting with the 7.62X39 chambered rifles, but now, an effective cheap survival weapon has an equally affordable survival bullet to go with it.
That $300 Yugo SKS just got a heck of a lot more attractive!