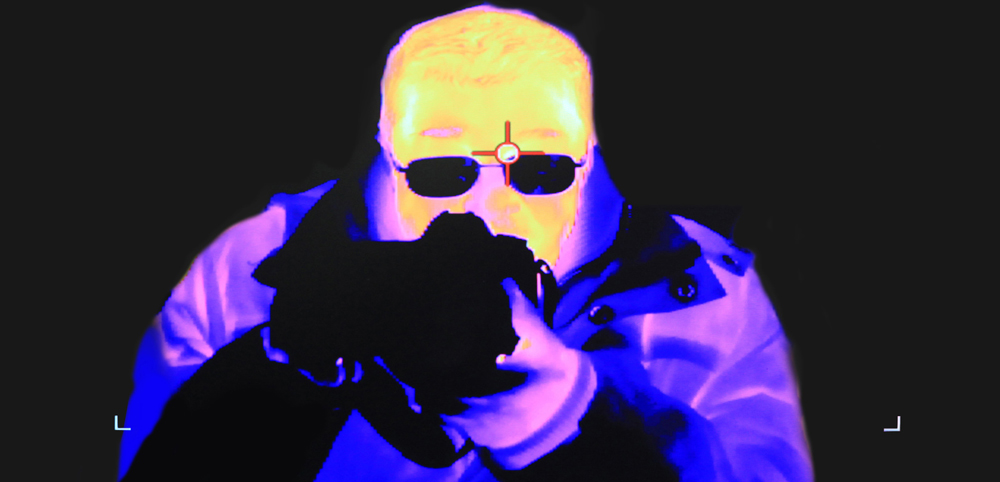 If you've ever wondered if there was a way to become invisible to thermal optics, then you'll see how to do it today.
In fact, you'll see exactly how to build your own "thermal evasion suit".
Thermal imaging is the technology that picks up thermal signatures — aka your body heat. Originally military technology, it's now used on drones, rifle scopes and it's so popular it's readily available for not much money (hunters use them for example).
Despite some common beliefs, it's not impossible to hide from this technology.
First, What Is Thermal Imaging Technology?
The most simple description comes from The Night Vision Company:
"All objects emit infrared energy. The amount of infrared energy emitted is proportional to the amount of heat an object or organism produces. Thermal imagers sense this infrared energy and provide a thermal signature of a scene."
In short, anyone with thermal imaging technology can see your body heat.
Here's an example of two men walking in the woods, viewed through thermal tech – their body heat is in red:
Many people think that it's impossible to hide from such technology.
That's not the case …
How Can You Hide From Thermal Imaging Technology?
There are a lot of myths about thermal imaging …
Thermal can't see through walls. (Unless, it's a VERY thin wall and your body heat is heating the wall up enough to be seen from the outside.)
Thermal can't see through other objects either …
For example, a bunch of trees in the forest. So if you're in a very dense forest you can hide quite well. Likewise (as many terrorists in the Middle East have figured out or were trained by our forces to do) other natural terrain like caves/hills/mountains will hide your body heat.
Sadly, I was watching Predator the other day (the original one) and I would not count on using mud like Schwarzenegger to hide from thermal because even if the mud did block out your body heat for a short time — it would quickly heat up and then be visible.
So let's talk about what does work…
How To Build A Thermal Evasion Suit
Snakebite Tactical sells a ready-made suit for this purpose. They also produced this video to share the info on how to make your own for free.
Let's talk about what we have learned …
So the main thing you want to do is block your body heat right?
The first thought everyone has is using an emergency blanket because it reflects your body heat back at you.
It's a sound idea, but the problem is that your body heat quickly warms up the reflective material.
According to these guys, the best way to avoid all these problems is to go with a multi-layer system.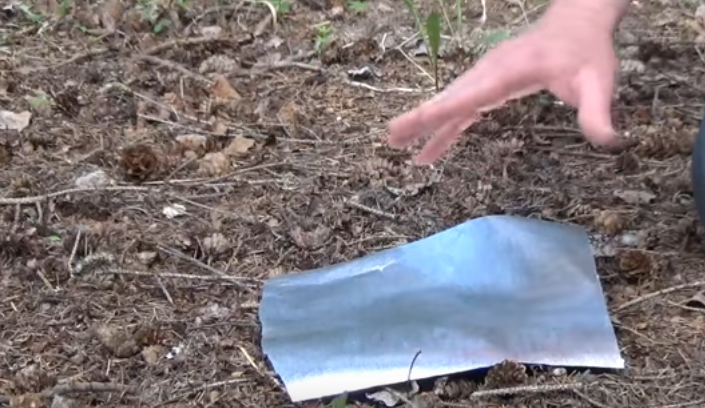 The first layer is Radiant Barrier material — the stuff made to reflect heat back into homes — appears to be the best material to make it out of.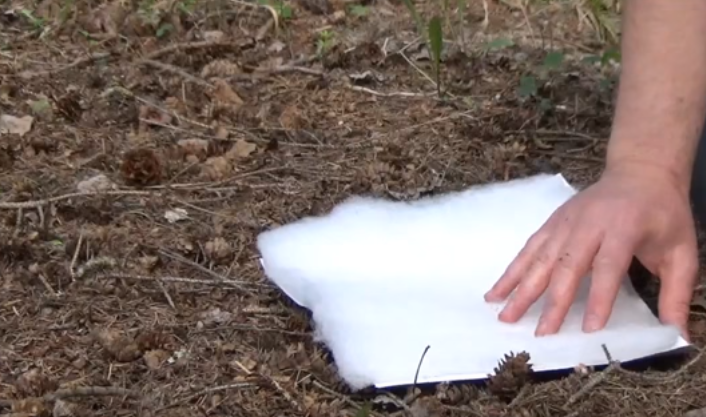 Second layer is thin layer of polyster padding to create airspace. Airspace is crucial. About an inch thick.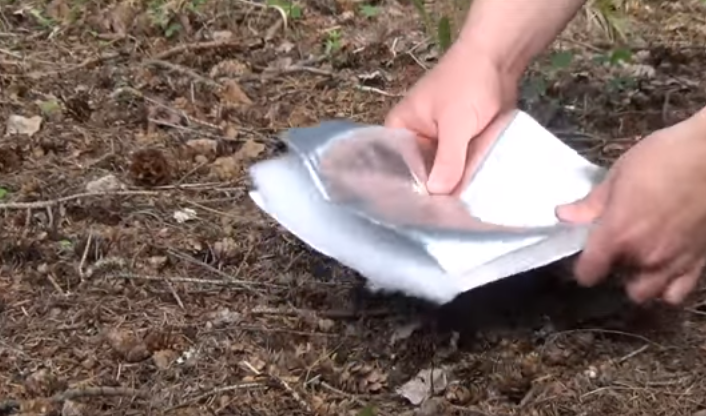 Third layer is another layer of Radiant Barrier Material – facing the opposite direction of the first layer.
At this point, you have blocked your thermal signature.
But because you want to actually be camouflaged, you need to add an extra layer to camouflage the suit.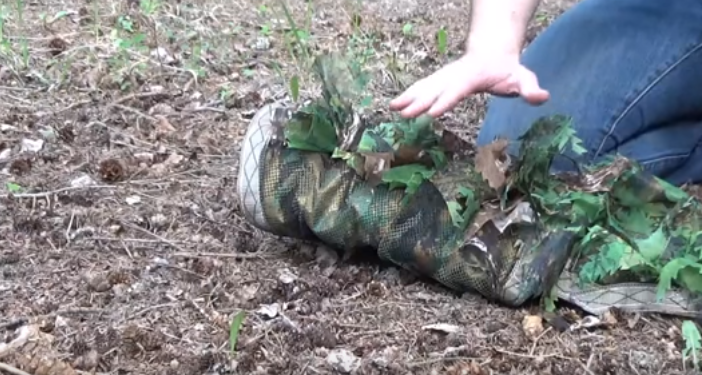 The primary problem here is extra layers cause the suit to heat up quicker. Their solution is very thin ripstop nylon camouflage for the outside. To further break up the shape of the cloak, they added sniper veil webbing (extremely light) and fake leaves (help break up shape and also help to break up thermal energy).
You Can Also Use This Method To Create a Tent/Shelter Type Structure
Max Velocity Tactical used to sell something called an MVT Shield – designed to block thermal imaging too.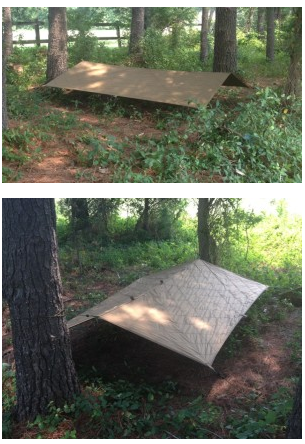 It works in much the same way.
To be completely clear, I'm not sure exactly how they build the MVT shield — but it this is what Max had to say:
"The MVT Shield, both this specific design as well as the general concept using less effective methods, has been tested and will block viewing of your thermal image, including all thermal bloom through the material. The outer sandwich layers are constructed of 70 denier rip-stop coated nylon with an inner double layer of thermal blocking material. The inner layers of thermal blocking material are not Mylar type 'emergency blankets,' but a better, softer, more foldable/durable ('non-crinkling") alternative material."
Further Max expands on some important points (emphasis mine):
"The MVT Shield is designed to be optimally used in conjunction with good fieldcraft, i.e. terrain and vegetation masking, as well as with an air gap between the user and the material."
The important part is the "air gap" that the MVT shield is designed to utilize.
This air gap between you and the cover you're using to evade thermal will keep your own body heat from heating your cover and rendering it ineffective.
Also, like Max says, utilizing good fieldcraft of regular concealment/camouflage will help.
That's because even if you manage to block your body heat completely — you need to break up your silhouette to make sure you don't look like a human. And in the day time (where thermal can also be used) it's even more important obviously.