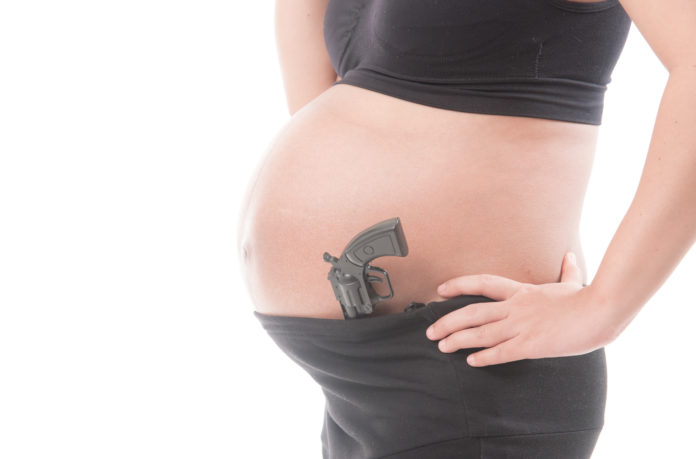 This may be one of the most frustrating stories to report because it deals with a situation in which a person, in doing the thing that she needed to do to protect herself, may end up going to jail because her previous life choices made it illegal for her to use a firearm to protect herself.
Now, from that opening paragraph, you may already know the basics of the story, but, in case you haven't figured it out yet, Jack Noble has the details for us:
[krissy] Noble [of arkansas] was cleared of all wrongdoing in the Dec. 7th shooting death of Dylan Stancoff, who attacked her in her own home. Noble was pregnant at the time of the shooting when Stancoff, calling himself Cameron White, stopped by her home and asked to speak to Noble's husband who was not home at the time. Saying he was a friend from the military, Stancoff left but returned later, pushed himself into Noble's home, attempted to cover her mouth to prevent her from screaming, and began to struggle with the mother-to-be.

Noble escaped briefly and retrieved a .40 caliber handgun, fired three shots, and killed her attacker. But because Noble pleaded guilty (before the shooting in 2017) to felony possession of marijuana, she now faces six years in prison, all for the crime of using her husband's handgun, a gun she successfully used to defend herself and the life of her unborn baby.
Now, maybe you are someone who fully supports the war on drugs, but, whatever your position on marijuana, you have to ask yourself whether possession of marijuana is a reason that someone can't protect herself from what appeared to be a violent crime about to happen.
This may be a situation in which even ardent anti-drug people may want to take a more nuanced approach. It's hard to justify putting a new mother in jail for protecting herself and her child when the law would have potentially left her helpless. It may be time for a review of the law and judicial leniency.