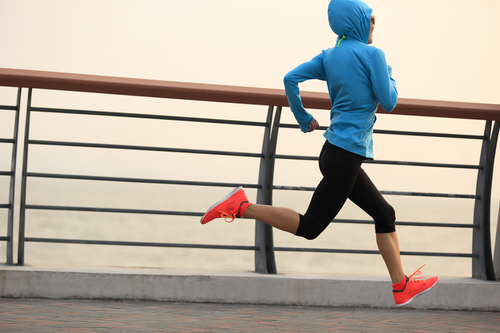 The number of women who are deciding to become proficient with and carry firearms on a daily basis is increasing, and that is a good thing. After all, women are much more likely to be on the receiving end of a physical attack than are men. A firearm can be the great equalizer in those situations to allow a woman to protect herself from a physically larger and stronger attacker.
One of the difficulties that women are running into, though, is that many of the accessories available, such as concealed carry holsters, are more commonly designed for men to use. This can be a problem for women when trying to find practical ways to carry everyday.
Fortunately, though, a solution to this problem is available. Kassy Dillon writes,
While training for a marathon early in the morning and late at night, Amy Robbins wanted to have a defense tool on her body while on her runs to feel safe. With the lack of available women's athletic wear that allows for both a workout and pockets for self-defense tools, Robbins decided to make her own and created Alexo Athletica.

In an interview with The Daily Wire, Robbins explained the purpose of her company and her greater mission to encourage women to "carry with confidence."

Robbins said when she was thinking of a name for her clothing line, she wanted something that represented strong women, leading her to use the Greek word "Alexo," which her website says mean to "defend and to help." She also pointed out that the alliteration of the two "A's" symbolizes the Second Amendment, which is also seen in her logo.

"I needed places to put things on my body," Robbins said. "Lulu Lemon was not making holsters in their pants — nor will they ever. I needed a place to put my firearm."
In a world that wants people to blindly trust that governments and law enforcement can protect them from every conceivable horror (sadly, they can't), it's gratifying to see someone see this need in the marketplace and take the efforts to fill that need.
Let me tell you, if having Alexo Athletica apparel in the house will encourage my wife to carry everyday, then I'm all for it. Because that gives her real safety that gun bans simply don't.