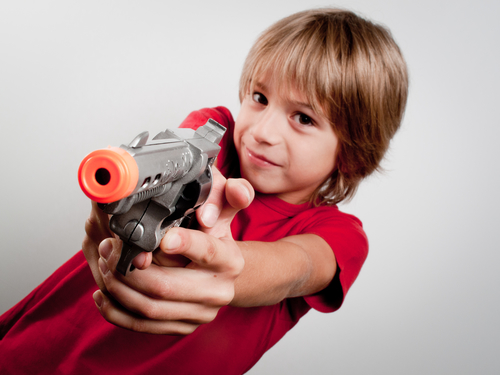 Every so often you come across a news story that you're not sure if you should find funny or if you should find it scary. This is one of those news stories.
Here's the deal: Long Island, New York, has started a gun buy back program, but not just any gun buy back program. No, this program is a gun buy back program for toy guns.
That's not a joke. On December 13, 2018, Beth Whitehouse wrote,
Kids can trade their toy guns for other toys on Thursday, in a program aiming to change the culture around gun ownership, organizers say.

The Long Island Toy Gun Exchange Program begins at 2 p.m. at Brierley Park, 65 Dartmouth St., Hempstead. Each child can receive one toy for whatever water pistols, Nerf guns and other toy guns they turn in.

The new toys are being donated by Sean Acosta of Oyster Bay, a former New York City police officer who now helps people grieve their taxes. "It has to start at a young age," Acosta says. "If we can get them to say, 'It's not cool to carry these toy guns,' then maybe when they get older, they won't ever carry a real gun."

This isn't the first time Hempstead has hosted an exchange. The village hosted such a program in 2015 and 2016 with Manhattan philanthropist Jean Shafiroff. In 2016, about 100 children traded toy guns for footballs, dolls and games.

"We want children to know guns are not a toy," says LaMont Johnson, Hempstead school board president and Hempstead Village trustee.
So, when you look at this on the surface, you probably got a chuckle out of it, too. I certainly did. Who really thinks that buying toy guns from children is going to make the world a safer place?
But, then, you realize that they aren't really trying to do something about real gun violence with this event. No, the organizers of this event want to brainwash children into thinking that guns aren't something that you want to have or use. In other words, though they probably wouldn't say it this way, they want to program kids to be sitting ducks when a violent criminal or a predatory government comes after them.
So, it's come down to attempts at mind control of little children.
How should we fight back? Buy guns. Teach your children how to use them safely and responsibly. And teach them how not to be the victim.