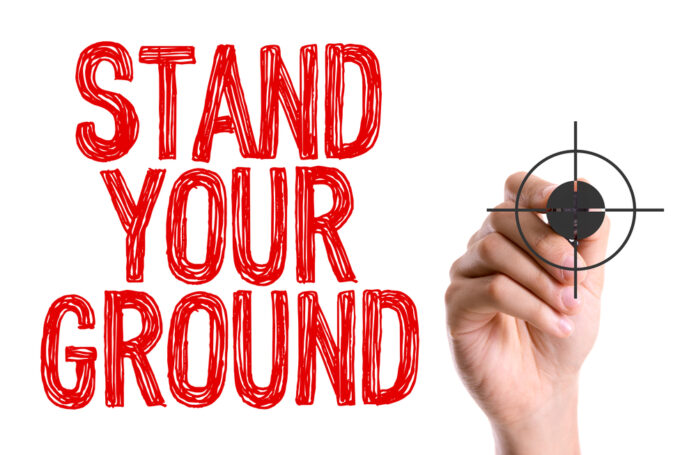 Stand your ground laws are controversial. Anti-gunners argue that the laws are used to let people get away with murder, but pro-gun folks argue that stand your ground laws prevent anti-gunners from abusing gun owners through lengthy legal proceedings simply for protecting their lives.
Obviously, because the other side is irrational about this issue (which, to be fair, they'd accuse us of being, as well), this isn't an issue that is going away anytime soon.
But, for a Florida man, hopefully, a legal nightmare is ending (hat tip to here for the lead). Melissa E. Holsman writes,
Two years after Jason Dames was jailed for fatally shooting a man at a Fort Pierce restaurant, a judge threw out his case after ruling the killing was justified under the state's "stand your ground" law.

Dames, 33, was charged with second-degree murder with a firearm in connection with the Sept. 1, 2018 homicide of Jackie McMiller, 38, of Fort Pierce, which records show occurred at a restaurant at the southwest corner of North 25th Street and Avenue D in Fort Pierce.

Second-degree murder is defined as an intentional killing that was not premeditated.

Following a Sept. 14 "stand your ground hearing," St. Lucie County Circuit Judge William Roby ruled that Dames "was justified in the … ultimate use of deadly force pursuant to Florida law."
Holsman continues,
Under Florida's "stand your ground" law, a person may use deadly force in self-defense if he or she is in imminent threat of death or bodily harm.

"Stand your ground," which went into effect 15 years ago, expanded Florida's long-standing "justifiable use-of-force" statute that governs a citizen's right to self-defense. Previously, a person confronted in public only could use deadly force after first trying to retreat. "Stand your ground" removed that duty to retreat in the face of an attack.

In 2017, the Legislature made a change to the law that forces prosecutors, rather than defendants, to shoulder the burden of proof in such cases.

In this case, Roby ruled the state failed to prove by clear and convincing evidence that Dames was not entitled to immunity from prosecution.
While it's good that Dames was cleared in this incident, the fact of the matter is that he should have never been arrested and should never have been charged.
But this is the kind of situation that, as a gun owner, you have to be aware of. Even if you are in the right, that doesn't mean that a law enforcement officer or a district attorney with an agenda isn't going to come after you to try to make an example of you, and that's beside the possibility of civil lawsuits from other people at the location when the shooting occurred or the family of the person that was shot.
In other words, if you have any way to protect life other than actually shooting, you should choose that other way because just because it's legal doesn't mean that you won't have to go through this kind of nightmare, too.