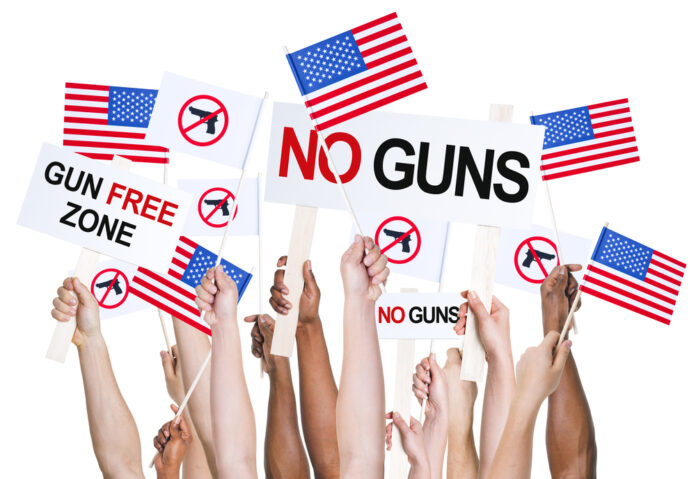 You may have heard the rumors that Democrats are starting to push gun control on a Federal level more aggressively than they may have ever in the past century. Sadly, those rumors are true.
And you may be concerned about what you think could be coming down the pike. Fortunately, you can find that information with a little digging. Or you can get a Republican Congressman from North Carolina to provide that information to you, which, fortunately for you, he did. Ted Budd writes,
This week, the House passed two bills that would undermine this right. The first was H.R. 8. It was sold as "universal background checks." It would impose harsh penalties like six-figure fines and jail time for the simple act of handing a firearm to another person, even for temporary use. The exemptions under H.R. 8 are woefully inadequate to protect the rights of law-abiding gun owners. For example, if you loan your firearm to a victim of domestic violence because their abuser is being released from jail; or if a suicidal friend asks you to take possession of their firearm; or if you loan your cousin your gun after a series of burglaries in the neighborhood. These new transfer penalties would turn law-abiding Americans into criminals. 

House Democrats also passed H.R. 1446. This bill claims to close the so-called "Charleston Loophole," by making retail gun stores wait 10 business days before completing a transfer instead of the current three day standard. The bill would also change existing law to mandate a may-issue transfer system for firearms. That would empower the FBI to indefinitely delay a purchase—even after the increased 10 day window has expired without a failed background check.

This delay adds additional levels of bureaucracy on citizens before they exercise their constitutional right to own firearms. Under current law, the government has the burden of proof to stop you from buying a firearm. Increasing the waiting period to 10 days—while giving the FBI veto power without due process—would reverse this standard. Imagine asking for federal permission before you exercised your right of free speech, free expression, or religious activity. That would be unacceptable and un-American.
Budd goes on to say that neither of these horrible pieces of legislation would have prevented mass shootings because, at least in the cases of the recent ones, mass shooters either passed background checks to get their guns or they stole the firearms in the first place. I suppose that stealing guns is the ultimate gun control loophole, isn't it?
It's beyond reprehensible that Democrats are trying to ram this down the throats of the American people. In fact, because it would put more people in danger if passed, this legislation is downright criminal.