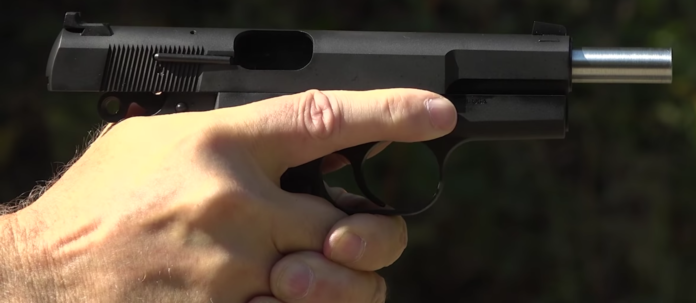 Springfield Armory seems to be doing their best to keep up with the increasing demand for firearms in America. Blame that demand on who is in the White House. Blame it on rioting in many cities. Blame it on increasing violence in many areas. Whatever the reason, the demand for firearms remains high, and Springfield Armory is, apparently, trying to make the most of the situation.
But not everyone wants a micro compact pistol like the Hellcat or a rifle. What else are they offering that might appeal to you?
How about an American-made faithful reproduction (with some improvements) of the classic Browning Hi Power pistol? Ed Friedman writes:
The SA-35 is an all-steel 9 mm handgun, a rarity in today's polymer-frame world. That makes it heavier than your standard EDC pistol, no doubt. But, it also makes it very comfortable to shoot, since the extra ounces help absorb recoil. Both frame and slide are machined from forgings, and modern heat-treating processes are used throughout the pistol. Small changes to the feed ramp and extractor geometry are also present, which Springfield says helps the SA-35 function more reliably with modern defensive-handgun ammunition. That claim bore out in my testing.

Checkered walnut grips keep the aesthetic of the Hi Power while also providing solid purchase. The grip is a touch wider than we small-handed folk might like, but not all that much different from a Glock G19 or other double-stack handgun. A single 15-round magazine ships with the SA-35. That's a two-round increase versus the original Hi Power mag. The company sent me two for testing. Both functioned flawlessly, which shouldn't be a surprise since, although the magazine is the part around which all handguns are designed, this pistol is using an 86-year-old blueprint and magazines for the Hi Power have been around for a long time. The added two rounds are a most welcome bonus, and clearly do not impact reliability in this area.

Another change to the original Browning-Saive design is a factory-tuned trigger that was incredibly smooth in testing. It exhibited no stacking and broke cleanly at less than 5 pounds of pressure. Improved sights are also present, with a large U-notch, serrated-face rear mated with a white-dot front post. The setup is excellent for close-in work, but might cause some shooters (me) difficulty when aiming for precision hits at distance owing to both the thickness of the post and the width of the notch. Given that this is a handgun designed for defensive use, though, that isn't a huge problem. Springfield also chose to eliminate the magazine-disconnect, ensuring the SA-35 can fire even if the magazine becomes dislodged and that magazines drop freely when reloading. That change also led to an improved trigger pull.

As mentioned, the pistol is also made in America, with Springfield utilizing its long-held relationships with a variety of domestic vendors to ensure it obtains quality components. Since the Hi Power was never manufactured in any great quantity—if at all—in the U.S., the SA-35 is actually newer than it seems.

The company also touts its redesigned hammer, which has been recontoured to minimize the risk of hammer bite to the shooter's hand. This is significant, because with a proper, high grip on the pistol, that hazard is quite real.
Needless to say, if you like classic John Moses Browning gun designs like the 1911 and the M1A, then, Springfield Armory's take on the Browning Hi Power may be a pistol for you to consider adding to your collection. With an MSRP of $699 (which means a street price that can work within most pistol budgets), Springfield Armory clearly wants to make this one accessible to the increasing demand for firearms in America.