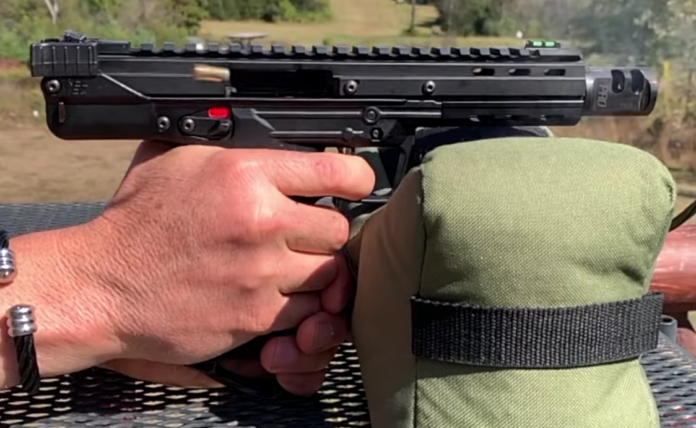 Competition shooting is becoming a bigger and bigger sport here in the U.S. which, of course, freaks out many anti-2A people. What probably scares those people even more is that women, especially, seem to be taking to the sport in growing numbers.
Because of this increasing interest, it's no surprise that some firearms manufacturers are introducing newer models to meet the demand, and, interestingly, we're seeing competition firearms being introduced that are not on the "premium" (more expensive) side of the market. And, yes, in the case of the pistol that we're talking about today, there are even "budget" competition pistols with interesting extra features.
Like a 33 round magazine capacity (that is not a typo).
The pistol with that capacity is the KelTec CP33. Friedrich Seiltgen gives us these details:
KelTec uses a polymer, clamshell, lower receiver mated to an aluminum, upper-bolt housing assembly.  Controls are ambidextrous with a unique AR type charging handle on the back of the receiver. The weapon has a European style heel catch magazine release and a safety lever on both sides of the grip.  The magazine is a unique, quad stack design with four rows for ammunition. When loaded, the rounds need to stack with the rims all lined up in front of each other.
One reviewer, while overall very happy with the CP33, did note that loading the magazine is not the most convenient thing. Then, again, you would also be reloading less often, so, you may not find that so much of an issue. You can watch that review in the video below.
All-in-all, if you're interested in getting into competition shooting and want a budget pistol for that purpose (or if you are just looking for a new competition shooting firearm), the KelTec CP33 may be one to consider.