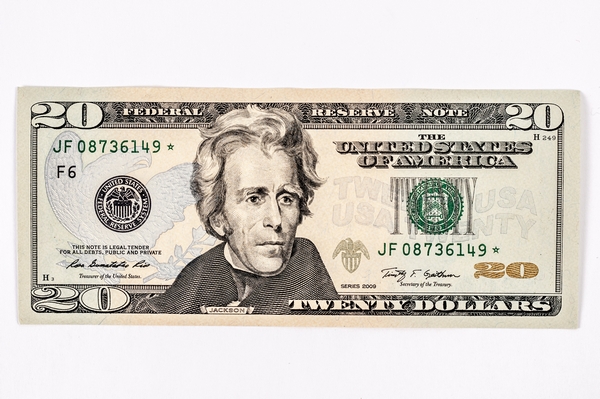 It's official, they're removing Jackson from the $20 bill and replacing him with Harriet Tubman.
Treasury Secretary Jack Lew said "Andrew Jackson — a less beloved former president whose face graces the front of the $20 bill — will be removed in favor of a female representing the struggle for racial equality"
At first they were going to take Hamilton off the $10 bill, but after a lot of feedback from critics they promised "We're not taking Alexander Hamilton off our currency."
And now the decision is final. They're removing Jackson from the $20 and putting Harriet Tubman. And they're keeping Hamilton.
This is one of the major things wrong with our country.
If you know anything about our monetary system, then you know why this is ridiculous. It's like making a statement against liberty.
Who Was Andrew Jackson?
The 7th President of the United States, Andrew Jackson, an important president that we don't talk much about. But we should. And here's why.
He was the only president to care enough to pay off the National Debt.
When Jackson first ran for president in 1824, he denounced the debt as a "national curse." He vowed to "pay the national debt, to prevent a monied aristocracy from growing up around our administration that must bend to its views, and ultimately destroy the liberty of our country."
It's almost like the former president had a crystal ball into the future huh? Because that's exactly what has happened now because of our monetary system.
Though he was a democrat, Jackson was a Jeffersonian-style president who wanted a super small Federal Government. Like Jefferson, he hated banks.
In fact, Jackson even succeeded in shutting down the second Bank of the United States, the central bank of the day (much like the Federal Reserve today).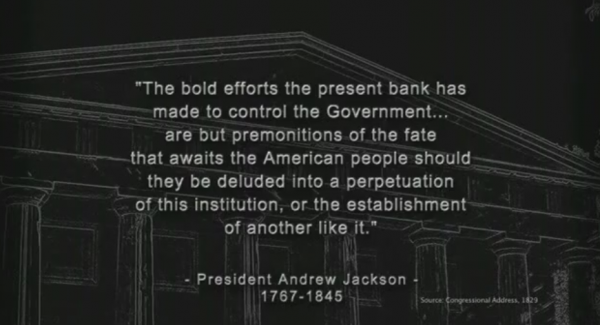 The same Central Bank started by Hamilton.
Who Was Alexander Hamilton?
Thomas Dilorenzo, author of Hamilton's Curse: How Jefferson's Arch Enemy Betrayed the American Revolution–and What It Means for Americans Today, says "The great debate between Hamilton and Jefferson over the purpose of government, which animates American politics to this day, was very much about economic policy.
Hamilton was a compulsive statist who wanted to bring the corrupt British mercantilist system — the very system the American Revolution was fought to escape from — to America. He fought fiercely for his program of corporate welfare, protectionist tariffs, public debt, pervasive taxation, and a central bank run by politicians and their appointees out of the nation's capital….
Hamilton complained to George Washington that "we need a government of more energy" and expressed disgust over "an excessive concern for liberty in public men"…
Hamilton was neither the inventor of capitalism in America nor "the prophet of the capitalist revolution in America," as biographer Ron Chernow ludicrously asserts. He was the instigator of "crony capitalism," or government primarily for the benefit of the well-connected business class.
… When Hamilton and George Washington led some 15,000 conscripts into Pennsylvania to enforce the hated whiskey tax, the purpose was not only to collect the tax and reassure bondholders, but also to send a message to any future tax resisters….
James Madison remarked that this episode revealed Hamilton's agenda of "the glories of a United States woven together by a system of tax collectors."
The Guy Who Expressed Disgust Over "an excessive concern for liberty in public men" Gets To Stay and The Only President To Pay Off The National Debt Gets To Go
Dilorenzon continues, "Things have not changed at all to this day. A recent Fed publication entitled "A History of Central Banking in the United States" proudly boasts that "the Federal Reserve has similarities to the country's first attempt at central banking, and in that regard it owes an intellectual debt to Alexander Hamilton" who, the Fed says, "sounded like a modern-day Fed chairman."
When Jefferson and his followers fiercely opposed Hamiltonian statism they were fighting to avoid bringing the rotten, corrupt, and economically-impoverishing system of British mercantilism to America.
They understood what Adam Smith wrote in The Wealth of Nations, which was a harsh condemnation of British mercantilism as both corrupt and impoverishing. Indeed, many of these men (or their ancestors) came to America in the first place to escape from that very system. Hamilton mocked Adam Smith just as he mocked Jefferson's "pygmy mind" and his "excessive concern for liberty."
It may have taken several generations, but that system of "crony capitalism" or "government for the benefit of the privileged few" has been cemented into place for quite some time now.
The politically incestuous relation between the banking and finance industries and government is the sole cause of the current economic crisis, particularly the boom-and-bust cycle caused by the Fed and the system of fractional reserve banking (i.e., lending money that you don't have) that it administers. Hamilton's Curse is plaguing America once again."
What do you think? Were you aware that Hamilton was the father of big-government-central-banking and that Jackson did so much to fight against it?
Does this make you mad like it does me?