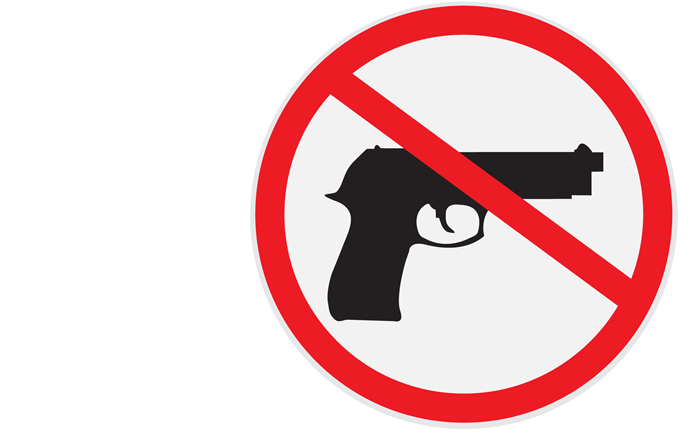 If you're a true American then you already do not agree with banning guns …
You realize that the right to self defense is a fundamental natural right that all humans share, that firearms make it easier to defend oneself in today's modern world, and that — as an American — the Constitution guarantees this fundamental right.
You also know that the founders of America had just got done with a bloody war where they used guns to overthrow a tyrannical regime and they specifically included the right to keep AND bear arms for that purpose — if the government they were designing ever grew into a tyrannical monster again — the people had the right to take it down.
But even more important is the fact that it's impossible to ban guns.
Why It's IMPOSSIBLE To Actually Ban Guns
Let's pretend for a moment that the Federal and every state government completely bans guns.
Oh, let's also pretend that guns were banned in every country in the world because as we saw with the Paris terrorist attacks in 2016, just because you ban guns in France, doesn't mean Terrorists wont drive into your country with a trunk full of AK-47's.
And in this imaginary world all the guns that already exist when "poof!" and disappeared too.
No more guns for anyone.
Would that stop criminals from using guns?
Not likely. Why?
Because it's so easy to BUILD guns.
Watch This "Kid" Make a Gun Out Of Hardware Store Parts
In this video, I have no idea how old this "kid" is (is that the sign of being officially middle age or over? you start calling everyone a kid?) but he quickly designs and makes a simple pistol out of hardware store parts:
And it's not rocket science …
The technology for making guns has been around for over 100's of years.
If guns were outlawed completely and banned everywhere then criminals would quickly start building their own (only after the world supply of currently available firearms ran out … in about 100 years … by which time I'd imagine you could 3d or otherwise "print" a complete gun from your computer because technology would be so improved by then).
Anyways, as you can see there is no way to control or keep criminals from getting or manufacturing their own guns.
The only logical solution?
Don't be the only guy without a gun.
Like The Guardian reports "The frontman of the Eagles of Death Metal, the band that was performing at the Bataclan theatre in Paris when 90 people were murdered by terrorists last year, has remembered his terror at encountering a gunman backstage – and argued for universal access to guns …
… Vocalist-guitarist Jesse Hughes, who is a long-time advocate for access to gun ownership, told the French television station iTélé in a 19-minute, at times tearful interview on Monday that restrictions on guns in France had helped to enable the terrorists.
Asked if his views on gun control had changed after the terror attacks, the member of America's National Rifle Association said gun control "doesn't have anything to do with it".
"Did your French gun control stop a single fucking person from dying at the Bataclan? And if anyone can answer yes, I'd like to hear it, because I don't think so. I think the only thing that stopped it was some of the bravest men that I've ever seen in my life charging head-first into the face of death with their firearms.
"I know people will disagree with me, but it just seems like God made men and women, and that night guns made them equal," he said. "And I hate it that it's that way. I think the only way that my mind has been changed is that maybe that until nobody has guns everybody has to have them.
"Because I've never seen anyone that's ever had one dead, and I want everyone to have access to them, and I saw people die that maybe could have lived, I don't know."
Just a simple thought experiment today …
What are your thoughts? Do you think if all the guns in the world suddenly vanished that criminals would just start making them?