Just how good of a gun slinger are you?
If you're like most gun owners, you have a couple of buddies that you hit the range (or woods, back yard, etc) with and if you out shoot them you think you're pretty hot stuff …
But what does it actually mean to be "good"?
Today, I have a way for you to objectively measure your skill level. You're going to love it.
What Defines "Good"?
I was super excited to read this article over at LuckyGunner.com today by Melody Lauer because it had a chart I have never seen before.
Apparently it was created by John Hearne and it graphs exactly how skilled you are based on objective measures of performance such as various handgun shooting drills and classification systems within the IDPA and USPSA shooting sports.
Check it out: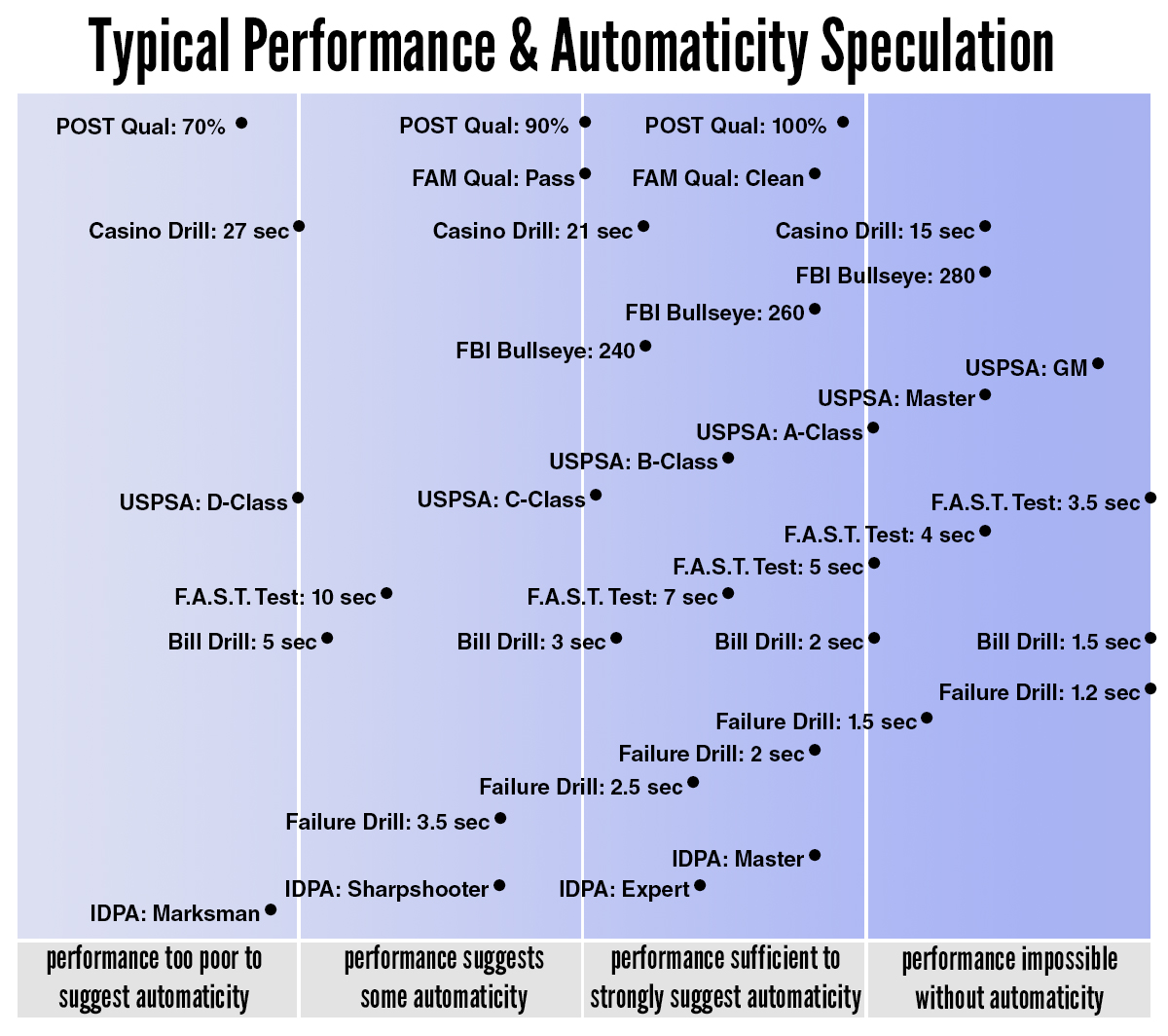 I've never seen anything like it, but I think it's super valuable as a tracking tool to see where you are in your handgun skills performance.
Melody had this to say to explain the chart:
"Hearne uses the term "automaticity" as it relates to one's ability to perform certain skills automatically without much thought. One could easily equate one's ability to perform such standards automatically is indicative of a great level of skill.
Hearne's standards are broken down as follows:
Novice shooters would be classified as those who shot to a score of 70% or lower on a Peace Officer Standards and Training (POST) qualification for their state (the linked qual is for Georgia, but you can search for your own state's POST course of fire), or someone who classified at a Marksman (MM) in an International Defensive Pistol Association (IDPA) league.
Intermediate shooters are designated those who can run a Casino Drill in 27 seconds or less, those who can classify as D-class in United States Practical Shooting Association, shoot a FASTest in 10 seconds or less, can preform a 5-second or faster Bill Drill or a 3.5 second Mozambique/Failure Drill and classify as an IDPA Sharpshooter (SS).
Advanced shooters should be able to shoot a POST qual of 90% to 100%, pass or achieve a perfect score on the Federal Air Marshal (FAM) course of fire, score a 240 or better on the FBI bulls-eye course, classify as a C or B class shooter in USPSA, shoot the FASTest in 7 seconds or less, shoot a Mozambique/Failure Drill in 2.5 seconds or less, or classify as an Expert or Master in IDPA.
Experts can run the Casino drill in 15 seconds or less, score a 280 on the FBI Bulls-eye, classify as a Master or Grand Master in USPSA, shoot a FASTest in 4 seconds or less, shoot a Bill Drill in less than 1.5 seconds or a Mozambique/Failure in 1.2 seconds or less.
If you're curious where you stand, pick any one of those drills and run it. Another option is to get involved in shooting clubs that would allow you to classify in IDPA or USPSA.
The website Pistol-Training.com also has many drills and tests that have scores to designate beginner, intermediate, and advanced skill."
So Where Do You Fall In The Spectrum Of Skill?
The great thing about objective standards are … you either meet the standard or you do not. There is no "pretend" here.
You might find you can run certain drills at a higher level of skill while others lag behind as well.
So how do you measure up?
What do you need to work on?