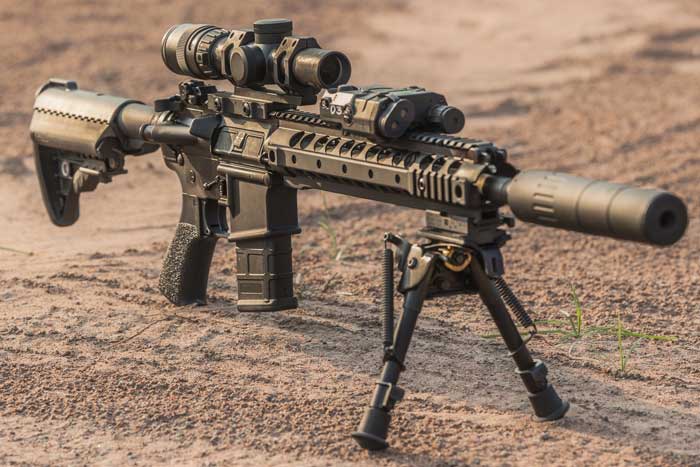 I have to admit, I have a "tiny bit" of the long-range shooting bug that's been biting me over the past year or so …
I guess it's because I haven't done enough of it yet!
Unfortunately, I'm not blessed right now with a range that goes beyond 100yds that I can use — so truth be told — I've not shot any of my AR-15's at anything more than 100yds.
Even so, a lot of "experts" will say that the AR-15 chambered in the standard 5.56/.223 is a 200yd or less gun. Is that true?
How Far Can You Shoot A Basic AR-15?
As Shawn at LooseRounds.com writes:
"For a while now there has been a lot of talk about how ineffective the 5.56 service round is. It's all over the internet gun boards and the popular slick newsstand gun magazines. Time and time again we are all told how the 5.56 is a 200-yard gun, or if you're using a carbine, you're stuck with a 50-yard gun. Everyone knows this, it's just plain common sense! The problem is, it's not really true. A whole lot of people sound off about something they really don't know much about and have zero experience with. This amused me for a few years, then as more and more time passed it really started to bug me to the point of aggravation. A certain type will always repeat the same inaccurate info and we all know that. The problem is that it causes those in military service to lose confidence in their service weapon and what it can do. Confidence in your tools is an important thing, if you believe in and know for a fact what your rifle can do, you shoot it better.
Most serious followers of the AR15 platform know about the MK12 rifles and have read stories about 500 to 800-yard kills and how effective it has been in the GWOT. A few are at least vaguely familiar with High Power service rifle matches. But they assume any AR15 type rifle that can be used for these ranges is by necessity some super customized and specialized weapon. Obviously there is truth in that. To shoot a winning score at Camp Perry you have to have some specialized rifle work done and use special ammo. When these accomplishments are brought up in discussion, they are shot down by the people who "know better" because they are not the same guns issued out to troops or normal civilian users for self protection. And so it goes on and on, that the AR15 is a 200-yard gun.
It is not. It will do more than most believe, and it will do it with military-issue ammo."
1,000 Yard Shots With A Stock AR-15, With Military Ball Ammo (M855) With Iron Sights?
Most impressive to me is that Shawn was able to do this with military ball ammo (M855) after he did it with the heavier, MK262 (77gr OTM) designed for long distance.
Heck, I'm impressed that he could even see 1,000 yards!
Even though we're only talking about being able to make these hits, I'm sure someone will point out that the 5.56 is ineffective at stopping a threat at really far ranges.
To that, I think Shawn has a great point, "The terminal effects of the round at these ranges is another matter and gives people an excuse to not practice. The thing is, a hit is a hit. Kills at 800 yards have been made with the MK12, so that should tell you something. Even if it takes 3 hits to put some one down at 900 yards with your 5.56 carbine, they are still down at 900 yards. I would gladly use up three rounds than have to deal with a bad guy at 50 yards. Ten rounds needed to stopping a target 900 yards away is worth more then 100 rounds when the bad guy is with 50 as far as I am concerned. Work with your weapon, learn it and don't let the gun rag writers and forum experts make you lose confidence in your tool. The AR15 and the 5.56 work. Don't listen to the fluff used to sell new platforms/calibers."
And that makes a LOT of sense don't you think?
You can read about his first shots at 1,000yds using the standard 20″ barrel AR-15 (basically a clone of the M16A2) here.
Later, he did the same thing with an M4A1 upper which means the barrel length is only 14.5 inches long. Incredibly, he outperformed the longer-barreled 20″ rifle with the M4! He also shot a target a 800yds with a 16″ barreled rifle equipped with an aimpoint red dot optic because that's what many people use. Click here to read that.
Clearly, if you're skilled enough, the AR-15 can be shot out to 1000 yards with some degree of accuracy!
800yards With a Scoped 16″ AR-15 All Day Long
Here's a great video of some guys nailing an 800yd target with hit after hit.
I think this is a more common setup for most people, the 16″ barrel and the magnified optic (though more people might be running red dots than magnified optics).
From the video description, "Rifle is a built 16″ middy "Recon" with a Lothar-Walther LW50 barrel (223 Wylde 1:8) topped with Vortex Viper PST 2.5-10x32FFP MRAD scope. Target is a 12″ rifle grade Stake Target from Challenge targets sitting right at 800 yards (731.52 m). Shooting CBC 77gr OTM 5.56mm ammo. A lot of people would be surprised and even doubt what a good 16″ AR will do with good ammo. 800 yards is not beyond the capabilities of this rifle. Target size is just under 1.5MOA at this range. Considering the large number of hits we had and the consistency even after 3 different shooters and 80+ rounds… I'm calling this a good shootin' setup."
How Far Have YOU Shot Your AR-15?
Seeing all these long-range shots really makes me want to go out and see how I perform at ranges farther than 100 yards!
How about you?
What's the furthest you've shot an AR-15?
What type of AR-15 did you use? What type of ammo? Share your results in the comments!