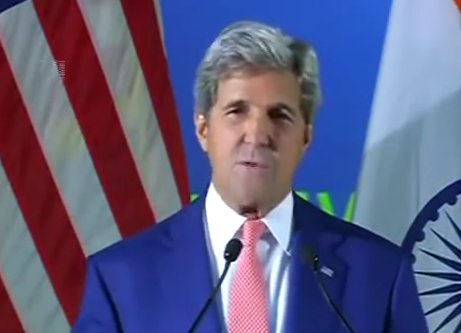 Over 100 representatives in Congress are standing up for the Second Amendment in opposition to insane rules that put the same classification on ordinary guns and ammo as they do on directed energy weapons and spacecraft.
Just look at the insanity, from the Daily Caller:
[quote_box_center]
This so-called Export Control Reform (ECR) initiative was originally aimed at "building higher walls around a smaller yard" by strengthening controls on America's most sophisticated defense technologies, while reducing unnecessary restrictions and regulations on less sensitive items.
Firearms and ammunition – among the most common and least sophisticated defense technologies and technologies with obvious and legitimate markets in the private sector – were supposed to be the first categories to be moved over from DDTC's jurisdiction to that of the Commerce Department.
But because of President Obama's antigun politics, they remain among the last of the "munitions" categories to be amended. Meanwhile, as DDTC's ECR website notes, the agency has already reviewed such categories as "Toxological Agents," "Spacecraft and Related Articles," and "Directed Energy Weapons." For DDTC to suggest firearms and ammunition already present in tens of millions of American homes are somehow more militarily sensitive than those items is absurd on its face.
To make matters worse, DDTC has been building the "higher walls" on ITAR's remaining items, meaning that the firearms and ammunition that remain under ITAR's control will be even more stringently regulated than in the past.
[/quote_box_center]
Is John Kerry's Department of State dragging it's feet or are they actually going to try to keep guns and ammo in the DDTC's jurisdiction and out of the Commerce Department's jurisdiction?
This is what's at stake, from the NRA:
[quote_box_center]
As with prior executive actions on guns, the administration released its dictate suddenly and without advance warning to or prior input from affected businesses, completely bypassing the normal formalities associated with a significant rulemaking. The guidance is also likely to result in more confusion than clarity and may significantly chill heretofore legal conduct associated with gunsmithing.
By way of background, the AECA and ITAR concern rules by which military materiel is exported from, and imported to, the United States. The so-called "defense articles" governed by the AECA/ITAR are compiled in what is known as the U.S. Munitions List and include some, but not all, firearms and ammunition, as well as their parts and components. Thus, for purposes of the regime, a spring or floorplate from the magazine of a controlled firearm is subject to the same regulatory framework as the firearm itself.
The AECA/ITAR require anybody who engages in the business of "manufacturing" a defense article to register with DDTC and pay a registration fee that for new applicants is currently $2,250 per year. These requirements apply, even if the business does not, and does not intend to, export any defense article. Moreover, under ITAR, "only one occasion of manufacturing … a defense article" is necessary for a commercial entity to be considered "engaged in the business" and therefore subject to the regime's requirements.
[/quote_box_center]
Long story short, it's just more executive-action gun control accomplished by changing definitions and classifications. Fortunately, we have some allies in congress standing up to this nonsense. It seems that Obama is using every federal agency he can to push gun control. The State Department, the ATF, the Department of Justice, and even the Environmental Protection Agency; all are guilty of pushing gun control via executive-action. This really needs to stop.