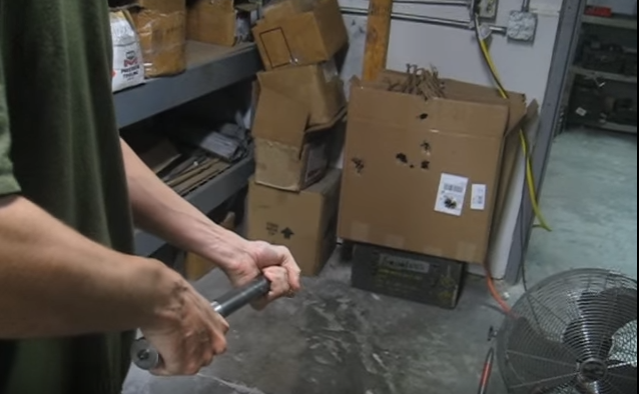 If the idea of "gun control" is to keep guns out of the hands of criminals, then it really is a stupid idea.
Why?
Because it quite simply doesn't work.
I've written about this multiple times, but today I want to prove the point even further by showing you an amazing $7 Home-made $12-Gauge Shotgun.
Why It's Actually IMPOSSIBLE To Ban Guns
As I've written before, most notably here with "Why It's Impossible To Actually Ban Guns" and "Terrorists ALWAYS get around useless "gun control" laws" — gun control simply does not work.
In the first installment of this series, I wrote this:
Let's pretend for a moment that the Federal and every state government completely bans guns.
Oh, let's also pretend that guns were banned in every country in the world because as we saw with the Paris terrorist attacks in 2016, just because you ban guns in France, doesn't mean Terrorists wont drive into your country with a trunk full of AK-47's.
And in this imaginary world all the guns that already exist when "poof!" and disappeared too.
No more guns for anyone.
Would that stop criminals from using guns?
Not likely. Why?
Because it's so easy to BUILD guns.
Today, I have further proof of that point.
Introducing The Amazing $7 12-Gauge Shotgun!
Now this guy is actually Mark Serbu a well known gun designer.
And he obviously knows what he's doing here.
World's simplest homemade pistol…the GB-22!
He also recently created — what is quite possibly — the simplest PISTOL in existence.
He calls it the "GB-22" which stands for the "Gun Buyback 22" … a .22 caliber pistol he made to be able to turn in at gun buybacks.
Check it out:
I would totally buy a kit if this guy sold these. He says "If you're interested in plans or kits please email us at: sales@serbu.com"
In Short, The "Genie Is Out Of The Bottle" When It Comes To Firearms
As the author writes on the Firearm Blog, the genie is out of the bottle when it comes to building firearms:
"When the conversation turns to guns, my father is fond of saying "the genie is out of the bottle". No matter what laws or regulations are in place, the technology to make firearms from readily available materials and simple processes is in-hand, and nothing short of total de-industrialization can turn that clock back. Examples of the unleashed genie abound; a recent trip to the National Firearms Museum had me beholding weapons made by Vietnamese Communists out of tubes and boards, with dubious firing mechanisms."
And when 3d printing from your computer becomes even more wide-spread and cost-effective as the free market and moore's law kicks in — watch out gun-hating politicians like Hillary Clinton! — EVERYONE will have a gun!