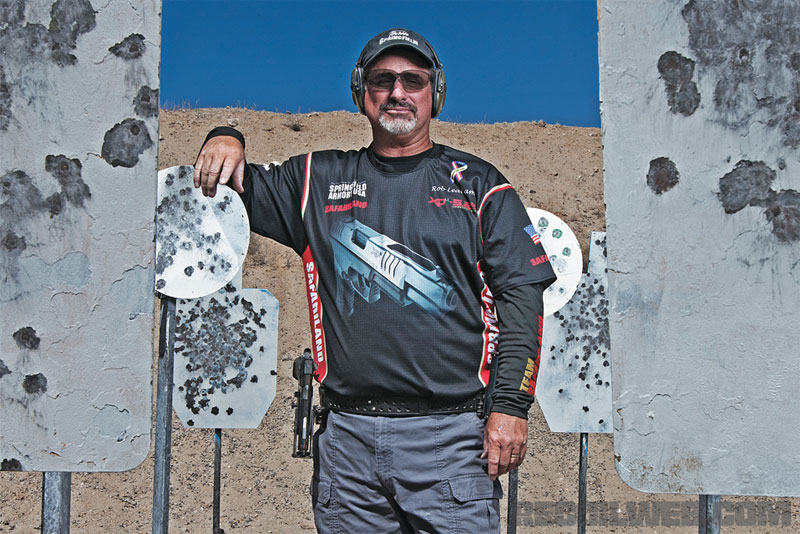 The man you're about to listen to is also known as "TGO" which stands for "The Great One".
Most of his amazing shooting accomplishments are with a pistol.
He's an 8-time IPSC World Champion, a 10-time NRA Bianchi Cup Champion, a 17-time Single Stack National Champion and a 26-Time USPSA National Champion. He's been around for so long and has been winning for so long that he no longer tallies the local, state and regional wins.
When you see below he's going to blow your mind. He's going to tell you to STOP AIMING and other secrets to become a better pistol shooter.
Why You Should STOP AIMING By The Greatest of All Time (TGO) Rob Leatham.
In this eye opening video below you'll see Rob Leatham talk about the MOST important part of shooting a pistol. It's not aiming!
The 3 Secrets To Better Pistol Shooting
Like Rob says, it's SIMPLE but it's not EASY.
I first heard Rob and Mike Seeklander discussing this on Mike's podcast. You can click here to check it out if you're interested. It caught my attention then and it caught my attention today too so I thought I'd share it with you.
In short, here are the 3 secrets to shooting better:
1. Hold The Gun REALLY tight! I covered this in my article on how to grip your handgun to shoot fast & accurate. We don't have all day to line up our sights and take our time and because we may need to shoot multiple, fast, accurate follow-up shots — we need to hold the gun really tight.
2. Point the gun at the target where you wanna hit it (That means get the proper sight alignment and sight picture).
3. Pull the trigger without moving the gun and/or sights. And according to "The Great One" THIS is the most important part of the process and it has more to do with #1 (Gripping/Holding the gun) than it does #2 (aiming).
What Do You Think?
I've been contemplating over and over again the absolute BEST way to teach beginners and get them up to a respectable and effective skill level in the shortest time possible.
I think I might just copy what Rob's doing here with teaching them the 3 secrets first … especially the trigger control … and forgetting aiming till much, much later.
Come to think of it, this totally reminds me of the infamous dry fire "wall drill" where you essentially take a (triple-checked) unloaded gun and aim in — with the barrel only 1 inch away — from a blank wall and align your sights. Then you press the trigger. If your sights do NOT move then you are doing it correctly. If your sights move, try again.
Then it appears that Rob takes the shooter up to the line and has them do the same exact thing on a target, but this time "live fire" with real bullets/shooting, press the trigger without disturbing the sights. Then and only then does he teach aiming.
Genius!
I can't wait to take a class from this man. He's a living legend!
What do you think?
Did you learn anything new? How can you use these tips to become a better shooter?