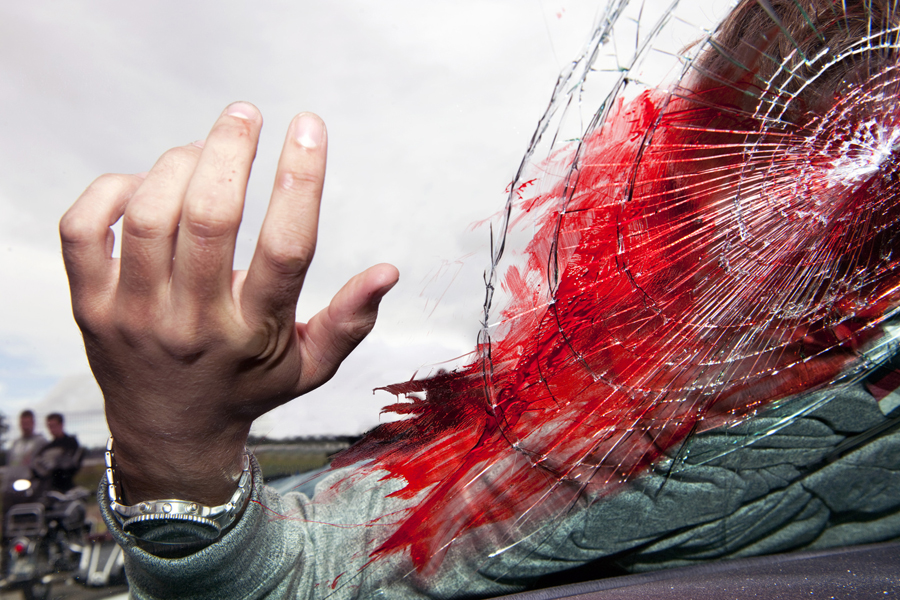 In the first installment of this article series, I introduced you to the idea of Tactical Combat Casualty Care (TCCC) as a way to save your own life or the life of someone you love when it comes to gunshot wounds …
… Or even worse, if you ever happen to find yourself in "mass casualty" situation like a terrorist attack or bombing where chaos rains and blood and body parts are everywhere.
It's an unfortunate reality that this is the world we're living in!
Even still … it's important to also understand that the applicability of this medical trauma info is NOT just limited to 'tactical' situations!
What if you're in an earthquake or other natural disaster and someone you love is injured and bleeding massively?
What if you're working in the wilderness cutting wood and your buddy manages to cut his foot half off with a chainsaw?
Or there is a massive train wreck, car wreck, etc …
These tactical medical skills will help save lives, no matter the situation if what you're dealing with is massive trauma.
That said, today we are going to take a tactical focus by talking about the IFAK/BOK.
What Is An IFAK/BOK and Why Do I Absolutely Need One?
Do you own even one gun?
Then you need to not only know the basics of Tactical Combat Casualty Care (TCCC), but you also need to own at least one IFAK/BOK.
IFAK stands for "Improved First Aid Kit". BOK stands for "Blow Out Kit". They are both names for a trauma kit that is specifically designed to help you use the TCCC protocols to save your own life or the life of someone else (Self-Aid/Buddy-Aid).
In short, it's a kit you put together with the medical gear I showed you in part one of this article.
According to a pdf I found on the U.S. Army Medical Department website, this is the standard IFAK loadout: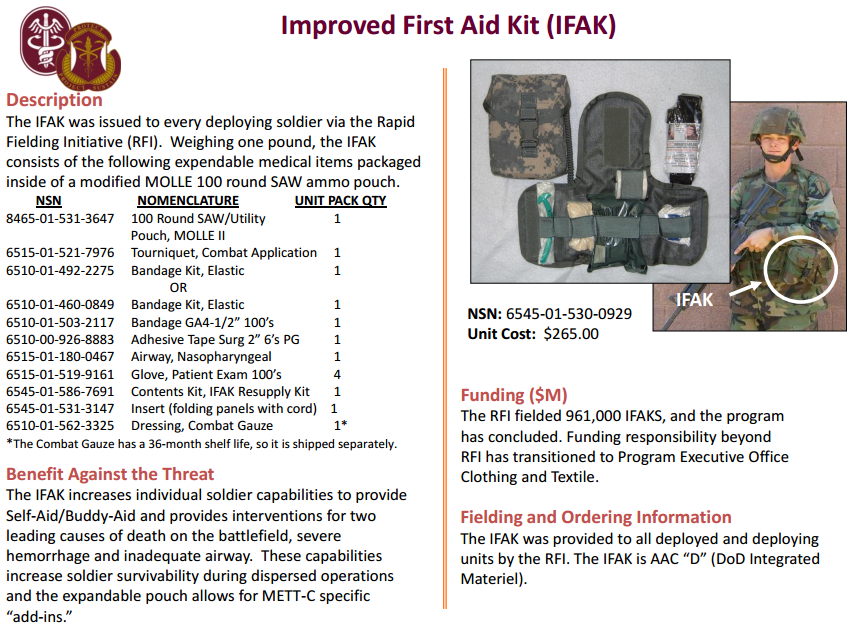 As the description says, it " … provides interventions for two leading causes of death on the battlefield, severe hemorrhage and inadequate airway. These capabilities increase soldier survivability during dispersed operations and the expandable pouch allows for METT-C specific "add-ins.""
In other words:
1. A tourniquet
2. Multiple bandages (including pressure bandage)
3. A hemostatic agent (Combat Gauze)
4. A Nasopharyngeal Airway tube (to stick up noses)
5. Some tape and gloves
And room to add in other medical gear as one sees fit.
This is not a bad start and while you can find this exact kit on some surplus websites occasionally, there are other kits on the market readily available to civilians if you want a "done for you" medical trauma kit.
Today, I'll talk about a popular kit you can buy then give you some options to make your own …
The AR500 Armor Tactical EPIK (IFAK) Review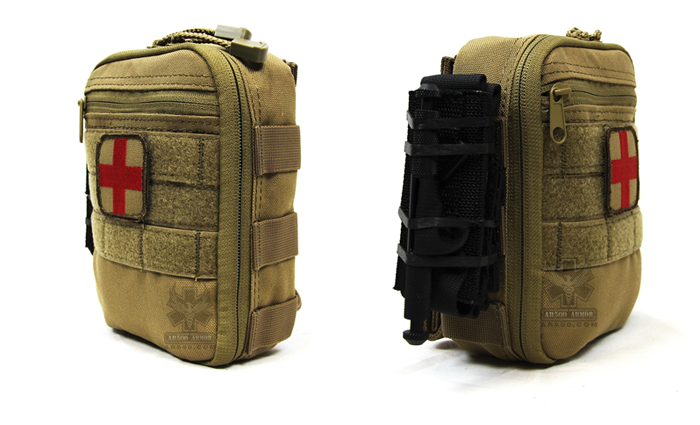 For whatever reason, I guess to increase confusion, AR500 Armor named their kit something different called the "EPIK" which stands for "Emergency Personal Injury Kit".
Which, actually, now that I think about it is not a bad name for a trauma kit because — as I pointed out earlier — you can use a "tactical" trauma kit for any bad, traumatic emergency!
Moving on …
First off, this kit is designed as a standard MOLLE based medical kit that you could throw anywhere in your car/house/shooting bag, or attach to said items via the use of MOLLE, or even put on a chest rig/battle belt/plate carrier or ruck using MOLLE.
It's definitely overt, so it's not something you'll carry every day for concealed carry (we'll cover that in a future article).
If you have a gun, you keep this with the gun or near it. In your range bag perhaps where you keep everything else that you take with you when you are going to shoot your gun such as eye protection and ear protection.
So after choosing what color you want it in, you have the option of adding a tourniquet. Do that. You can never have enough tourniquets and they offer the SOF Tactical Wide Tourniquet which is a good one. That's the version I got.
That said, when you open it up this is what you'll see (if you got the SOF-T Tourniquet then you won't see the SWAT-T package inside because you replaced it with the better SOF-T):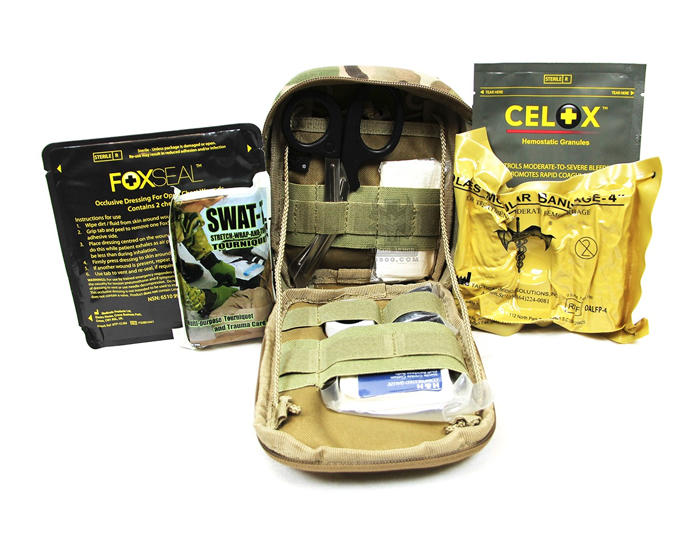 From the AR500 website, this is what it includes (my notes in bold!):
* Celox Hemostatic Granules or Quick Clot 50G Sponge (based on availability)
*Swat-Tourniquet (Swat-T) or SOF Wide Tourniquet (Again, spend the extra money and add the SOF Wide Tourniquet, because this is a full featured blow out kit you want to build!)
* Foxseal Chest Seals (or equivalent)
* Olaes Modular Emergency Bandage or H&H Thin H Emergency Bandage (selection based on availability)
* H&H PriMed Compressed Gauze
* Trauma Shears
* Compressed Bandage
* Waterproof Medical Tape
* Medical Gloves
Honestly, if you don't have a lot of training yet, then you probably don't have a preference for the different types of gear inside (for example, "Celox vs Quick Clot", etc) so this is a good starter kit.
The only thing it's missing from the Mil-Spec kit is the Nasopharyngeal Airway tube (to stick up noses). But there is PLENTY of room inside this kit to add your own.
How To Customize Your Trauma Kit Or Build Your Own …
Now, you could buy the AR500 kit and learn the BASICS of how to use all the stuff inside simply with the info in the first part of this article series and the links to the official TCCC doctrine.
But if you get more training, or you decide you need different or better gear then you can always "make your own".
IMPORTANT POINT: Do NOT put "boo boo" medical gear inside this! You do NOT put bandaids, tylenol, etc inside a kit like this. It will only get in the way of the life-saving stuff you need to stop serious TRAUMA in emergency situations. Keep all that in a different medical kit for all the non-life-threatening medical issues.
That said, if you would like to put together your own custom kit full of the 'best' supplies for you, there is a really good guide written by this guy Sua Sponte over at the Suarez International blog (Sua Sponte is the nom de guerre of an active US Military serviceman who has spent many years in various assignments within the Special Operations community).
He is also the co-author of the book "BEATING THE REAPER!! Vol. 1: Trauma Medicine for the CCW Operator" which is a VERY good and VERY short read on TCCC protocols for civilians (I will probably review this book soon for you).
Anyways, in his article he goes through a few "off the shelf" kits and what is inside them … what he likes and does not like … and then gives you step-by-step what he would buy to build his own. Be sure to check out the full article, but the pertinent stuff is below (and I also added links to Amazon because the original article did not have those links for you):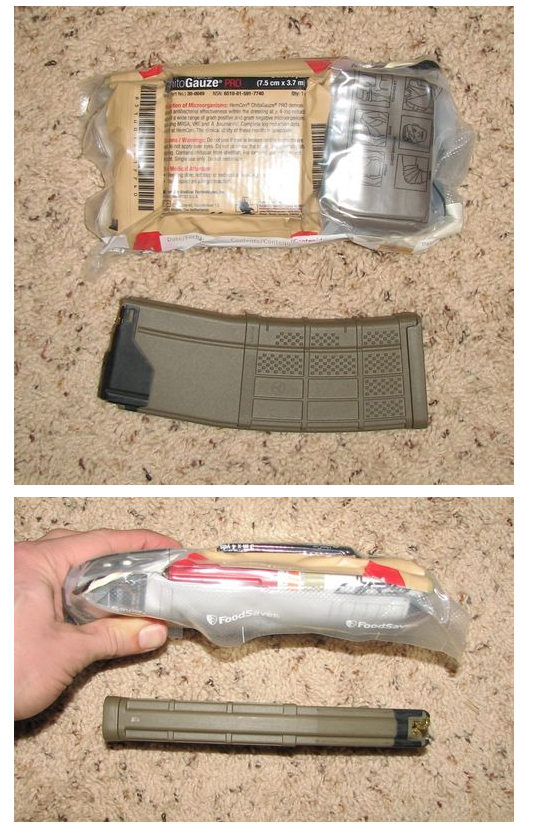 Roll your own Option $156.10
The other option would be a "Roll Your Own" kit. As you can see the price of building your own kit out of quality components is on par with purchasing a premade kit; so the point is NOT to save money. What I did here is put together a list of what I consider a Tier 1 individual medical kit.
I recommend that the main contents of any individual med kit be vacuum packed (minus the Tourniquet and scissors) this prolongs the life of the kit and also serves are a tamper indicator, so that if the pouch is torn open you will know that everything might not be there. Your basic Food Saver vacuum-seal machine is more than adequate for this task.
I tried to make this as easy button simple as possible so everything available from Amazon, except for the HSGI Pouch can be ordered from One Source Tactical
1 HSGI IFAK pouch $28.00 – 3.5 stars HSGI Improved Bleeder/Blowout pouch is a PALS mountable nylon pouch similar in size and required real state as the others that were mentioned in this article. It has a double closure(fastex and Velcro) to prevent inadvertent loss of contents. On the outside of the pouch there are webbing points for attachment of a TQ (although I recommend placing it elsewhere), there is also a channel in the back of the pouch for a pair of trauma shears that are retained with a pull the dot snap retainer. The inside of the pouch has a webbing pull tab to aid in single hand access of the insert.
1 SOFTT-W $34.99 – 3.5 stars Between the CAT and the SOFT-W I tend to gravitate towards the SOFT-W (wide), this is primarily due to form factor in that the SOFT-W when "flat packed" is the most compact of the two.
1 ChitoGauze $32.95 – 4 stars ChitoGauze is a hemostatic chitosan coated gauze dressings intended to stop severe bleeding and reduce blood loss while offering bactericidal and fungicidal properties. It is also z-folded for more easily packing into a wound. As hemostatic gauze goes this is my go to product and the one that I have been using for several years.
1 Hyfin (twin pack) $36.25 – 4 stars In both real world application and during formal tests and evaluations the Hyfin dressings performed with 100% efficacy. They edge out the HALO in that they include a piece of gauze to wipe the area before application; that is where the extra half star came from.
1 ARS 14ga needle $9.58 – 3.5 stars Commented on previously.
1 Flat OLAES Bandage 4" $6.95 – 4 stars The Olaes Modular Bandage is the newest generation of trauma bandages, with features such as 3 meters of gauze, a removable occlusive plastic sheet behind the dressing pad, Velcro holding tabs every 12" to aid in management while applying and the pressure bar that can also act as an eye cup. The flat pack option is nice for placement in compact kits along with other flat items. The Z-folded gauze contained with-in the pad of this dressing replaces the need to include standard kerlix gauze in the kit, thus saving space.
1 Adjustable flange NPA airway 28fr w/ lubricant $6.95 – 4 stars NPA's are sized to the patient based on length if it is too long it can cause gagging too short and it loses efficacy. The Adjustable flange NPA has a collar that allows it to be adjusted to the proper length of the individual.
1 pair Defender-T Nytrile gloves $6.95 – 4 stars Previously commented on. This price is for 10 pair however only one or two pair needs to be included.
1 Cravat $4.34 – 4 stars If I could only carry one medical item it would be cravats.
1 Gorilla tape 36" "flat rolled" $4.95 – 4 stars This is the best tape available in my experience for field medical applications the potential applications are limitless. The price is for a 12 foot roll, then I take it and wrap it long ways on a hotel key card.
1 pair 5.5" Trauma Shears $8.95 – 3 stars I already mentioned trauma shears earlier the only difference is that for an individual kit I prefer slightly smaller 5.5" scissors to save space.
1 SOF MISTTM Casualty Card $1.25 – 4 stars As casualty cards go the SOF MISTTM is pretty on point it is made of a water and tear resistant Tyvek material and has a grommeted wire for attachment to a casualty's person.
1 Sharpe double tip marker $1.99 – 4 stars The double tip sharpie permanent marker provides the ability to write on the casualty card, tape or even directly on the casualty. Additionally since it has both fine and medium tips it can make for much more legible writing.
To Wrap This Up …
If you own even one gun, you have the ability to put holes in people.
Also, the bad guys you are going to use the gun to defend yourself against? They have knives and guns that can put holes in you.
Therefore, it would be very smart if you learned at LEAST the basics of TCCC for yourself and your family …
And then you invest in a Tactical Trauma Kit like the AR500 kit or build your own to your own liking.
No, it's not as sexy or cool as buying a $4,000 custom made AR-15 …
But it IS sexy and cool to save your own life or the life of a loved one if the S ever HTF and you or someone you care about is bleeding to death.
Don't put this off. Put together your own basic Tactical Medical Trauma Kit today. Then stick it next to your guns and take it with you wherever your gun goes.
Even better is to get more than one of these and have one at home, one in the range bag, one in the car, etc. Like guns and ammo you can't have enough because you never know!
Please share this article and part 1 with everyone you know who has a gun because it could help save good people's lives. In the next installment, we'll talk about ways to conceal carry/every day carry this same type of life-saving trauma medicine gear.