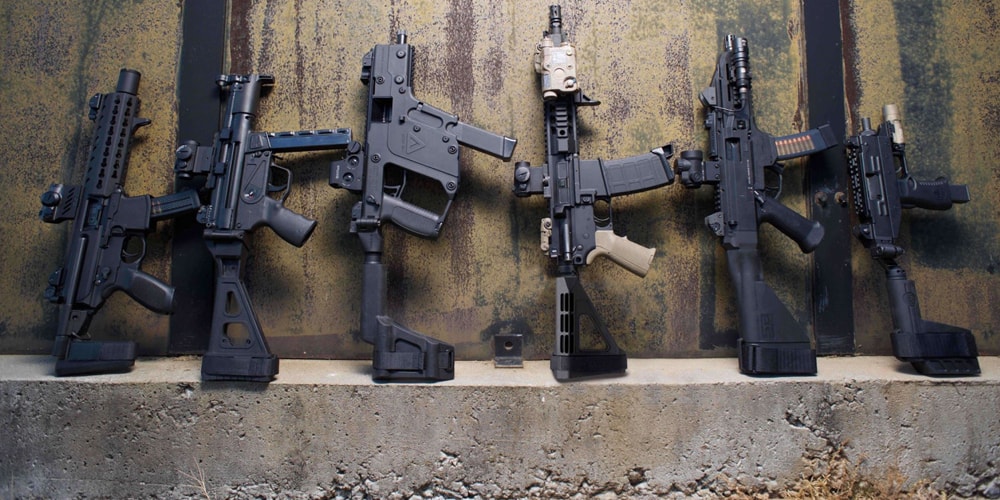 If you don't know, there are some INSANE laws from 1934 that govern much of what is "legal" in the firearms world.
They're known as the National Firearms Act (NFA) laws.
And they suck.
It's the reason you can't buy silencers & short barreled rifles off the shelf. A short barreled rifle is anything under 16″.
Well, there is one way around the NFA laws on short barreled rifles. If you do it right, you can legally own an AR-15 with a short barrel rifle without paying for a $200 tax stamp and waiting for approval by the ATF. Check it out:
How To Get A "Short Barrel" AR-15 Without Paying An NFA $200 Tax, etc
In short, you need a pistol …
The AR-15 platform can be had in either a "pistol" or "rifle".
You want to buy the "pistol" type (or build it yourself, if you know how to do it legally).
What's the ONLY difference between a pistol AR-15 and the rifle version?
Very simply, the pistol AR-15 can NOT have a buttstock of any kind. And it must NEVER have had a buttstock of any kind attached. The actual lower receiver is bought/transferred into your name as a pistol lower, not a rifle lower.
(In other words, if you bought an AR-15 rifle with a buttstock and then took the buttstock off, while it may look EXACTLY like an AR-15 pistol — the ATF still considers it a rifle.)
Why You Want an AR-15 Pistol
Here's the reasons you want an AR-15 pistol …
1. It's legally a pistol. That means with your concealed carry permit, you can legally carry it concealed in public just like you would any other pistol (like a Glock, etc). That's important because a lot of states say you can't carry a loaded rifle/shotgun around with you or in your car, etc. They have different rules for pistols.
2. As a pistol, you can have a short barrel (less than 16″) on it without it becoming a "short barrel rifle" which is a NFA weapon. An NFA weapon is illegal to have without paying a Tax Stamp to the ATF and getting their permission to own/build it. Obviously, you'll want a shorter barrel because it makes it easier to conceal.
By The Way, There Are Now Multiple Pistols – Not Just AR-15's …
You can now buy pistol versions of the following rifles, including (but not limited to):
* AK-47's
* .308 FAL's
* CZ Scorpion EVO
* KRISS Vector
* IWI Uzi Pistol
* HK MP5, HK53, MP5K's, etc
* Sig MPX
The Invention Of The "Stabilizer Brace"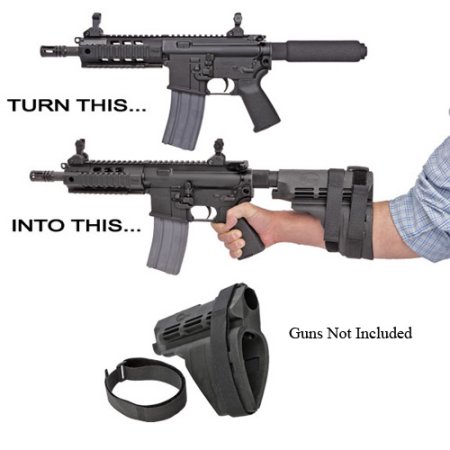 AR-15 pistols used to be considered "range toys", but sometime in 2013 SB Tactical started selling something called a "stabilizing brace" for AR-15 & AK-47 pistols.
It took the market by storm and was very popular.
It's important to note that they got approval from the ATF for making these braces way back in 2012. The agency said:
"the submitted brace, when attached to a firearm, does not convert that weapon to be fired from the shoulder and would not alter the classification of a pistol or other firearm. While a firearm so equipped would still be regulated by the Gun Control Act … such a firearm would not be subject to NFA controls."
Of course, one of the obvious ways to fire a pistol with one of these things attached is by using the brace as a makeshift "stock" on your shoulder …
Something you can already do with the built-in buffer tube of an AR-15 pistol. In fact, in the below pictures from an article by Gabe Suarez on the M4 Pistol concept, you can see the two primary ways of running the M4 Pistol – either the cheek index for CQB or when greater accuracy is needed — obtaining a fourth point of contact by bringing the end of the buffer tube back into the shoulder.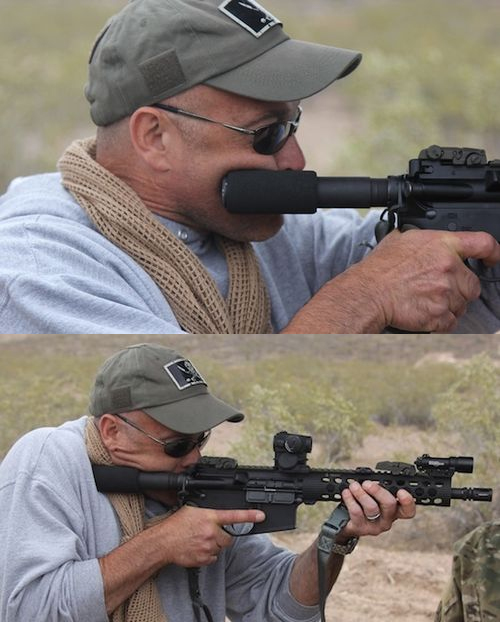 Obviously, this does not somehow magically turn an AR-15 pistol into a rifle, just because you "shoulder it".
The ATF agreed, because in March 2014 they said this in a second letter,
"for the following reasons, we have determined that firing a pistol from the shoulder would not cause the pistol to be reclassified as an SBR: FTB classifies weapons based on their physical design characteristics. While usage/functionality of the weapon does influence the intended design, it is not the sole criterion for determining the classification of a weapon. Generally speaking, we do not classify weapons based on how an individual uses a weapon."
Things were wonderful in AR-15 pistol land – people finally had a cost effective, good looking, potentially useful accessory to put on their AR-15 pistols to (arguably) make them easier to handle and everything seemed great.
The ATF issued a third letter just before SHOT Show in January 2015 that resulted in panic in the firearms industry. The letter stated:
"the pistol stabilizing brace was neither 'designed' nor approved to be used as a shoulder stock, and therefore use as a shoulder stock constitutes a 'redesign' of the device because a possessor has changed the very function of the item."
In other words, by simply shouldering an AR-15 pistol with a stabilizing brace attached, you have magically "redesigned" it into a short-barreled-rifle and you're now a felon.
Which, of course, makes no sense because if you take it out of your shoulder pocket does it magically "redesign" back into a pistol if you fire it with your arms extended like one?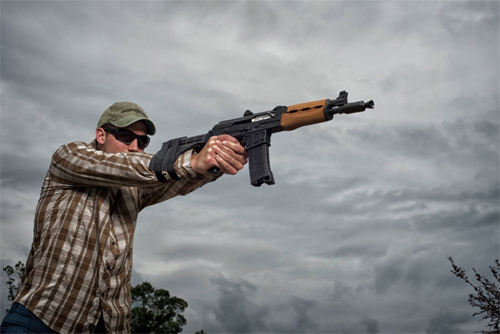 Either way, these letters from the ATF are basically law, so everyone was cautioned to not shoulder any pistol with a brace attached.
Which brings us to modern times …
ATF REVERSES Opinion On Pistols With Braces (AGAIN!), Now Says Pistols Are Still Pistols, Even If You Shoulder Them
Recoil Mag posted a letter from the ATF that has reversed the earlier reversal to the earlier reversal letter … or whatever.
The latest letter from the ATF is here.
And here's what SBTactical had to say about it.
"… The new clarification of opinion letter states, "an NFA firearm has not necessarily been made when the device is not reconfigured for use as a shoulder stock – even if the attached firearm happens to be fired from the shoulder. To the extent that the January 2015 Open Letter implied or has been construed to hold that incidental, sporadic, or situational "use" of an arm-brace (in its original approved configuration) equipped firearm from a firing position at or near the shoulder was sufficient to constitute "redesign," such interpretations are incorrect and not consistent with ATF's interpretation of the statute or the manner in which it has historically been enforced."
SB Tactical, along with the law offices of Mark Barnes & Associates, have worked tirelessly for more than two years to correct what they believed to be an inaccurate interpretation of "redesign," related to the Pistol Stabilizing Brace. "It has always been our belief that the addition of our Pistol Stabilizing Brace benefits shooters, both disabled and able-bodied, and that neither strapping it to your arm nor shouldering a brace equipped pistol would constitute 'redesign' of a pistol to a NFA firearm", said Alex Bosco, inventor, founder and CEO of SB Tactical. "We are strongly encouraged by the ATF's reversal of opinion and commend their willingness to continually review policy, including their own opinions, to ensure public safety and the fulfillment of their mission."
Both SB Tactical and Mark Barnes & Associates are proud to be at the forefront of protecting and preserving the Second Amendment rights of law-abiding Americans. Mark Barnes echoed Bosco's praise of the ATF's new guidance and stated that "it's clear that the Bureau has no intention or desire to prosecute law abiding citizens using SB Tactical Pistol Stabilizing Braces. Their decision to act should be commended."
So It Looks Like You Can Shoulder A Stabilizing Brace Now, Just Don't Modify It!
Of course, the entire internet will be in a roar telling you that if you do ANY modifications to a stabilizing brace then you've redesigned it and you'll go to jail.
That may or may not be true.
The REAL issue here is that these are outdated laws from 1934 that should have neve been passed in the first place and the entire NFA needs to be repealed because it's just silly.
First silencers need to be legal, and then the NFA needs to get repealed. Until then, enjoy shouldering your pistol braces without fear of an ATF hit squad busting down your door and shooting your dog!