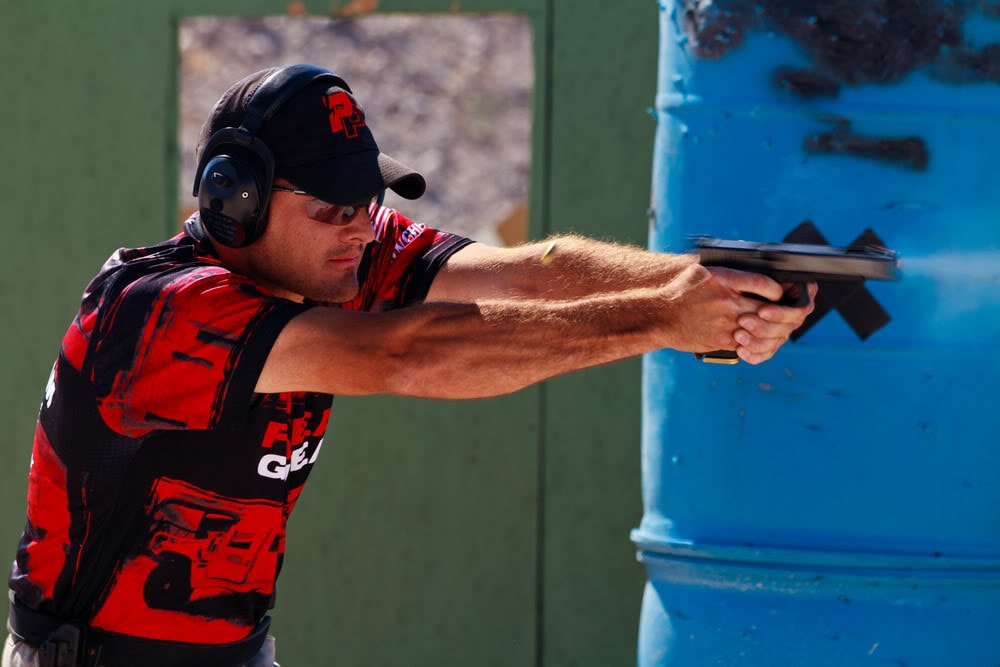 Do you want to shoot your handgun well?
I mean do you want to shoot it fast?
And do you want to shoot it accurate?
Then, your GRIP is absolutely one of the most important parts of shooting your handgun fast & accurate. That's why you need to see this!
You Will Never Shoot Your Handgun Fast AND Accurate With A Poor Grip!
Gripping your handgun is so important that I've spilled much digital ink on these digital pages about it…
How to grip a handgun to shoot fast & accurate is my classic article about how to … well … grip a handgun to shoot fast & accurate!
In that article, I dispel many myths about gripping the handgun and show you what works for me and the little tips & tricks that I've picked up over many hours of training/practice.
On this page, there is a video showing the "classic" thumbs forward grip preferred by almost all modern day shooters.
But today, we're going to talk about Bob Vogel because he breaks the mold, in every way.
Bob Vogel, One of The World's Best Handgun Shooters, Grips His Handgun The "WRONG" Way…
Bob  grips it the "Vogel" way.
And he's been very, very successful with it.
From his website:
"… at present Robert is now a 3-time world champion and 23-time national champion across 3 disciplines of practical/combat shooting and has been all over the World competing and teaching. Besides this, he has been a Police Officer for over 13 years. Eight and a half of those years were spent as a full-time street cop while also being a member of the county's joint-department SWAT team. During that tenure he also served as a firearm instructor for both the department and the SWAT team."
In the following video from Panteo Productions, Bob breaks down his grip and how it differs from the standard thumbs forward grip:
Notes On The Bob Vogel Grip
1. Grip as HIGH as possible
2. Grip like a VICE grip not a monkey with primary hand
3. Support hand very HIGH, thumb higher than the slide and far forward. Upper palm.
4. Pressure from both hands turn in towards the gun pinching from both sides. Both wrists locked and cocked forward.
5. Support hand is much, much forward than traditional grip.
6. Hands meet LOW as possible so as to build the grip as soon as possible
In the video below (much worse background noise) Taran Tactical gets Bob to, briefly, explain his grip more:
How The Bob Vogel Grip Allows You To Shoot More Accurately, FASTER
In this video, Taran Tactical videos Bob shooting random stuff around this range and demonstrating how flat Bob is able to keep the gun during recoil…
So much so that all his "double taps" are almost one on top of the other on the targets (please note my tirade on double tapping still stands because Bob says "don't shoot any faster than you can see the sights!" Obviously, Bob can see the sights much, much faster than mere mortals such as you and I)…
"Nobody Grips The Gun As Hard As Bob Vogel"
I can't remember where I heard it … it may have been from Ernest Langdon during his pistol class … but I once heard answer the question of how hard to grip the gun with "as hard as possible, and nobody grips the gun as hard as Bob Vogel". (Forgive me Mr. Langdon if I'm mis-quoting you – my memory fails me!)
But it's true.
In this excellent AAR of a Bob Vogel class, there is a great writeup about Bob's grip and pictures of how it's different, including how hard Vogel grips (emphasis mine):
"A good grip is crucial for controlling the gun. Vogel wants as high a grip as possible on the pistol–preferably a pistol with a low bore-axis. He squeezes/pinches the pistol with his strong hand, not just grabbing it, and really gets his knuckles hard up against the underside of the trigger guard. Even more important than the strong hand grip, he emphasizes that the support hand grip is the key to fully controlling the pistol. Vogel's support hand technique is different than anyone I have trained with. He uses the standard thumbs forward position, but places the support hand as far forward and as high up on the pistol as possible. His support hand is gripping harder than his strong hand. In addition, he is applying a strong opposing torque toward the frame with each hand. I was shocked at how much force he was applying against the pistol–he commented that he grips almost to the point where his hands begin to shake. As a result of these factors, he does not subscribe to the typical emphasis on a 360 degree wrap around with the weak hand. In fact, just the base of the support hand thumb is in contact with frame/upper pistol grip of the pistol near the slide, resulting in a gap existing between the rest of the support hand and the lower half of the pistol butt. He mentioned that this aggressive hand positioning sometimes presses against the slide release and prevents the slide from locking back on the last shot; a trade-off he is willing to accept for the faster flatter shooting this technique offers him. In order to improve his hand strength, Vogel uses the Captain's of Crush hand grippers (http://www.ironmind.com/ironmi…captainsofcrush.html). He recommended starting with the #1 and working up to #3. He emphasized that these are not casual workouts, but that when done correctly, they are intense and uncomfortable."
In the pictures below (that I grabbed from the same AAR) you can really see how far forward and high on the gun Bob grips it…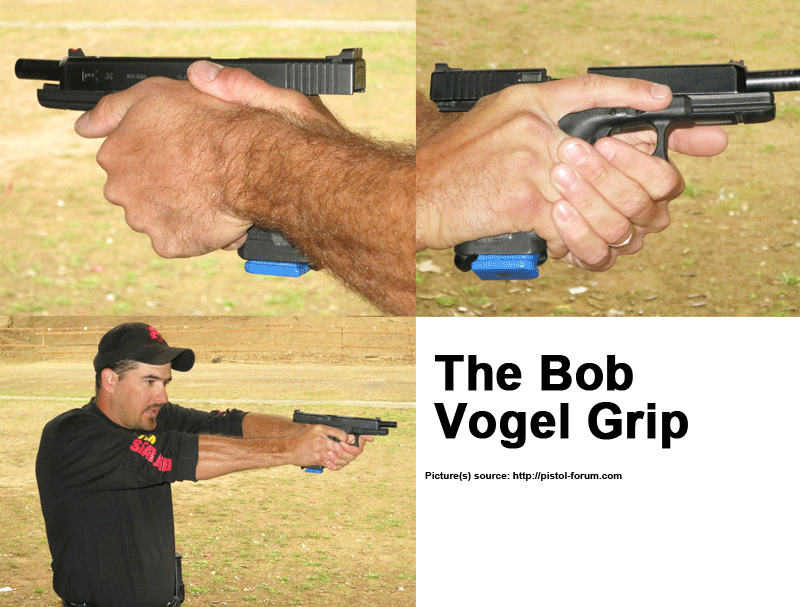 Should You Use The Bob Vogel Grip?
I don't know!
Anything is worth a try. Obviously, it works very, very well for Bob and maybe it can work well for you too.
If you do try it, then report back here.