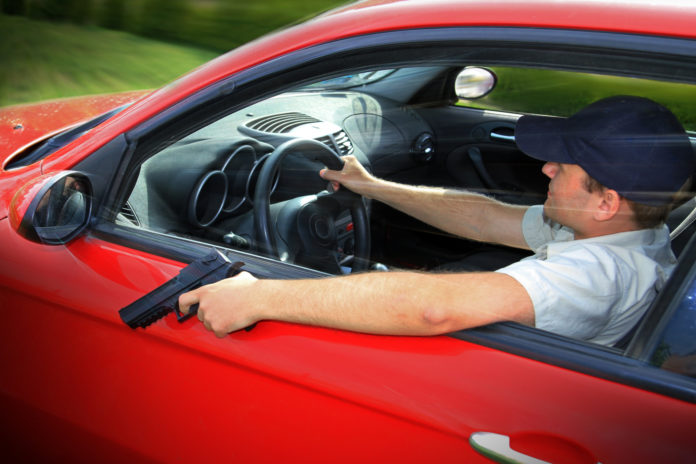 You've probably heard of "the knockout game," the horrible "game" where teenagers would run up on an unsuspecting person and sucker punch them trying to get a one-punch knockout. It's a horrible form of amusement and some people have been seriously injured because of this game. (In case you are wondering, the knockout game seems to be seeing a resurgence, too, with incidents being reported in New York and Philadelphia recently.)
The new challenge is called the "No Lackin' Challenge" or the "Don't Be Lackin' Challenge." Chris Golden describes it this way:
According to AmericanGG.net, the point of the game is to aim your gun at your friend, enemy, or a random person to see if they likewise have a gun. If they do not, they are therefore "lackin'," and you have "won" the challenge.

Perhaps unsurprisingly, none of these videos have taken place at a Mensa meeting.
So, essentially, what you have are people who are playing games with, presumably, loaded weapons on the street. Anyone with any gun safety training knows that you don't pull your weapon unless you are willing to use it. Frankly, these foolish people may not pull the gun with any more intention than to show that they are the tough guy who isn't "Lackin'" because they are carrying a firearm, but, eventually, someone is going to pull a trigger. It may not be intentional. It may be because one of the parties involved didn't realize that it was a game and felt threatened. But, you can count on the fact that, if this foolishness continues, someone is going to get hurt and, very likely, someone will die.
This kind of nonsense is nothing more than posturing and ignorance. Frankly, I'd rather that someone think that I'm "lackin'" or a wimp or whatever than to have to pull out my firearm and take a life because they have a ridiculous sense of bravado. My "pride" is worth sacrificing to keep someone from dying. Because fundamental to responsible gun ownership is self-restraint.