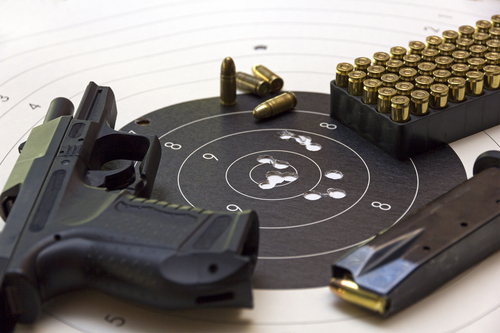 You've seen dumb crook news stories about criminals doing simply idiotic stuff that gets them caught. Those stories tend to be funny when you hear them.
Unfortunately, though, that kind of foolishness sometimes carries over to places like the gun range, and it is not funny when it happens there. Why? because it's dangerous. As you know, firearms are not toys, and they should be treated with respect (not the sheer blind terror that anti-gunners have of firearms, but with care and respect).
Two men in Houston, Texas, however, obviously didn't understand the need for being careful with a firearm at all times (hat tip to here for the lead). Keith Garvin gives us the details:
Lesson number one when shooting at a gun range: Never, ever point a weapon at your friend's head — or anyone's head for that matter.

Surveillance video from the Top Gun Range on Beverly Hill Street near Richmond and Fountain View, near The Galleria, shows a customer doing just that last Friday.

"Very scary situation," recalls the range's general manager Kyle Harrison.

The man in the video — in an effort to take a selfie — starts off by breaking one of the cardinal rules of gun range safety. He's pointing his pistol toward the lane next to him — rather than downrange. The lane next to him is filled with several people who were taking a safety class.

Then — for a second selfie — he decides to point the gun at his friend's head.

"It would've been a very bad situation," Harrison said. "Not just for obviously us and the other patrons on the range, but that guy and his family."

But the range safety officer who was teaching that class in the next lane quickly steps in, forces the man to put down the weapon, and escorts both men from the range.
You can see video of the incident below.
Not surprisingly, the two men in the video were banned from that gun range for life.
Still, it is scary to think that there are people that foolish and that dangerous (due to stupidity) out there in the real world, and, unfortunately, as responsible gun owners, we have to deal with the negative impression stupid people give of gun owners.