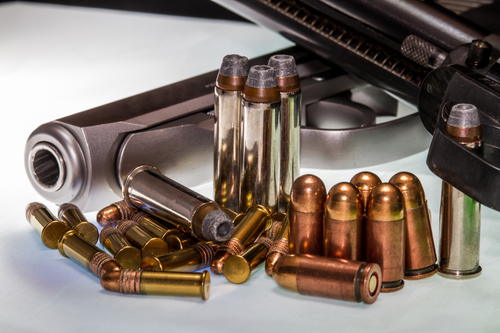 When someone asks you what kind of ammunition that you want to use, you're likely to tell them that you want to use whatever will cause the most damage to someone attacking you. Maybe you'll research it in the same exhaustive detail that my teenage son researches video cards so that his next video game will play better (which is to say: a lot).
And, maybe you've decided that you want to use .38 Magnum or .40 caliber ammunition or some specialty ammunition.
But a writer going by the name of ralphmroz has a different perspective for you to consider. Here's what they have to say:
True, if you want to see how much destruction a round is likely to do on average in many actual shootings over time, [shooting gelatin blocks] can provide a rough correlation [with shooting people].
But we don't care about damage; we care about causing the bad guy not hurting us.  And here we are dealing with actual, motivated human beings.  We want them to break contact (to quote Claude Werner), not die.  I believe that most of the serious researchers have come to the conclusion that there's almost no difference in handgun calibers towards this end (breaking contact), which means that there's almost no difference in the particular round you carry in a particular gun. 
Ralphmroz continues:
So I don't obsess over the particular round in my .38 snubby or my 9mm pistol.  In fact, I don't really want what the data would tell me is the "best" – which usually means the most destructive – round, because this round is likely to be one that's either exotic or not in widespread use.  Instead I want a round that is in widespread use, particularly by law enforcement agencies, and issued by my state's state police if possible. I don't want an unusual round in my gun for the same reason I don't want handloads.  This just opens the door to a slimy prosecutor arguing, "The rounds that our state police carry weren't deadly enough for Mr. Mroz – he had to manufacture his own super-deadly rounds in his basement [or seek out exotic super-deadly rounds from the merchants of death that sell such things]."**  If I'm in court, it's because either the facts of the shooting weren't clear (as they often aren't) or because the prosecutor is out to get me (as they often are, either to make some bones or because they hate guns).  In either case I don't need to give them extra ammunition (pun intended) by my choice of it.


Every justified self-defense shooting involves survival of two kinds: during the fact of the attack, and after in court.  If there's almost no  difference in round effectiveness in the former (breaking contact), why stack the deck against myself in the latter?
Ralphmroz has a point. Why look for some kind of specialty ammunition that might be difficult to find and that may be difficult to defend in court when you can find something inexpensive and common that will do the job of getting an attacker to leave you alone? Isn't that what it's all about, after all?