If you're building your own AR-15, or even just want to upgrade what you already have — then this guide on choosing the best AR-15 upper receiver is for you.
On this page you'll find…
The best upper receiver for your intended use (General Purpose, Home Defense or CQB, long-range, hunting big game/maximum stopping power, etc)


A quick guide to the best brands — from budget priced builds to tier-one manufacturers suitable for duty or serious defensive use.


And a whole lot more.
What Is An AR-15 Complete Upper Receiver?
To review, the AR-15 is made up of two primary components:
The Complete Lower Receiver: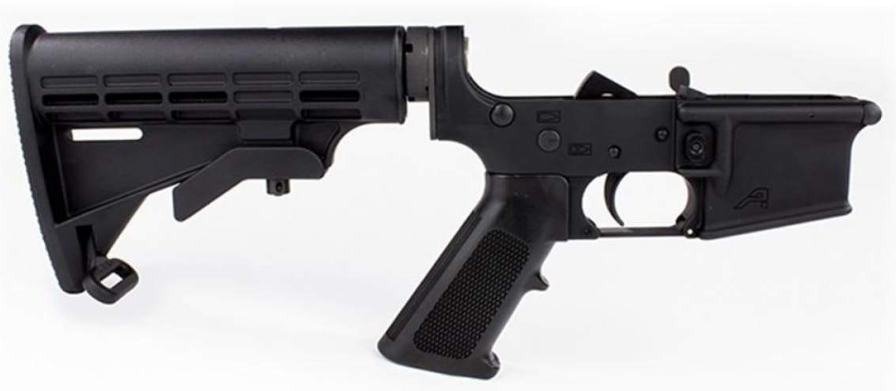 And the Complete Upper Receiver:

In short, once you complete your stripped lower receiver, all you need to do is purchase a complete upper receiver and then put the two together with the takedown pins.
It's that simple!
How An Extra Upper Receiver Can Expand Your Capabilities And Save You Money
If you already have an AR-15 and you would like to expand your capabilities, you could buy a new AR-15 for that role, or you could just buy a new upper receiver.
The good news is buying a new upper receiver is an easy way to save money, because most upper receivers are less than the price of a new, complete AR-15.
Also, if you've already put a lot of work into your lower receiver – with the buttstock you like, an upgraded trigger and grip, etc – then you can still use the same lower receiver and just change the upper as needed That way you don't have to buy all the same lower parts twice.
Plus, you won't have to go through extra paperwork, or visits to the gun shop because you can order an upper receiver online and have it delivered straight to your home. It's very convenient.
For example, the Navy SEALs do something similar with their SOPMOD kits, like the one below: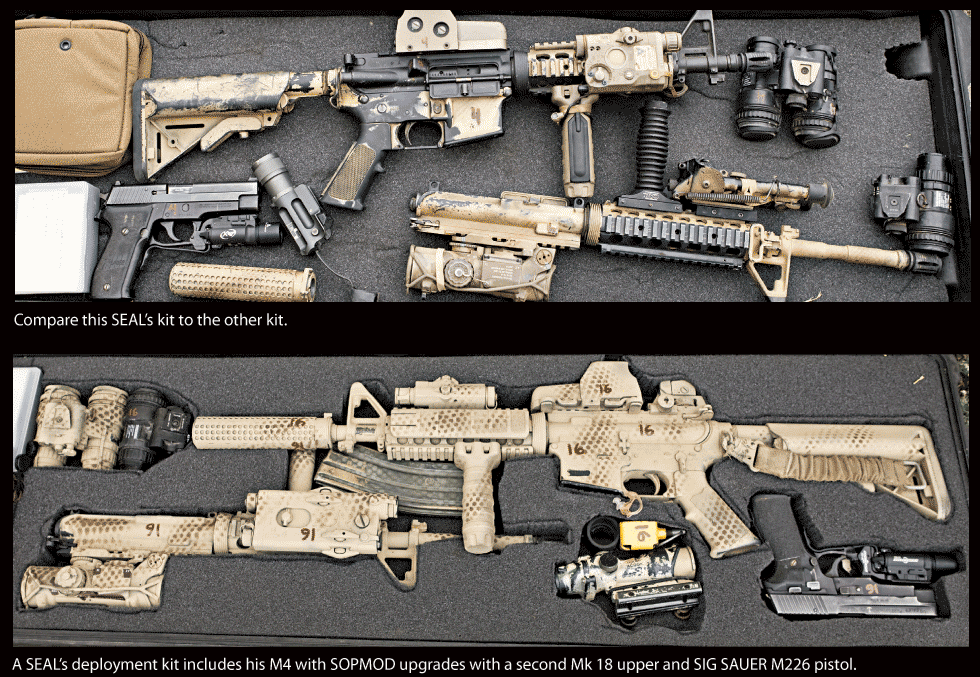 According to reports[1],
" Their M4s came with two uppers, one with a standard M4A1 length of 14.5 inches and a compact upper with a 10.5-inch barrel. The shorter-barreled upper is intended for CQB (close quarter battle) missions, cave clearings and such, while the 14.5-inch upper was for patrolling and reconnaissance missions where longer distance shots would be expected."
As you can see, having a few uppers for your AR-15 simply expands your capabilities. You could have one upper for home-defense/CQB, another for general defensive use at the range, and yet another upper receiver if you need a big bore caliber for hunting bigger game, or some other reason.
Which Companies Make The Best Upper Receivers?
Today, there are hundreds, if not thousands of companies that produce AR-15's and AR-15 Complete Upper Receivers.
How do you know which to choose?
The fact is, the AR-15 has a mil-spec design that, as long as it's followed, means the finished product should be the same as any other…
However, not all companies produce the same quality AR-15 components because some companies are better at quality control and others are not so great.
Here's a quick guide to brand quality to help you out:
Tier-One Brands: Are the brands you can trust your life to right out of the box for self-defense, duty or other hard use. You practically can't go wrong with a Colt, BCM, Sons of Liberty Gun Works (SOLGW), Lewis Machine & Tool (LMT), Larue, Noveske, Knights Armament (KAC) or FN America. Now, of course, every company can produce a "lemon" – so you should always verify – but these companies have a strong reputation for quality control and producing "hard use" gear that you can trust your life to.


Mid-Grade Brands: These are brands that at one time might have been considered "budget" brands but over time have improved their quality control and now offer very good products for the price. In fact, for 80% of gun owners, one of these brands would be perfect. You just want to inspect for quality. These brands include Aero Precision, Anderson, Midwest Industries, Palmetto State Armory (PSA), Smith & Wesson, Spike's, Ruger, Sig Sauer, and Mossberg.


Budget-Tier Brands: If money is extremely tight, you can look at some of the budget brands. The price will be low and that reflects a reputation for lower-quality. Some of these brands are Bushmaster, DPMS, Oracle, Olympic, Delton, Stag, Radical Firearms, and Rock River Arms (RRA).
Again, it bears repeating…
Any brand that is known for quality and reliability is capable of producing a lemon that doesn't work right… and any of the budget brands are capable of producing an AR-15 that runs for tens of thousands of rounds. So always trust but verify your guns are reliable before relying on them for serious defensive use.
How This Guide Is Organized
I've broken this upper receiver guide in to three categories:
16" uppers for general use (the do it all rifle) – this is a great length for practically any need. If you are doing your first AR-15 build, then you can't go wrong with a 16" upper receiver. It's a great "Do it all" length.


Best short-barrel uppers for Pistol or SBR – if you are looking for a shorter barrel for CQB (Close Quarters Battle) or home defense to make it easier to maneuver inside, or even vehicle work, then this is the section for you.


Best alternative caliber upper receivers – if you're looking for a caliber other than 5.56 NATO (.223 Remington) then this section is for you.
---
The Best 16" Upper Receivers
The 16" upper receiver is the most popular upper receiver. This is because the NFA says that anything under 16" is a "short-barreled rifle" (SBR).
Also included would be 14.5" barrels with pinned muzzle devices to equal a total overall length of 16″.
The 16" upper receiver is a great length if you want to build a "do it all" AR-15 capable for everything from Close Quarters to 600 meters (or more).
For 16" uppers, I tend to prefer a mid-length gas system with a free-floated barrel as budget allows. You can get them with or without front sight blocks and other preferences.
I own the older version of this upper and really like it…
What you get is a 14.5" cold hammer forged mid-length barrel with a permanently attached flash hider (so that you meet the minimum 16" barrel requirement for NFA laws). The best part about the barrel is it's the BCM Enhanced Light Weight (ELW) barrel profile, similar to a pencil barrel but more durable, which makes it much lighter to carry.
Plus, the MCMR-13" handguard is slim and lightweight – making it easy to get a good grip on the rifle – it's rock solid for mounting lasers, lights and other accessories with plenty of space using the M-LOK attachment system.
This is a top choice if you're looking for a tier-one upper receiver group. The only thing you need to add is a bolt-carrier-group (BCG) and charging handle:
The Best Bolt Carrier Group (BCG) & Charging Handle (CH)
BCM M16 Bolt-Carrier-Groups (BCG) are known to be one of the most reliable brands.
Because the BCG is the "heart" of your rifle, it is one of the key components that I would not skimp out on.
If you have the money, then I highly recommend investing it in the BCM BCG if you need one.
Likewise, there are many aftermarket Charging Handles (CH) available from many reputable companies.
I like the BCM Charging Handles too. This is an easy upgrade that makes your AR-15 more reliable and easier to manipulate:
Of course, you can use the BCM Bolt Carrier Groups and Charging Handles in any of these uppers – so keep that in mind.
If you're looking for a solid upper receiver group that won't break the bank, but still has great reviews for reliability, then this Aero M4E1 Upper Receiver Group is a good choice.
You get a 16" 5.56 CMV Barrel with a Low-Profile Gas Block and Mid-Length Gas Tube along with their popular ATLAS-S S-ONE Handguard that's super slim and lightweight.
The only thing to be aware of with this handguard is the picatinny rail only covers the front and rear of the handguard – perfect for mounting BUIS (Backup Iron Sights) but you won't have room to mount something like an IR Laser for use with Night Vision on top. The only thing you need to add is a bolt-carrier-group (BCG) and charging handle:
If you're looking for a simple, extremely affordable M4-style upper receiver group then it's hard to go wrong with the PSA 16" Carbine-Length "Classic Freedom" M4 Upper Receiver.
You get a very similar upper to what was has been issued to the US Military for a very long time. That means you get a carbine-length gas system. The barrel is not free-floated, instead you get a standard handguard in Flat Dark Earth (FDE). And you get an F-Marked Gas Front Sight Base. Also, this upper receiver group comes with the M-16 profile full-auto Bolt-Carrier-Group (BCG) and standard Charging Handle (CH) making it an exceptional value for the price:
Of course, PSA also has a ton of other 16" AR-15 upper receivers, at varying price points, with free-floated barrels, etc. So you're not just stuck with a basic M4-style build with Front Sight post.
---
The Best Short-Barrel Upper Receivers
Short-barrel upper receivers are anything less than a 16" barrel.
Of course, you need to be aware that if you're building a Short-Barreled Rifle (SBR), then you'll need to comply with all the NFA regulations.
That type of legal information is beyond the scope of this guide, however you should do your research to stay out of trouble.
As Daniel Defense says, "Use what "THEY" use. The Daniel Defense MK18 features the railed forend Daniel Defense currently provides to USSOCOM and a 10.3" Cold Hammer Forged Barrel. The MK18 Rail Interface System (RIS II) features the Bolt-Up System has been rigorously tested prior to fielding by USSOCOM. The 10.3" barrel is the same length in use for the MK18 upper most commonly used for CQB operations."
In short, if you want the same upper receiver group that has been used and proven by U.S. Special Operation Forces, then you want the MK18. Comes complete with bolt carrier group and charging handle:
The BCM 11.5" upper receiver group is a great choice, and I have one that I enjoy immensely.
You might have noticed that most short-barreled 5.56 NATO uppers go as low as 10.3" to 10.5" with their barrels and that BCM only offers as short as an 11.5" barrel. BCM has publicly stated why they only go as short as 11.5″ for their 5.56 guns:
"The 11.5″ carbine is approximately 4% longer weapon than its' 10.5″ counterpart, but this extra inch gives the barrel a 40% increase in length for dwell time. IMHO, this is an excellent trade off. This additional dwell time (all other things being equal) will allow the carbine to be more forgiving to different ammo types, extremes in air temperature, weak or worn extractor springs, worn extractors, buffer weights, etc."
In short, more dwell time = more reliability, and the extra inch gives you more dwell time. Grab the BCM 11.5" if you don't mind the extra inch (you'll also need to pick up a BCG and CH):
The PSA 10.5" carbine-length gas upper receiver is also a solid choice if your budget is the first concern.
This upper features a 10.5" carbine-length gas system with standard handguard and front sight block. It also includes the Bolt Carrier Group (BCG) and Charging Handle (CH):
If you want different handguards, PSA also has a ton of other 10" or shorter AR-15 upper receivers, at varying price points, with free-floated barrels, etc.
---
The Best Alternative Caliber Receivers
One of the best parts about the AR-15 is that it is so modular. That also includes being able to change the caliber by just changing the upper receiver group (and often times the magazines).
Here are some of the best alternative calibers if you want to save money on ammo, hunt medium sized to big game, use a silencer, or need extra penetration.
The Best Alternative Caliber Upper Receiver For Cheap, .30 Cal Ammo (7.62×39)
I have a couple 7.62×39 AR-15 upper receivers for quite a few reasons:
You can hunt medium sized game with 7.62×39 in some states where you can't hunt with the standard 5.56 NATO (.223) caliber. The 7.62×39 is actually very similar – ballistically – to the 30/30 – a classic hunting cartridge
7.62×39 is arguably one of the most popular calibers in the world. That means that there is an abundance of cheap ammo from many former Soviet states.
7.62×39 also suppresses a little better than 5.56 and has similar ballistics to .300 blackout (but, again, it's much cheaper).
If you're prepping for TEOTWAWKI – then you are sure to find either stockpiles of 5.56 NATO or 7.62×39 for resupply – so it makes sense to have an upper receiver in both calibers.
It used to be that 7.62×39 caliber conversions in the AR-15 platform were not reliable. But most of the kinks have been worked out and today you can get very reliable upper receivers. The key seems to be the firing pin, the feed ramps, and the correct magazines.
If you're looking for a 7.62×39 upper receiver that just runs – then you can't go wrong with the Primary Weapons Systems (PWS) 7.62×39 series of uppers.
I've heard multiple great reviews of these uppers and that they just run and run. Plus, you get some great upgrades like the PWS rail system, a 3-posiiton adjustable gas block (so you can tune the gas for silenced or unsilenced use), a carbine-length long-stroke piston system, upgraded BCG and CH and more. The only thing you should be aware of with this upper is it is a long-stroke piston system, which means the gas system is not compatible with "normal" direct impingement AR-15 parts.
If you're looking for a good budget-priced 7.62×39 AR-15 Upper Receiver, then take a look at the PSA PA47.
You get what amounts to a classic AR-15 mil-spec M4 imitation, but chambered in 7.62×39. Comes with charging handle (CH), Bolt Carrier Group (BCG) and everything else you need to start shooting "commie ammo" right out of the box!
Of course, PSA offers other rails and options for their 7.62×39 uppers.
Probably the most important part about making sure a 7.62×39 Upper Receiver runs well on your AR-15 is choosing the right magazine…
My own experience and the feedback of others has shown that the C-Products (CPD) Magazines are the most reliable. You can get them in 5-round, 10-round, 20 or 30-round capacity as well:
The Best Alternative Caliber Upper Receiver For Silenced Use (.300 Blackout)
The .300 AAC Blackout was developed for use in the M4 carbine to achieve ballistics similar to the 7.62×39mm cartridge, in an AR-15 while using standard AR-15 magazines at their normal capacities.
In fact, .300 Blackout (300BLK) is very similar to the 7.62×39 coming in at 7.62x35mm.
Because it essentially uses .308 caliber bullets, there is a very wide variety of bullet weights and loadings…
From the beginning, .300 Blackout was optimized for suppressed fire with heavy bullet subsonic loads, but it can also be used with supersonic ammunition when extra range is needed by a simple magazine change.
The .300 blackout is a great choice for anyone looking for .30 caliber performance out of their AR-15, whether for home defense, tactical needs, or hunting medium game inside of 200-300 yards.
BCM once again makes an excellent upper receiver that you can trust your life to and it comes with a 9" barrel.
Keep in mind that AAC invented & marketed the 300BLK round and they recommended a 9″ barrel for a short-barrel because the velocity and energy gains over 9″ are marginal with subsonics. In short, the ammo uses very fast burning powder and 9″ is plenty to get the most out of the round. Most sources report virtually zero difference in performance between 9″ and 10.5″.
Note that a charging handle (CH) and Bolt Carrier Group (BCG) does not come with this upper:
Aero also builds a solid .300 blackout upper receiver group.
Also, if you don't want to do a pistol or SBR, you have the option of getting it in three different barrel lengths: 8", 10", or 16" barrel.
Note that a charging handle (CH) and Bolt Carrier Group (BCG) does not come with this upper:
If you're looking for the best priced budget option to get into .300 Blackout, then look no further than PSA. They have a number of different uppers at different barrel lengths, but if you're looking for short – they have a nice 7.5" upper with a ton of 4 star reviews:
Other PSA barrel lengths and rail selections can be found here.
---
The Best Alternative Caliber Upper Receiver For Long Range (6.5 Grendel)
The 6.5 Grendel (6.5×39mm) was designed as a low-recoil, high-accuracy cartridge specifically for the AR-15 platform for medium/long range (200–800 yard).
If you're into shooting at longer distances, more accurately with your AR-15, then you might want to look at 6.5 Grendel. It's known to be extremely accurate with 1MOA or better being common.
6.5 Grendel also makes an excellent hunting cartridge. For example, with 123-grain Hornady ELD-Match, the Grendel delivers over 1,000 foot-pounds at 300 yards (that's about 350 foot-pounds more energy than the proven whitetail hunting 30-30 Winchester at 300yds). Mark Larue reports killing a Colorado bull elk at 405 yards, in a howling wind, with one shot from a 6.5 Grendel, back in 2008.
Finally, because the popularity of the cartridge has grown in the last few years, ammunition is more widely available than ever. You can find everything from cheap, steel-cased "commie" ammo to premium hunting and match grade ammo at different bullet weights.
Combining excellent manufacturing at a good price is what Aero is known for and their 6.5 Grendel Upper is an excellent choice:
Once again, if you're looking to get into the 6.5 Grendel world with the least investment possible, then you should look at PSA:
---
The Best Alternative Caliber Upper Receiver For Big Bore (.450 Bushmaster)
Bigger bullets are just cooler, right?
When it comes to the AR-15, the common "big bore" choices are between .458 SOCOM, .50 Beowulf, and .450 Bushmaster. All you need to do is slap on an upper receiver chambered in one of these big bore calibers and you're good to go.
Any of these is a fine choice, but for the vast majority of shooters looking to get into a big bore upper, I think the .450 Bushmaster is the most logical choice.
To start, they all have pretty similar ballistics and will get the job done as far as "big bore" stopping power. But, there's two additional reasons I recommend the .450 Bushmaster right now:
1. If you don't reload your own ammunition, then the availability (and price) of factory ammunition is a primary concern. For this reason alone, .450 Bushmaster comes out on top because you can find many different commonly available commercial ammunition sources for plinking and serious hunting/defensive use. Plus, it's generally cheaper than .458 SOCOM or .50 Beowulf.
2. For some hunters, particularly in the Mid-West of America, they are limited to "straight-walled" cases for deer season. This means the .458 SOCOM is out and the .50 Beowulf or .450 Bushmaster are your only options. Again, because of hunting ammo availability and cost, the .450 Bushmaster wins here.
It can be difficult at times to find a complete upper receiver in .450 Bushmaster, but Radical Firearms seems to keep a few in stock.
Don't forget to upgrade your magazines to make sure your .450 Bushmaster runs reliably.
---
Conclusion
There you go!
Once you complete your AR-15 lower receiver, then all you have to do is choose one of the complete upper receiver groups on this page and attach the two together to have a functioning AR-15.

---
[1] https://www.tactical-life.com/gear/colts-m4a1-556mm-carbine/