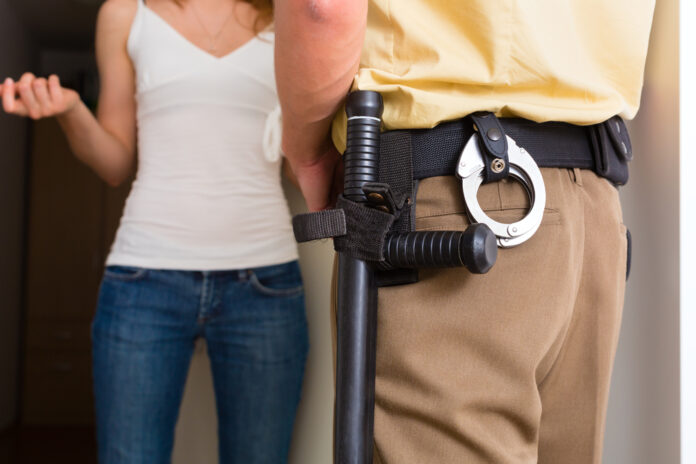 If you own a suppressor and live in Virginia, beware. State police may be coming to your door to take your guns and accessories.
I wish that I was kidding, but what do we really expect from anti-gun politicians like Ralph Northam and his Bloomberg sponsored anti-gun zealots?
Sadly, though, Virginia state police seem to be willing to violate their oath to uphold the Constitution, and they won't say that they will not go door-to-door to enforce a suppressor ban. AWR Hawkins writes,
During a Monday morning phone conversation, the Virginia State Police public relations department did not rule out knocking doors to enforce a suppressor ban.

Breitbart News called the Virginia State Police and noted Democrats are passing legislation to ban various firearm accessories. We specifically mentioned the suppressor ban which is currently moving through the state legislature and asked if, "Virginia State Police will go door-to-door to get those."

The public relations official did not respond with a direct answer "yes" or "no" on going door-to-door. Rather, she said, "[No laws] have gone into effect, no laws have been formalized or finalized."

She said they do not, "do the speculation because nothing's been passed into formal law," but made clear that their job is to "enforce and comply with the laws" once they are on the books.

On February 9, 2020, Breitbart News reported the legislation banning suppressors was passed by Democrats in the House of Delegates Public Safety Committee. The Washington Examiner reported the ban is expected to pass in the full House, and from there it moves to the Virginia Senate.
Now, let's be fair. Maybe the spokesperson for the Virginia state police is simply avoiding answering the question because she doesn't want to be a target for anti-gunners in Northam's office and in the legislature before they need to defy anti-gun laws to uphold their oath to defend Constitutional rights.
But we don't know that either, and it's disturbing that someone at the state police's office wouldn't simply say that they are going to defend our rights.
It's this desire to keep our rights that started the #VAGunRightsRebellion, and it's this same desire which is keeping it going still.