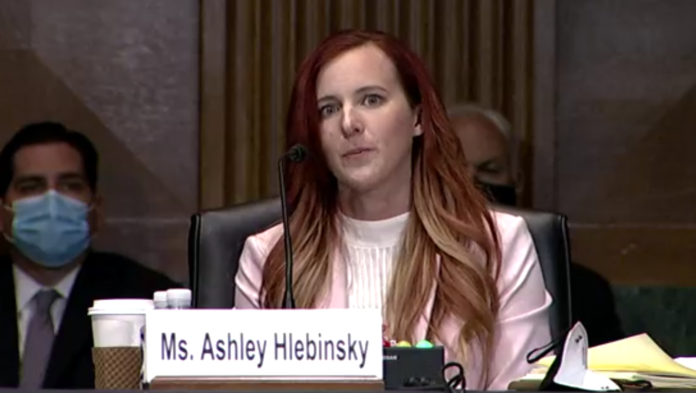 I love it when anti-gunners' arguments get destroyed. It's just so much fun watching it all crumble in front of them.
But it's especially nice to see it when that comes from a completely unexpected place.
In this case, the unexpected place is a young lady (no, I don't know how young, but she appears to be young in the pictures that I've seen), and young women are not stereotypically either gun owners or pro-gun. But this lady is pro-gun, you better believe it. Larry Keane writes,
If U.S. senators were hoping to give a lift to the Department of Justice's proposed rule to redefine a firearm, they underestimated Ashley Hlebinsky.

She's a historical powerhouse when it comes to guns. Hlebinsky testified before the Senate Judiciary's Subcommittee on The Constitution, in a hearing titled: Stop Gun Violence: Ghost Guns. Hlebinsky started by shredding any pretenses of false authority by those using loaded terms and ended her opening statement reminding senators whom they represent.

"Firstly, I will not be using the term ghost gun and that's because as a historian I try to be as precise as possible and the term is used more as a rhetorical tool, a marketing tool and because of that, it can create a false sense of authority on the subject," Hlebinsky told the senators.

Hlebinsky knows a thing or two about firearms. She's the president of the consulting group The Gun Code and was formerly the Robert W. Woodruff Curator of the Buffalo Bill Center of the West's Cody Firearms Museum, and is now Curator Emerita and Senior Firearms Scholar. Before that, she researched at the Smithsonian Institution's National Firearms Collection.
Keane continues:
"But the big takeaway about the history is that these privately made firearms have been around for centuries, basically since the first system was developed over 500 years ago," she said.

Hlebinsky reminded senators that it was private gun makers that played a vital role in the American Revolution, using locks and barrels the same way parts kits are sold today. Private innovation fueled development.

"I know a lot of people here don't necessarily like some of the technology that exists today, but I really want to make the point that innovation also means making firearms safer," she explained.
Hlebinsky went on to take apart the ATF's arguments and statements about striker-fire and split-receiver weapons as historically inaccurate and, therefore, the ATF's reasoning for wanting to change certain regulations simply doesn't hold up.
This is obviously a lady not to be trifled with when it comes to firearms history. She knows her stuff.
Unfortunately, as we know, leftists don't tend to be interested in reality. They want gun control for either completely irrational reasons or for control reasons, and they're likely to keep pushing to make the world a more dangerous place by banning firearms. And that is exactly why we must keep educating people and working to keep our Second Amendment rights.