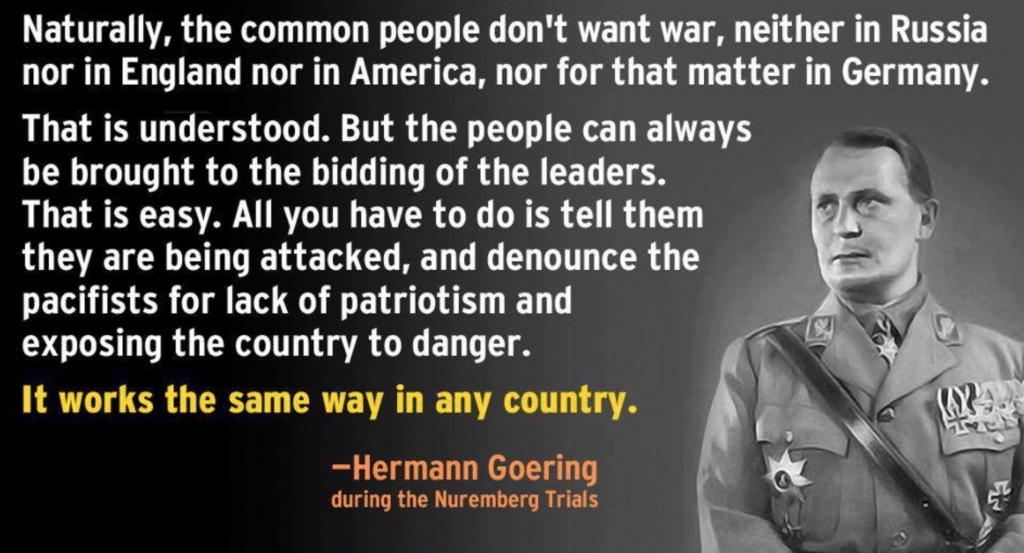 After the terrorist attacks in Paris, there has been a major uproar over Obama's plan to resettle more than 10,000 Syrian refugees in America …
It seems as if most people on the "right" think it's absolutely bat-you-know-what-crazy because surely a large percentage of these 10,000 people will be terrorists in disguise …
And those on the "left" who support Obama, think that it's a great plan because … well I guess because they support Obama.
I am not siding with Obama. I'm not siding with the Republicans.
Today, I want to step back from the argument, and try to wedge some desperately needed facts into the discussion and also look a little bit at the history of the United States, refugees, and just take a big picture view.
The Facts And Data Show That Since 9/11 Refugees Have NOT Been Terrorists …
Listen, I'm no fan of President Obama, but that doesn't mean I am going to have a knee jerk, emotionally-driven reaction to disagree with everything he says.
That being said, when I heard that he wanted to let 10,000 more Syrian refugees into the U.S. — that idea sounded crazy.
After all, it seems logical that terrorists could infiltrate the U.S. by slipping in among the refugees—as a lot of people say that might have occurred in the case of one of the Paris attackers.
But the truth is, when it comes to issues like this, you have to use cold-blooded logic and look at the data to make a decision.
As DefenseOne.com reports:
"In the 14 years since September 11, 2001, the United States has resettled 784,000 refugees from around the world, according to data from the Center for Migration Studies, a D.C. think tank. And within that population, three people have been arrested for activities related to terrorism. None of them were close to executing an attack inside the U.S., and two of the men were caught trying to leave the country to join terrorist groups overseas.
"I think I can count on one hand the number of crimes of any significance that I've heard have been committed by refugees," said Lavinia Limón, a veteran of refugee work since 1975 and the president of the U.S. Committee for Refugees and Immigrants. "It just hasn't been an issue."
Two Reasons Why Refugees Just Aren't a Big Problem …
Why is this?
Wouldn't it raise the risk of a terrorist getting in the midst if thousands of them start pouring in as refugees? Apparently, the truth is that there are quite a few screening measures in place.
Defenseone.com continues, that there are two reasons this isn't as big a problem as you may think …
" … The first is that there is a key difference between people seeking placement in the U.S. as refugees and the millions of people who have flooded into Europe seeking asylum. The Syrians in Europe in many cases are already at or over the border, having come directly from Syria in to Turkey and then Greece and elsewhere; that situation is more akin to the thousands of Cubans who have fled by boat to South Florida or the migrant workers from Central America who gathered at the U.S.-Mexico border last summer. A refugee applying for resettlement in the U.S., by contrast, must endure a screening process that takes as long as two years before stepping foot on American soil."
And the second reason?
"… since the program was briefly halted and then overhauled after the 9/11 attacks, refugee applicants are subject to the highest level of securitychecks of any type of traveler to the U.S. The United Nations High Commissioner for Refugees initially chooses which refugees to refer to the U.S. after doing its own check. U.S. officials then conduct multiple in-person interviews and verify a refugee's story with intelligence agencies and by running background checks through several government databases, including DHS and the National Counterterrorism Center. As a result of that extensive process, only around 2,000 Syrian refugees have been resettled in the U.S. since its civil war broke out in 2011—a much lower number than many previous refugee crises."
Immigration Is Always a Hot Button Issue
Many people don't like the idea of immigrants. I don't understand why because everyone in America was originally an immigrant.
It's the whole idea of America … we're supposed to be the freest nation in the world with a country built on the rule of law (not men) which means that everyone who wants freedom and wants to make something of themselves wants to come here.
The fact that we are in a presidential election race simply means that on both sides — the left and right — all the candidates are going to use immigration to try and divide their people and get them emotionally invested one way or the other.
Please remember, that the talking head politicians on TV do not give one care in the world about your safety, or the safety of United States — they simply want to get you emotional, fearful, and ready to accept their point of view.
In short, they're manipulating you.
 So What's The Solution?
The fact is, the Government keeps waging war, especially in the Mid East, so there really is not a solution here. Every bomb dropped and every shot fired helps create a refugee somewhere in those countries.
If you're continually waging war in a country, you will have refugees — innocent people that just don't want themselves and their families to be caught in the cross-fire — and they want to leave.
Many of them are flooding into other European countries because they can get there on foot. Some want to come here. The problem is not going away as long as their are wars in those countries.
The truth is, while the refugee program so far hasn't seemed to be a problem, you never can be too sure.
Everyone that says you can't be 100% sure that you're not letting in a "terrorist in disguise" is completely right.
There's no way to be sure …
But this is America. And the point is that politicians are simply using this refugee situation as a way to manipulate your emotions, plain and simple.
Again, I am not siding with Obama. I'm not siding with the republicans.
I'm siding with America's founders, who understood how political power corrupts and how politicians will use every crisis to manipulate you. James Madison said:
 "In time of actual war, great discretionary powers are constantly given to the Executive Magistrate. Constant apprehension of War, has the same tendency to render the head too large for the body. A standing military force, with an overgrown Executive will not long be safe companions to liberty.The means of defence against foreign danger, have been always the instruments of tyranny at home. Among the Romans it was a standing maxim to excite a war, whenever a revolt was apprehended. Throughout all Europe, the armies kept up under the pretext of defending, have enslaved the people."
 – James Madison, Founding Father and 4th President of these United States
That's James Madison warning you about the Government's game plan.
Now here is Hermann Goering, famed Nazi leader, who was convicted of war crimes explaining how his Nazi party used the same plan to become so successful: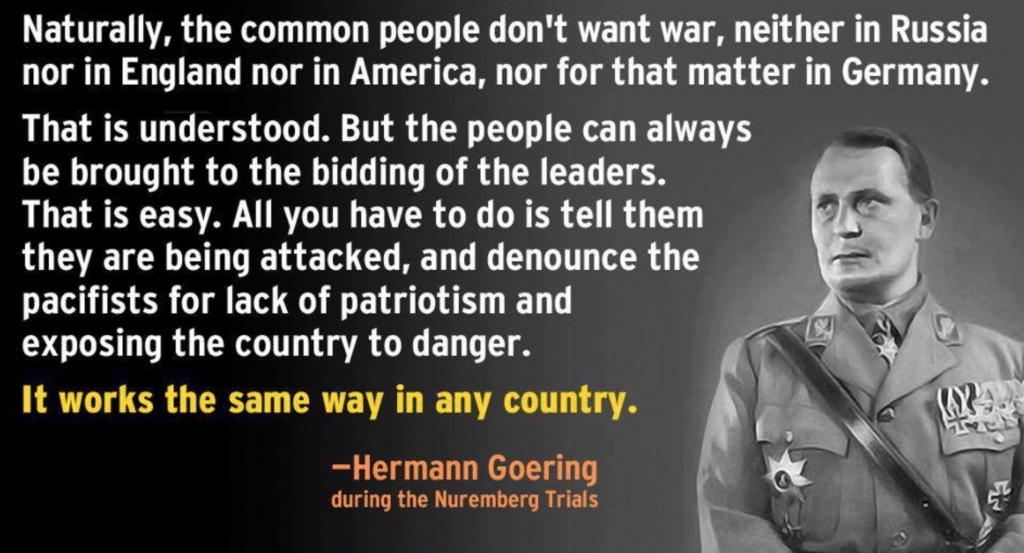 My point is, stop being manipulated. 
Refugees have not appeared to be a risk in the past, and they "most likely" won't be that big of a risk in the future.
Can we be sure? No, absolutely not … but … what's the alternative?
The alternative is to continue killing, bombing, burning and otherwise waging war in those countries — such as Syria — and then turn your back on the innocent people caught in the cross-fire.
That's not responsible. Those people–the innocent ones caught in the crossfire–simply had the bad luck of being born in Syria, instead of the good luck that myself, you and millions of others had to be born in America.
All I ask is that you do the research, look at the risks, and don't get emotional because politicians don't actually care–they just want to control you. 
Ultimately, YOUR Safety Is YOUR Responsibility
Finally, no matter what anyone thinks — the only thing you CAN be sure of — is that neither the Government, the Police, or anyone else can keep your safe.
NOTHING is 100%.
That's why it's so important for you to be ready to defend yourself and your family at any time. In short, don't put your faith in politicians or their plans, put it in yourself and your preparation.
 P.S. Reason.com wrote a similar article to mine, and received many comments similar to mine — so I'll repost their additional info here:
"Note: Several commenters suggested Tamerlan and Dzhokar Tsarnaev, who committed the Boston Marathon bombing in 2013, were refugees. Strictly speaking, they were the children of asylees. As Bloomberg News explained the two were given "derivative asylum status" and didn't come through the refugee admissions program. Apparently the legal distinction is too fine a point for some readers. So be it, but they should nevertheless keep in mind that the brothers were two people out of around 1.8 million people who were granted refugee or asylee status between 1995 and 2013."