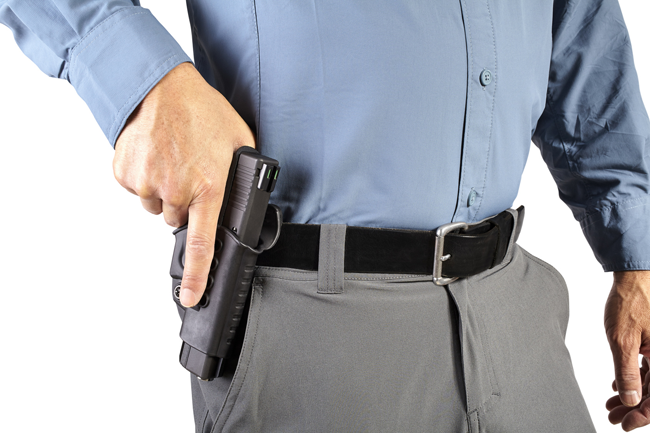 I don't think it's a good idea for most anyone to "open carry" in today's society …
Open carry is basically defined as carrying a gun around in your holster with no concealement garment to cover it.
I'll share with you why I don't do it and why I don't think you should either.
But before we get started …
I totally, adamently, 100% support the RIGHT of everyone to open carry
Just because I don't think it's a good idea to open carry doesn't mean I don't support the right of open carry.
When open carry became a big issue last year with Texas moving to change their laws, I was surprised that most people don't realize that pro open carry laws are very, VERY common in America.
Open carry has been around since the birth of our nation. It's not new. In fact, open carry is currently legal in 45 states — 90% of the country — and in 30 states you don't need a license to openly carry a holstered pistol. My home state of Virginia is one of those open carry without any kind of license states, so it seems normal to me.
Again, to make my political position completely clear.
I support what's known as "constitutional carry" or "permit-less carry" as practiced in 6 states in America. In short, every human has the God given right to self-defense and to bear arms for that purpose and that right is recognized and was the reason for the writing of the 2nd Amendment. Because of this, there should be no need for a "permit" to carry a self-defense weapon (open carry or otherwise). That's my political stance on it.
Even Though You Can, I Don't Think You Should …
Part of being a smart adult is to realize that while you CAN do something, sometimes you probably shouldn't …
As adults we are free to do a lot of things. As we should be.
But we have to make choices as to what is the smart thing to do in every situation.
I was reading a news story just this morning where two police officers were murdered by a suspect in Maryland. The reporters seemed to think that the suspect shot the first cop because he was in uniform.
It got me thinking that while you can and should be allowed to open carry, I don't think you should. Here's why …
1. You may be de-selected. Or selected.
I've heard from many open carry advocates that they think having a gun on their hip will "de-select" them in the eyes of a violent criminal because it will make them a "hard target".
Maybe, maybe not.
Maybe he's scared of the gun. Or maybe because he has his gun concealed, he knows he can get the drop on you before you have a chance to use yours. Something like walking up and shooting you in the back of the head so that you can't use your gun.
2. Criminals could try and take your gun.
This is the other side of the coin. Criminals could see your gun being open carried and really want it.
So it could in fact "select" you as a target of opportunity.
Greg Ellifritz writes, "Every year about 10 percent of the cops who are killed in the line of duty are killed with their own firearms. Cops are trained to be alert, they often work with partners, and they have the best retention holsters available. Yet they still get their guns taken from them! You think you can do better because you took a one-day CCW course? Understand reality. You can't see everything and you can't win every fight. Your gun can be taken and used against you."
And he has a point. Not only in the United States but in countries where the societies are doing very poorly, like Brazil and Venezuela, this is a common tactic for street criminals to get more guns. Thugs simply pick out cops to assassinate and steal their guns. It's like shopping for them.
If you carry a gun in the open, are you also good enough with your hand to hand skills that you could literally fight and wrestle a stronger, younger, faster opponent off your gun?
3. You probably don't use the right holster.
The truth is that most people buy the cheapest holster they can find.
If you're going to be open carrying then you should have a holster with some type of retention device much like cops use. Examples are the Safariland SLS or ALS which have some type of retention device to make it hard for someone else to grab the gun out of your holster.
Almost every picture I've seen of an open carry person shows them carrying the gun in some cheap, nylon holster that looks like it could fall off their hip at any moment.
4. Sadly, a lot of people are going to freak out. Some will call the cops.
The fact of the matter is that most people in today's America just aren't used to seeing people that aren't in a police uniform walking around with a gun on their hip.
Some of those people will freak out. Some of them will eventually call the cops. So you're going to have a lot of interaction with the police if you open carry. It's almost a given.
Myself? I really, really dislike having the cops "called" on me for any reason whatsoever. No offense to police, but any day I don't talk to a cop is probably a good day.
5. Criminals don't open carry their guns. Why should you?
Finally, you give up a bit of the "surprise" advantage if you have your gun in the open and a criminal doesn't. He knows you're armed, and you don't know he is a criminal OR armed.
I don't think that's a good situation to be in.
If you are attacked by a violent criminal you're already behind. You have to react. Because many people don't conceal carry, it is a severe shock to most criminals when someone they thought was a victim pulls out a gun to shoot back at them. This is the reason why you see so many potential crimes where the criminal starts running as soon as the good guy produces a gun. It is not expected and often this one action ends the crime in progress.
This is probably the reason why John Lott's research has shown, "Americans also used guns defensively more than two million times that year, and more than 90 percent of the time merely brandishing the weapon was sufficient to stop an attack."
Carrying concealed gives you a surprise advantage. Open carry gives you nothing.
My advice is to have a gun, but keep it concealed …
I just can't see any benefit to open carry that is not shared by concealed carry.
The dubious assertion that it will de-select you as a "hard target" by a bad guy is hard for me to believe. It's a well known fact that criminals are quite good at "sizing up" their prey.
In other words, they can look at a lot of people walking down the street and see which one is soft and going to be a good victim simply by how the person carries themself, how they walk, how aware they are, etc
Here's what I think: if you walk and talk and act soft and unaware and carry yourself like a "soft target" WITHOUT a gun … then you are still a soft target … and now a criminal will most likely see a soft target that he knows he can overpower and take a gun from.
In short, open carrying a gun while handling yourself like a victim will only make it more likely for you to be victimized.
So yeah, that's my take …
I totally, completely, 100% support the right to open carry (in fact, it pisses me off that I have to even make that clear as it should be unquestionable) — but I don't think most anyone should do it as a matter of practice.
What about you? Do you open carry? Do you agree with me that you should not open carry? Why or why not?