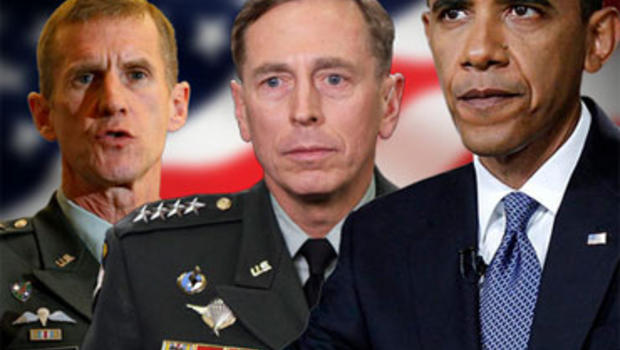 It is a sad day in American politics.
That's because retired General Stanley McChrystal has endorsed gun control after the Orlando jihadist shooting.
And just a short time ago, retired Gen. David Petraeus joined Mark Kelly, husband of former Congresswoman Gabrielle Giffords, to promote gun control.
The truth is that both these men, regardless of what they accomplished in their previous service, are now betraying the Constitution they swore to defend.
ARMY Officers Swear an Oath To Defend The Constitution Against All Enemies Foreign AND Domestic
Having never served in the U.S. Military, I read an interesting article the other day that pointed out the unique responsibility of the officer vs the enlisted in the ARMY.
"There is a curious omission in the Officer oath which implies a serious responsibility. An American Officer does not swear to obey. They are still legally bound to obey orders, but are not morally bound to do so.
Here are the Army Oaths:
The Oath of Enlistment:
"I, _____, do solemnly swear (or affirm) that I will support and defend the Constitution of the United States against all enemies, foreign and domestic; that I will bear true faith and allegiance to the same; and that I will obey the orders of the President of the United States and the orders of the officers appointed over me, according to regulations and the Uniform Code of Military Justice. So help me God."
The Officer Oath:
"I, _____ (SSAN), having been appointed an officer in the Army of the United States, as indicated above in the grade of _____ do solemnly swear (or affirm) that I will support and defend the Constitution of the United States against all enemies, foreign or domestic, that I will bear true faith and allegiance to the same; that I take this obligation freely, without any mental reservations or purpose of evasion; and that I will well and faithfully discharge the duties of the office upon which I am about to enter; So help me God."
Early in US Military History, Officers swore to obey the President and officers appointed above him. This underwent a number of revisions (including the Civil War era oath) and ultimately, the oath to obey was deliberately removed.
Both enlisted men and officers swear to support and defend the Constitution. This means they uphold the laws and judicial interpretation of the Constitution and will defend it against all threats. But only Enlisted swear to obey the President and Officers above them. Enlisted men must carry out the mission, even if they do not understand the objectives.
Article 90, 91, and 92 of the UCMJ require all soldiers to willfully obey lawful orders given by a senior NCO or Officer. This excludes orders which violate domestic and international law or responsibility for carrying out orders you never received. If you obey an illegal order to commit a war crime or crime against American citizens, you will be punished.
Officers in the US Military are morally bound to disobey certain orders. Officers are the protectors of the Constitution and must view all orders with the Constitution in mind. They are not morally bound to obey even the Commander-in-Chief if the order conflicts with the Constitution.
It is the burden of officers, not enlisted, to determine if controversial orders violate the Constitution. What orders and under what circumstances? That's a unique responsibility."
In short, former Generals McChrystal and Patraeus have both violated their sworn oaths to defend the Constitution by embracing gun control and wanting to violate the second amendment rights of the American people.
AmericanThinker.com writes, "McChrystal and Petraeus rose through the ranks during decades of abysmal military and foreign-policy failure in the Middle East. The U.S. military has been involved in Afghanistan, covertly or overtly, since the 1979 Soviet invasion. The U.S. military has been overtly involved in Iraq continuously since 1990.
"Neither country is better off, or less of a threat, after decades of U.S. involvement.
"Had it not been for U.S. involvement in Afghanistan in the 1980s, shooter Omar Mateen's father, and Mateen himself, probably would never have been in the U.S. at all. The U.S. policy of assisting mujahedeen in the 1980s backfired when some of the so-called "freedom fighters" morphed into al-Qaeda in the 1990s. And the U.S. attempt to back militias to overthrow Bashar al-Assad in Syria very likely led to the rise of ISIS.
"Now, two generals who achieved prominence for their contributions to those failures think you shouldn't have a gun."
These Same Generals Are Responsible For Arming 100,000's of Iraq & Afghanistan Civilians With AK-47's & AR-15's and Now Want To Take Away YOUR Guns
The worst part about this is the hypocrisy.
Afghan and Iraqi civilians in war zones formerly commanded by these generals were allowed to keep their AK-47's for self-protection and now they want to take your guns by embracing gun control in America!
As NY Times reported in 2003, "At the time, the list of automatic weapons to be banned specifically included AK-47 Kalashnikovs, the Russian assault rifles that are nearly ubiquitous in Iraq. But that approach came under heavy criticism from many Iraqis, who argued that families and business owners badly needed the weapons to defend themselves from looters and organized criminal gangs.
"That criticism apparently had an effect … an Arabic-language flyer now being distributed in neighborhoods says Iraqi citizens can keep certain automatic weapons inside their homes and businesses.
Asked today whether Iraqis would be allowed to keep assault rifles in their homes, a spokesman for Mr. Bremer said, "Yes, they will be allowed to keep their AK-47's.""
Former General Petraeus was in charge in Iraq when the Pentagon lost track of about 190,000 AK-47 assault rifles and pistols given to Iraq security forces in 2004 and 2005.
Former General McChrystal is no better. A U.S. audit from 2014 revealed that the Pentagon lost track of many of the 465,000 light weapons the U.S. supplied to Afghan security forces. As the same newsweek article reports, many of those weapons lost were U.S. Military M-16's that were being used against American soldiers by the Taliban.
Gun Control For You, While Arming Terrorists, Failed States And Mexican Cartels …
Much like Obama and Eric Holder — who ran guns used to kill Americans to Mexican cartels with operation Fast & Furious — McChrystal and Petraeus are hypocrites.
Obama's entire foreign policy has been about sending guns and "actual heavy weapons" to very destabilized countries to arm "rebels". It has led to ARMING the very people the Obama administration is claiming they are fighting — terrorists.
And of course, you realize that this same administration is responsible for arming ISIS? All those lost weapons go somewhere.
"According to Reuters, the U.S.-made weaponry that fell into enemy hands including 2,300 Humvee armored vehicles, at least 40 M1A1 main battle tanks, 74,000 machine guns, and as many as 52 M198 howitzer mobile gun systems, plus small arms and ammunition.
Although al-Abadi and other Iraqi and U.S. officials haven't attached a dollar sign to the lost weaponry and vehicles, a back-of-the-envelope calculation of those losses might look something like this:
2,300 Humvee armored vehicles @ $70,000 per copy. Total: $161 million
40 M1A1 Abram tanks @ $4.3 million per copy. Total: $172 million
52 M198 Howitzer mobile gun systems @ $527,337 per copy. Total: $27.4 million
74,000 Army machine guns @ $4,000 per copy. Total: $296 million
The grand total comes to $656.4 million, but experts say those losses represent just a portion of the many hundreds of millions of dollars' worth of U.S.-supplied military equipment that has fallen into ISIS's hands and is being used against the U.S. and allied forces on the ground in Iraq and neighboring Syria.
Don't forget about the $500 Million Worth of Weapons The Pentagon lost track of in Yemen …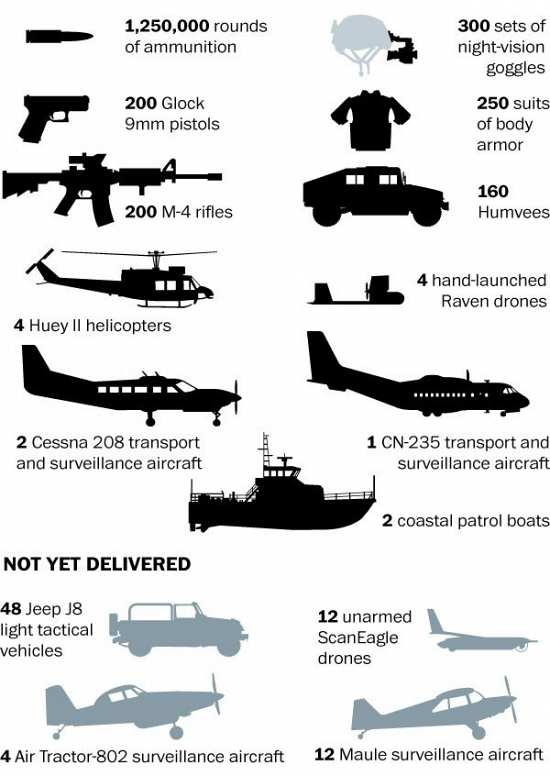 But it's ok, these same people want to disarm YOU the American civilian.
I Have No Respect For These Two Enemies of The Constitution & The American People
What do you think?
Am I over-reacting or do you think that both former General McChrystal and Petraeus are hypocrites and enemies of the Constitution of the United States that they swore to defend?