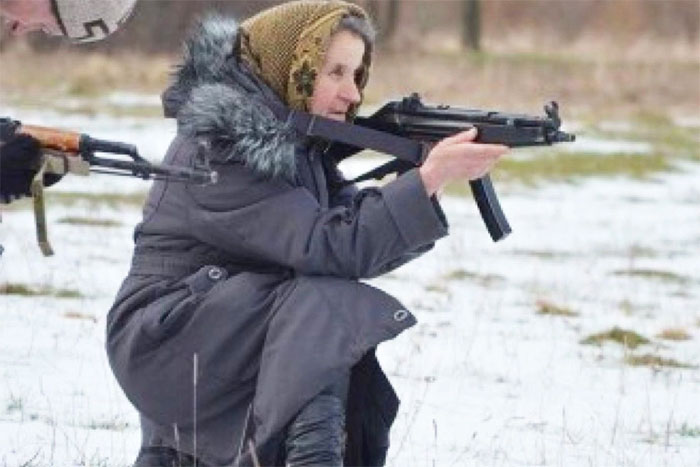 It really annoys me when I hear anti-gun people state that they don't think people should be able to own a gun for self-defense.
In short, it's B.S.
For the the weaker, the outnumbered, and the least powerful of people — like the elderly and women — guns are truly the great equilizer that can allow them to defend themselves and their families.
Today I want to show you a video of a home invasion where a gun allowed one little woman to prevail against three young, armed thugs.
Woman VS 3 Home Invaders
Notice what we have here:
* 3 young males of "fighting age" armed with guns
* one little, frail woman, apparently untrained but armed home owner
Because the little woman was armed, she was able to effectively fight back against this scum and they took off running. In case you missed it, at around 2:10-2:12 the one thug is so scared — he ran through a GLASS DOOR to get away!
This woman is holding the gun all wrong, one-handed. She doesn't know how to do CQB or clear the structure of her home. I would bet $100 she never even saw her sights – she just pointed in the direction of the threat and started pulling the trigger.
All she had was a gun and the will to fight back and that was enough. These home invaders wanted to victimize whomever was in the home–they didn't want a fight. When they encountered this little armed woman, they ran!
Think of what would have happened if she was not armed? Do you seriously think this little, skinny woman could have taken on three young, obviously in shape males in hand-to-hand combat?
No.
They would have had their way with her.
Guns are the great equilizer for the outnumbered, out-powered, and weaker people of society that scumbag criminals like to choose as victims.
65-Year Old Woman Fights Off FIVE Armed Robbers In Her Jewelry Store
Again, look at the incredible disparity of force between the criminals and the would-be victims here:
FIVE armed men in the prime of their lives VS one little old 65yr old woman.
If no guns were involved these 5 dirtbags could have victimized and done whatever they wanted to that old woman.
I'm telling you, as someone who has spent his life doing martial arts and working out since I was 12 years old — unarmed — five vs one is a bad deal. This old lady would have had no chance.
But because she had a gun, not only is her life and the lives of her employees saved but these idiots got what they deserved.
And it only took 2 bullets.
Look at this response once the criminals encountered armed resistance, they took off running so fast they all piled up at the door!
The Bottom Line Is That Guns Are The BEST Defense For The Physically Weakest and Least Powerful Among Us
We should embrace guns as the best answer for self-defense for our women, our elderly and anyone else that would make an easy target for a criminal if they were unarmed.
Even without training, as the two examples I've shown you here today prove, a physically weaker, outnumbered woman can defend herself if she has a gun.
Guns save lives. Share this with everyone you care about.