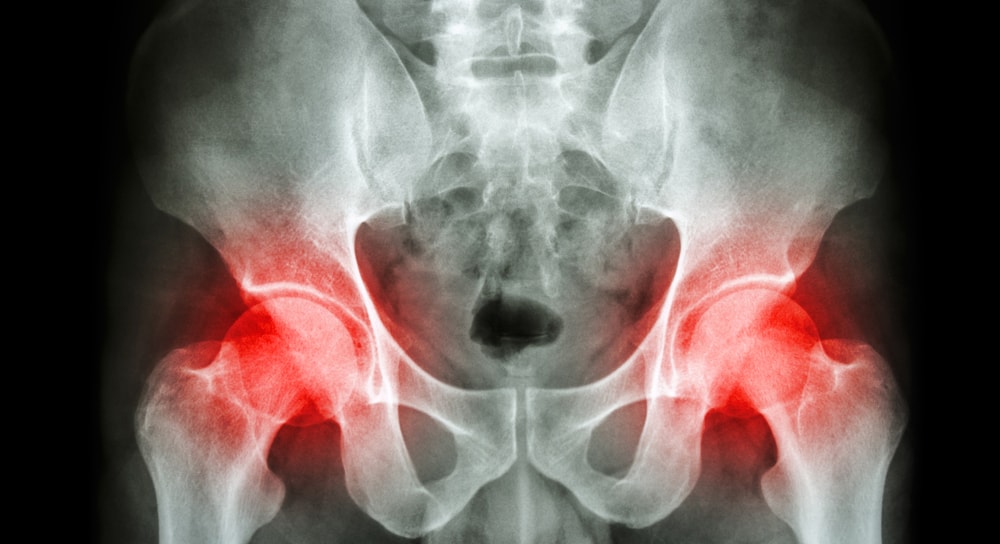 Question: Where do you shoot a bad guy that's doing bad stuff if you want him to STOP doing bad stuff to you?
Answer: Most people would say "Center mass" right? Aim for the chest?
(Or "upper thoracic cavity" if they want to sound smart)
After all, that's the (arguably) easiest place to shoot and hit because it's the biggest — it also contains some of the most important human "machinery" — the heart, aorta, lungs, etc
Second to this, most gun guys will say the head.
All great answers, but is there any even better target to aim for? Maybe.
Should You Shoot Him In The D*ck?
I recently ran into this great little video of Clint Smith from Thunder Ranch, titled, "SHOOT THEM IN THE CROTCH":
While the concept is definitely not new to me, I picked this particular video for discussion because, for one, it's super entertaining, and two, I believe Clint brings up some great points:
1.) SPEED TO FIRST SHOT: If you're in an entangled gun fight at close range — where the bad guy is putting his hands on you or could possible do that — then when you draw your gun, the first thing your muzzle will cross on his/her body is the groin. So why not shoot them there first?
2.) BYPASSES BODY ARMOR: If the bad guy is wearing body armor (most bad guys these days, something you should count on) then this is an excellent way around it. Even with a pistol, because there's no body armor there, you can shoot them in the groin/crotch and it works.
3.) A "GOOD INTRODUCTION": Keep in mind, Clint says "it's not a fight winning hit, but it's a good introduction". If the first shot is to the groin, then that's not a bad way to start — as with most fights the guy that gets the first hit/injury typically wins.
The Origins Of The Pelvic Shot …
The first time I heard of the groin/pelvic shot was from John Mosby. He writes (emphasis his):
"The point-of-aim on a particular target will be dependent on mission, range, and situation. I'm fond of citing the platitude, "Hips and heads kids, hips and heads. All the bad guys are wearing body armor these days!" (In fact, I'm pretty sure I made that up two years ago. If anyone heard it previous to 2011, let me know where, and from whom, and I'll gladly cite them as the source, if the speaker can verify it as original to them…). The truth is, in a world of relatively inexpensive, rifle-level ballistic plate armor, it's not a bad ideal to shoot for (no pun intended, seriously). The pelvic girdle is rich in major blood vessels and nerve centers, and of course, the pelvis itself, is a major structural element of the skeletal system. Having it shattered by a high-velocity rifle round (even a poodle-shooting varmint round), makes walking a little uncomfortable. Unfortunately, while this MAY result in a non-ambulatory combatant (I once walked 150M with a broken hip, carrying somewhere around 100 pounds of kit, albeit not very fast…), it may not reliably take him completely out of the fight. After all, he can still hold and shoot a weapon, if somewhat distractedly. Of course, putting two or three or ten rounds into a dude's hips (or just one if you're a real man and shoot the magical rhino stopping .308…) makes that rapidly moving head move a lot less rapidly, subsequently making it easier to shoot…..and solid head shots generally do take a dude categorically out of the fight."
John told me personally when I asked him about  it, by the time he deployed to Afghanistan, that it was pretty much their standard SOP to shoot the hips first then follow up from there where the next shot would get the best effect as needed.
Now, this makes perfect sense with rifles because getting shot by practically any rifle round in the groin — 5.56 or 7.62×39 especially — is really going to mess someone's day up …
But does it transfer over to the civilian paradigm where you're conceal carrying a relatively impotent handgun caliber such as 9mm, .40 or .45 ACP?
Dave Spaulding Weighs In On The Pelvic Shot …
Dave Spaulding is someone I've yet to take a class from, but he's on the short list. He weighs in (emphasis mine):
"I have been looking at the issue of handgun "stopping power" for decades now and have come to the conclusion that handguns are not impressive man stoppers regardless of caliber or bullet design. While we currently have THE BEST combative handgun ammo ever designed, all the logical person must do is hold a cartridge in their hand, consider its weight and size and compare it to the mass that is the human body and it is not hard to see why such a small, light projectile will likely have limited impact on the human organism quickly. Just hold a .45 caliber projectile in front of the human chest cavity and you will see it is pretty small. In order to get any type of rapid result, it will have to hit a pretty important part of the body. The question is, is the pelvis "important"? Should it be a primary target?
In my classes, I use a simple target that highlights the upper chest cavity and head, a 6 x 14 inch rectangle that includes the center of the skull and the vital organs of the heart, aorta, major vessels and spinal column. Few dispute this area as "vital". The head can be considered controversial since handgun rounds have been known to not penetrate the skull but I, personally, discount this. I have been on the scene twice when humans have been hit in the skull by a handgun round that did not penetrate and on both occasions, the person was knocked off their feet much like a batter that is hit in the head with a baseball. I have received this same feedback from others. My concern with head shots is the lack of "back stop" to catch a round that is not well placed. The center chest has the remainder of the torso to help slow/catch a round that does not hit the center chest while a round that misses the head goes over the shoulder. I counsel my students to use the head shot for close distances where they know they can hit or for times they can take a low posture and shoot upwards. 25 to 50 yard head shots? Up to you, I guess. You might be able to do it on the square range, but the pandemonium of a real gunfight, where non-hostiles might be in your battle space, is an entirely different thing. Consider carefully…
I believe the high chest and head is a much better "strike zone" for combative pistolcraft than I do the pelvic girdle. I do not emphasize it in my classes, but I also do not take to task those instructors that do. In the end, the region of the body you will shoot for is that which is available to you when you fire your shots! We will all take what is offered to us, but if there is a hierarchy of shot placement, the pelvic girdle would be ranked below the chest and head…and least in my mind."
So Dave points out that pistol terminal ballistics being what they are, the pelvic shot is not a "fight stopper".
But, he doesn't vehemently disagree with the notion.
And most importantly, he points out that the region of body you will shoot for is "that which is available when you fire your first shots!"
Suarez Says To Forget The Pelvic Shot …
Gabe Suarez is rarely wishy-washy in his opinions. His thoughts on the Pelvic shot are no different (emphasis mine):
"Insofar as the Pelvic Girdle Shots go, it does not take a degree in medicine to realize that the pelvic bone is not connected to the hands, nor the brain, and that a pelvic shot – even if successful – will not stop a terrorist from continuing to fire, or setting off an explosive.
… In order to break and destabilize the pelvis, it must be broken in two places. Those places are near where the two pockets would be in a man wearing Levis.
They are far smaller than the area suggested for a brain shot. So a proponent of the pelvic shot wants you to hit not one, but two targets that are smaller and harder to hit than the head shot's highest value area…and two targets that will prevent neither return gunfire nor explosives detonation.
Stupid idea, do not take such advice."
Gabe Suarez points out — again talking pistol ballistics here — that you have to hit the pocket areas to destabilize the pelvic girdle with a handgun and it might be harder to hit than the head/face/neck that Gabe tends to recommend.
That's true.
And it's worth noting that Dave Spaulding typically teaches his classes using his own target designs and, as you can see in the picture below, they have two black target zones in the "jean pocket" area of the body — that are used to run drills — but also represent these pelvic/ball socket shots (you can see Dave's targets behind him where they're taped to the target — with the paper with two little rectangles on the hip area):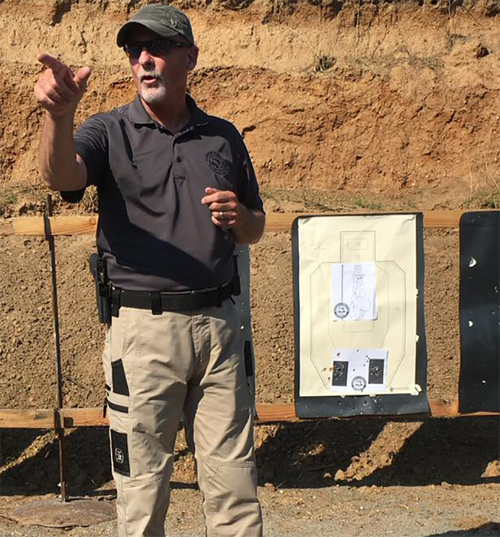 And he also used to have custom targets available from LE Targets called the HCT-01 but I can't find a direct link right now and they look(ed) like this: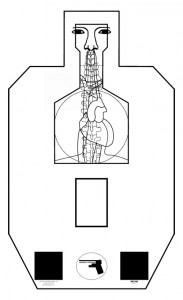 Besides being able to run drills from HandgunCombatives — the black squares made good hip/pelvic targets.
So Should You Shoot Him In The D*ck Or What?
To clarify, let's talk about why shooting bad guys in the groin/pelvic/hips/d*ck is a viable option …
1.) First you have to understand, from a civilian perspective, a pistol shot to the groin/pelvic area is NOT going to be a fight stopper.
Then again, with handgun rounds, even a shot to the face/head is NOT guaranteed to be a fight stopper.
See the story on this page where a police officer shot a man 14 times with .45-cal. ammunition – six of those hits in supposedly fatal locations.
The final three shots that the police officer fired were into the suspects head — one through each side of his mouth and one through the top of his skull into his brain.
In case you missed that, the officer shot the man 11 times with .45 and then 3 more times in the HEAD before the guy finally stopped fighting.
Autopsy later showed the guy was not on drugs, they reported "Sheer determination, it seemed, kept him going, for no evidence of drugs or alcohol was found in his system."
Some people are just hard to kill. Period.
2.) Second, if you agree with that premise, then going back to the original video and quote from Clint Smith, "It's a good introduction". In other words, if the opportunity presents itself, it's a great spot to shoot someone.
3.) Third, it is definitely an area that is NOT covered by most body armor. Which means it's a viable option to keep in mind — along with head shots — for terrorists/active shooters/anyone that you think might be wearing body armor.
4.) Finally, in real combat, ideal target zones are typically "whatever presents itself" …
Which is what you've heard me say, John Mosby say, Dave Spaulding say, and I'd venture I could find a quote where Gabe Suarez said it at one point too. Most all shooting instructors I've trained with point out that aiming and shooting for "center of mass" means that you aim and shoot for the "center of mass" of whatever target is available to you at that time.
The Bottom Line Is This …
The pelvic shot is a viable target area, but it's controversial — probably moreso than head/face shots — because of how some people love it and some don't.
Probably, in reality like most things in the combative world, it's misunderstood.
In a real fight, whether with guns or bare hands, you should probably hit whatever targets on the human body you can hit, then keep hitting them — until the bad guy stops doing the bad stuff to you that caused you to need to shoot him in the first place.
In other words, yes a shot to the pelvic girdle/groin — with a handgun — may not be the most "ideal" shot, but it may or may not give you time to followup with a fight ending shot to the brain, heart, etc
And in a fight, the guy that gets the first hit/injury usually wins (again, gun fight or hand to hand combat, it makes no difference).
My verdict? If a bad guy is doing bad stuff to you and you need to shoot him, and the groin shot presents itself?
Why NOT shoot him in the d*ck?
You can always shoot him again–bullets are cheap and that's why they invented double-stack magazines 🙂