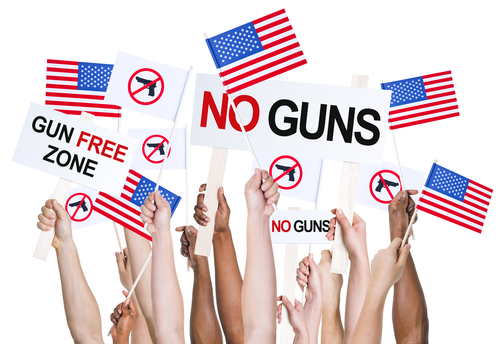 The argument usually put forward by gun control advocates is that limiting (legal) access to guns will reduce the number of people killed in our society. And it sounds nice on the surface. They think that if guns aren't available, then less people will be killed because (they think) most people who are killed are shot.
But statistics coming out of gun control paradise California paint a different picture. AWR Hawkins writes,
California, a state with every gun control imaginable, witnessed an 18 percent rise in firearm homicides from 2014 to 2016.

This rise in firearm homicides comes despite the fact that Democrats, gun control groups, and the establishment media constantly claim that states with the strictest gun controls see lower rates of violence and death.

California has universal background checks, gun registration requirements, red flag laws (i.e., Gun Violence Restraining Orders), a ten-day waiting period for gun purchases, an "assault weapons" ban, a one-gun-per-month limit on handgun purchases, a minimum firearm purchase age of 21, a ban on campus carry, a "good cause" restriction for concealed carry permit issuance, and controls on the purchase of ammunition. The ammunition controls limit law-abiding Californians to buying ammunition from state-approved vendors–all of whom are in-state sellers–and adds a fee to any ammunition bought online, also requiring that ammunition to be shipped to a state-approved vendor for pickup.

Additionally, the state mandates gun free zones in businesses where alcohol is sold for on-site consumption. Therefore, the few concealed carry permit holders in the state must enter myriad restaurants without any means of self-defense. This provides a target-rich environment for attackers who want to be sure no one can shoot back when they strike. We last saw this on November 7, 2018, when an attacker opened fire with a handgun in the gun-free Borderline Bar & Grill in Thousand Oaks, California.

Despite all the stringent gun controls a bill filed by Assemblyman Marc Levine (CA-D-10) admits California firearm homicides were up between from 2014 to 2016. The bill says, "Although California has the toughest gun laws in the nation, more effort is necessary to curtail gun violence. The Department of Corrections and Rehabilitation found that from 2014 to 2016 gun homicides increased 18 percent." In light of this gun control failure the language of the bill goes on to suggest more gun control.
California has just succeeded in proving what we have been saying all along: guns aren't the problem. The desire to kill other people is the problem, and people with that desire will find other ways to kill people if guns aren't available, or they will obtain guns illegally. All gun control does is prevent upright people from being able to as effectively defend themselves from people with murderous intent.
But anti-gunners simply want to add more gun control on top of already failed efforts instead of actually facing reality.