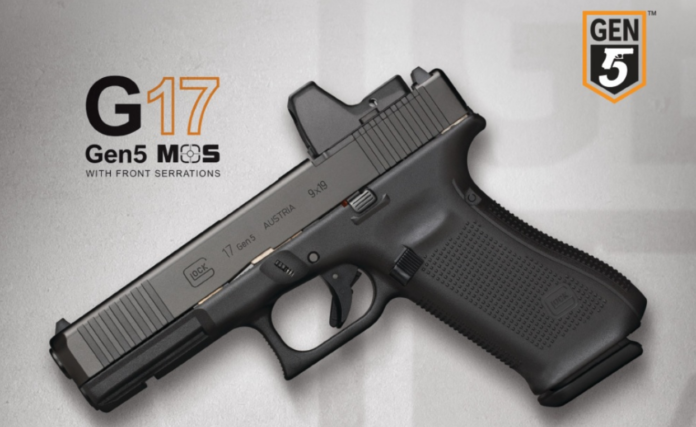 Glock's tagline has always been "perfection", but most Glock owners know that's not really true…
That said, they are the most popular handgun manufacturer in the world, they're super reliable and there is plenty of aftermarket support…
In fact, there's so much aftermarket support and custom modifications that you can do to Glocks that it actually caused Glock to do some serious and very well thought out upgrades to their pistols when they released the latest Gen 5 MOS models (with front serrations).
Here's why I think they're the best Glocks you can get…
What Is Special About The Gen 5 Glock MOS FS Models?
Whenever Glock introduces a new model or new generation, it's usually a yawn fest…
They really don't make a lot of changes to the guns with each generation, it's usually small stuff.
But the Gen 5 Glocks break that mold and they've actually made some improvements and changes, so we'll go through the 10 most important ones quickly…
1. Glock Marksman Barrel (Upgraded barrel to increase accuracy)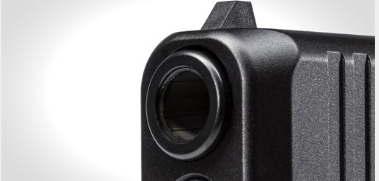 The fact is, you are very unlikely to be a more accurate shooter than your Gen 1, 2, 3 or 4 Glock. The guns are mechanically more accurate than most shooters, hands down. That said, Glock has improved their barrel design and claims it improves the accuracy…
The GLOCK Marksman barrel (GMB) features enhanced barrel rifling based on the proven polygonal barrel design which delivers improved accuracy.
I personally have not done enough testing to compare the accuracy of the new Glock barrel to my older Glocks, but at least one video exists from Omaha Outdoors where they tested a Gen 5 Glock with a ransom rest and it performed extremely well:
In case YouTube bans that video because it features guns, the punchline is the new Glock marksman barrel is about as accurate as most aftermarket barrels:
"In a Ransom Rest, we saw 10 shot groups at 25 yards that were under 3" – with bulk ammunition. A lot of the pistols we test using the Ransom Rest don't shoot that well with the very best match ammo. The Marksman Barrel is no joke, and it's an undisputable performance improvement. Compared with 8 other Glock 19 barrels we had available for the test that day, it nearly tied the most accurate aftermarket Glock 19 barrel with the same ammunition at the same distance. It shot to point of aim and it did so consistently. In Gen5 guise, the Glock 19 is no longer acceptably accurate, it's competitively accurate."
So, it does appear the Glock Marksman Barrel (GMB) is a much more accurate barrel and it's actually on par with some aftermarket barrels, which is great news!
2. Improved nDLC finish on barrel and slide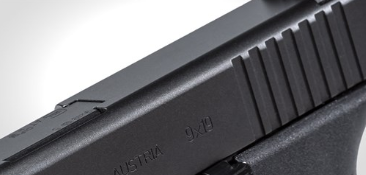 While I've never really cared about the finish on my guns, or if they get worn or anything like that, Glock has improved the finish too.
GLOCK's nDLC provides tougher, more durable protection than previously used finish. The nDLC finish increases protection against corrosion and scratching and improves the ability of the pistol to function in adverse conditions.
I haven't had mine long enough to compare the Gen 5 Glock finish to my Gen 4 Glocks and the finish, but good to know.
3. Front Serrations On Slide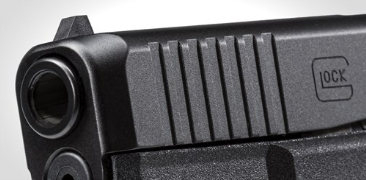 Glock added front serrations to their slides and it's a really welcome upgrade. Here's what Glock says…
The front serrations (FS) provide an additional tactile surface choice when manipulating the slide giving the operator positive traction even with wet or sweaty hands. This new design offers the advantage for professional users to do a fast press check before and after firing. The user may grip the slide by the front serrations with the weak hand and move it to the rear until a clear view of the chamber is possible in order to ensure that a round is properly chambered.
When done correctly the hand gets nowhere near the muzzle of the pistol.
These are all good reasons to want front serrations on your slide and it's awesome Glock is now including these from the factory because before you would have to pay someone hundreds of dollars to mill your slide with these serrations.
Big upgrade there!
4. Ambidextrous Slide Stop Lever and Reversable Magazine Catch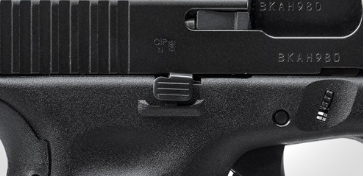 According to Glock…
The ambidextrous slide stop lever makes it easier for gun owners to quickly, safely and comfortably manipulate the slide whether they are left-handed or right-handed.  The magazine catch of the Gen5 frame is reversible and enlarged towards the rear of the pistol. The reversible magazine catch is more user friendly to the shooter's reach and allows them to switch the catch to the left or right side of the pistol.
I'm right-handed, so this isn't a huge deal for me, but when you are shooting with your left hand it gives you some more options to manipulate the weapon, so it's a nice upgrade too…
5. Flared Mag-Well For Easier Reloads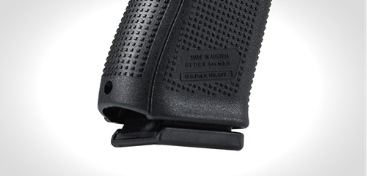 Glock had this to say about the improved magwell design…
The larger opening of the flared mag-well makes it easier to funnel the magazine into the mag-well, particularly in high-stress situations where fractions of sections matter.
This is a welcome upgrade as well…
You can of course buy aftermarket magwells for your handguns, but it's nice that Glock included it standard with the new Gen 5 models to make reloading easier.
NOTE: early model Gen 5's had a "cutout" at the bottom of the front part of the grip, near the magwell. This was apparently due to the Gen 5 Glocks being based on the "M Models" that were created as specified by the FBI. As I understand it, all new Gen 5 MOS FS models have eliminated the cutout.
6. Removal of Front Finger Grooves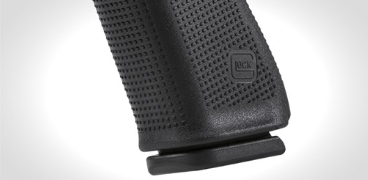 In all honesty, with my Gen 4 Glock the finger grooves never really bothered me… or at least I never thought about it until I started shooting the Gen 5's but as Glock says:
Comfortable grip to a wider range of consumers, regardless of their finger size.
And I think that's accurate.
Most people will find the Gen 5 grips more comfortable no matter their hand size.
Speaking of hand size, I don't think there's a measurable difference in the size of the grip – but the Gen 5 grip without the finger grooves of the Gen 4 grip "feels" smaller and easier to grip in my hands.
7. Enlarged Floor Plate and Orange Followers On Magazines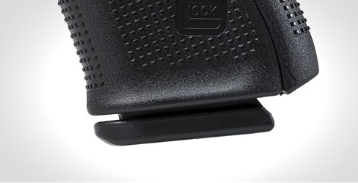 As I mentioned above, early model Gen 5's had a "cutout" at the bottom of the front part of the grip, near the magwell. This was apparently due to the Gen 5 Glocks being based on the "M Models" that were created as specified by the FBI. As I understand it, all new Gen 5 MOS FS models have eliminated the cutout.
The cutout in the magwell was supposed to make it easier to "extract" a magazine during a malfunction… and while it may do that … it also made it easier to catch the lip of your magazine in the magwell during fast reloads and fumble the reload.
The solution by Glock to make it easier to clear the magazine during reloads without the cutout was to enlarge the floorplate of the magazines:
The enlarged front of the floor plate makes it easier to pull the magazine free of the pistol if it doesn't fall free during a malfunction or reload. The orange follower allows the shooter to clearly see if there are any rounds left in the magazine or not.
As for the orange follower? Not really a big deal, but I mention it here so you know why they look different when you get a new Gen 5.
NOTE: All my Gen 4 glock magazines work in the new Gen 5's – so they're backwards compatible as far as magazines go.
8. Customizable Frame Sizes With Backstraps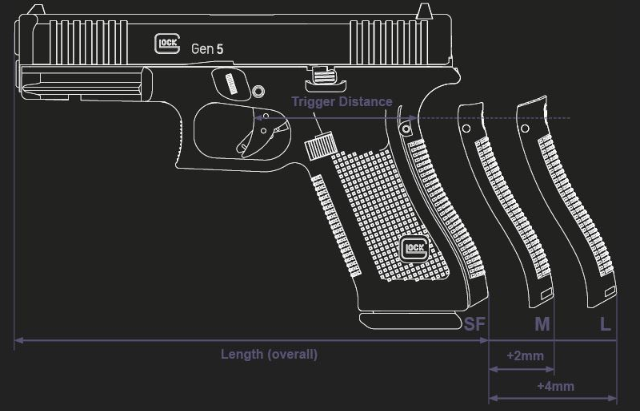 This is basically the same feature that the Gen 4 Glocks introduced with backstraps, and as Glock says, it makes it so you can fit the right size frame to your hand:
Every GLOCK Gen5 comes with backstraps in two sizes each one with and without beavertail. The multiple backstrap frame allows the users to change the circumference of the grip to fit their individual hand size.
Not a big improvement there but good to know.
9. Gen4 RTF (Rough Textured Frame) For Traction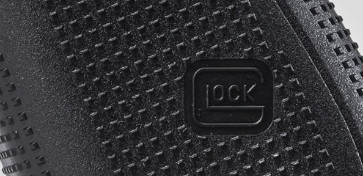 This is perhaps one area where Glock didn't follow the aftermarket…
The Gen4 proven rough textured frame surface is present on the Gen5 frame as well. It was designed to enhance grip traction, without being too aggressive.
And I kind of get why they did it that way…
Overall, the Gen 4 RTF is pretty grippy and you should be fine. But, there is a huge aftermarket or people who customize Glocks by stippling the frames for an even more aggressive texture. And it costs hundreds of dollars to do that.
I kind of wish the Gen 5's had gone that route, but it's understandable they tried to "enhance grip traction, without being too aggressive" because some people don't like carrying around a really aggressively stippled gun against their skin all day.
10. Modular Optic System (MOS) for mounting red dot optics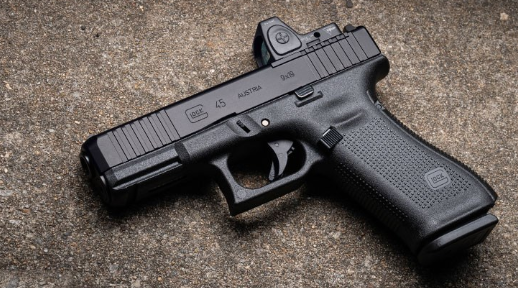 This is another HUGE reason why the Gen 5 MOS FS models are so great. The Modular Optic System (MOS) as explained by Glock:
GLOCK engineers have developed the Modular Optic System Configuration to simplify mounting of popular optical sights. The MOS Configuration is the best choice to hit your target.
The future truly is now… and … just like AR-15's and other rifles, it won't be long before optical sights of all types are the defacto standard on handguns.
They offer all the same advantages of running optics on a rifle, but in the handgun platform.
Glock did a good job by creating a factory system that allows you to mount most all of the popular handgun optics to your slide.
Until now, this was another feature that you would have had to pay hundreds of dollars to an aftermarket company to mill your slide for.
What Gen 5 MOS FS Glock Models Are There?
Here are the models available with these features right now…
G17 Gen5 MOS FS
G19 Gen5 MOS FS
G34 Gen5 MOS FS
G45 MOS
(While the G45 MOS is not labeled a "Gen5" or "FS" model – it has those features standard.)
What's The Best Overall Glock Gen 5 MOS FS Model If You Only Want Just One Gun?
If you're looking for one "do it all" gun from Glock that can you can use for practically everything…
Small enough to conceal carry, but has enough capacity for serious defense, can be used for home defense or shooting competitions, then I can't recommend the G19 Gen5 MOS FS model enough:
G19 Gen5 MOS FS
The G19 has pretty much always been the "Goldilocks" model of Glocks that can fulfill a wide variety of roles – pretty much anything that you need a handgun to do.
I would argue the new Gen 5 MOS FS model makes it an even more capable "compact" handgun because if you choose to mount a Red Dot Sight (RDS) using the MOS plate – then you lose nothing in the realm of longer sight radius with the shorter barrel and slide.
Should You Replace Your Old Glocks With New Gen 5 MOS Models?
I have a few "older" generation Glocks to include my trusty G19 Gen4 conceal carry gun…
Honestly, if you have a gun that you like and works for you, then you're good to go. There's no real reason to go out and buy a new gun (unless you want to!)
That said, I had wanted to upgrade my Gen4 G19 with a Red Dot Sight (RDS) recently. To do that, I would have had to send out the slide to get milled by an aftermarket company. While it was getting milled for the red dot to mount, I figured I should also get it milled for front serrations for easier manipulations, etc… before you know it… when you look at the costs of all the custom options – you're paying $500 or more which is near the price of a brand new Gen5 G19 MOS FS model.
So, if you're in a similar situation, you might consider picking up a new Glock Gen5 MOS FS too. You might actually save money buying a new gun!